Is Delta Direct Really Just A Blockfolio Signal Copycat?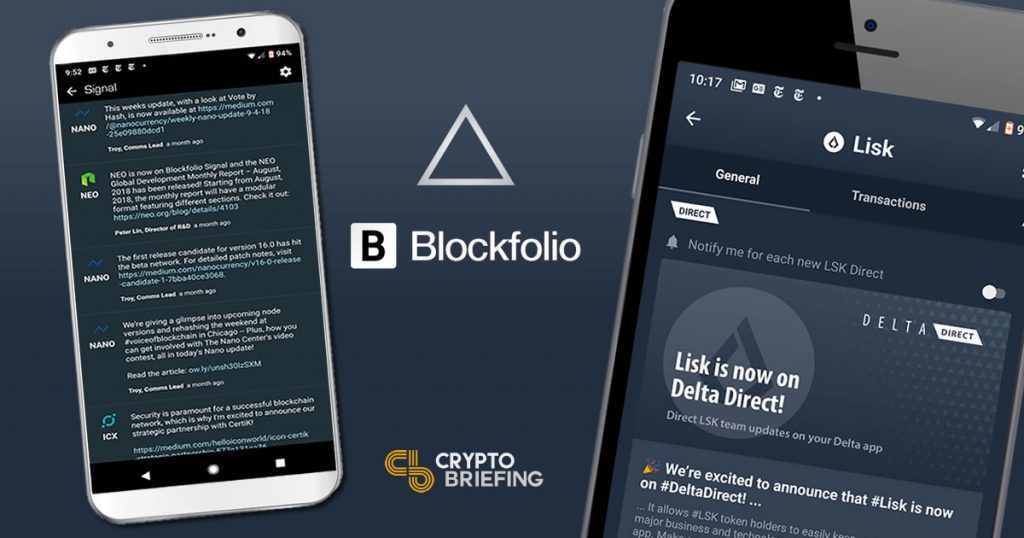 With investors scattered all over the world, communication is essential in the cryptocurrency sector. Companies in the space want news about them to be accurate and fair. Teams update followers through a variety of different media, but these can become vulnerable to fake news. Now some have started using new channels to directly communicate updates to their investors and followers.
For Nicolas Van Hoorde, the week has been a trial. He is the co-founder of the cryptocurrency portfolio application Delta, which successfully launched its news feed service earlier this week. Known as Delta Direct, the integrated feature allows projects to announce developments directly to followers and investors.
Direct acts as a news aggregator; it pulls together posts from teams' official Medium blog as well as their activity from Twitter and other social media platforms. Van Hoorde said in a statement at Direct's launch that projects would be able to provide accurate updates, free of spin, and build bonds of trust between teams and their investors. "We believe that in this current state of [the] market, token teams need to be empowered to communicate with their stakeholders," he said. "With Delta Direct we also want to counter misinformation about projects."
---
What's the difference between Delta Direct and Blockfolio Signal?
Delta isn't the only platform around offering a news service. The Direct feature is very similar to the Signal service offered by the rival price-tracking application, Blockfolio. Launched back in May, the feature also enables investors to be updated by their token teams through notifications and a rolling news feed.
Blockfolio created Signal because it wanted to improve trust in the community with a channel for teams to send 'signals' directly to their token holders. "Signals come straight from the token team leadership, free of the noise and toxicity that we so often see in the current communication channels used by the global crypto community," Blockfolio CEO Ed Moncada, said at the time.
Direct had been originally slated for release on Monday, but an unforeseen bug in the Android update pushed back the launch until Wednesday. Van Hoorde spoke to Crypto Briefing just after the successful launch. He said that despite strong similarities there were nonetheless differences between Delta Direct and Blockfolio Signal.
Van Hoorde explained that Delta itself placed no restrictions on projects using their news aggregator. This allows traders to access updates from any of the projects they follow. "It's not our place to decide what the user should see", he says over the phone.
He admitted that not all of the projects using Delta would be legitimate; another Bitconnect could sign up and use the service tomorrow, he said. "We're taking a different stance with Direct", said Van Hoorde. "We don't put restrictions; we're more in line with decentralization".
"We're not trying to act like an overarching god," he added.
Back at Blockfolio, where the team was busy celebrating a new $11M round led by Pantera on Thursday, Ed Moncada was circumspect about the different approaches the two teams have taken to arrive at similar solutions.
"Bitcccccoooooooonnnnnnnnnneeeeeeeeeeeccct!!! ……. are the types of projects we hope NOT to see using Blockfolio Signal," he told Crypto Briefing in an email. "We chose to roll out Blockfolio Signal in a responsible manner and in a way that builds trust within the cryptocurrency ecosystem. Just like a company culture is heavily defined by its early employees, we believe that a product culture is similarly shaped by its early participants. I want to be clear that the token teams on the Blockfolio platform ultimately control their own content and we are 100% committed to making it available to all token teams in the near future. Ultimately, we really want to be responsible about how we roll it out."
Blockfolio noted that while they occasionally work on messaging with projects, the cryptocurrency token teams still have total control over the content that reaches the user.
---
Crypto fake news
Misinformation has long permeated the cryptocurrency space; it leads to sharp price swings. Dogecoin (DOGE) shot up amidst reports that the project would begin cross-chain development with the Ethereum platform, at the beginning of September. Whilst 'Dogethereum' later turned out to be false, the story was reported on by various media outlets. The ensuing hype led to a $400m surge in the total value of DOGE.
Also in early September, unnamed sources told Business Insider the investment bank Goldman Sachs was scrapping its BTC trading desk. It was already too late by the time the bank's Chief Financial Officer (CFO), Martin Chavez, claimed the rumours were unsubstantiated; approximately $50bn was wiped from the market's total value in less than a week.
Probably because it has been running for longer, there are more projects available with Blockfolio; although neither service can be used for updates on major projects such as Ethereum (ETH) or Bitcoin (BTC). The one key difference is Signal users can look at updates from any and all projects using the service, something not currently available on Direct.
Services such as the ones offered by Delta and Blockfolio satisfy a growing demand for objective information. Most projects have so far made announcements through social media platforms like Twitter, Discord or Telegram, as well as through the Medium blog site. They give teams a direct line to their investors and followers. Direct and Signal pull all of these official updates together, into one place.
---
So is Delta Direct just a copycat service?
Yes and no. On the face of it, the service is very similar – both allow project teams to communicate directly with their stakeholders through a portfolio app, with the stated goal of eliminating fake news and FUD. And of course, Signal predates Delta by around five months.
But the two app teams have diverged in their idea of what constitutes a safe and prudent approach: while Delta Direct favors the no-holds-barred method, Blockfolio Signal wants to add one layer of safety between the communicator and the reader.
Which you prefer depends on your tolerance for risk, and your definition of it. If your distrust of the media runs deep enough (why are you reading this?) then Direct may be the way to go.
If you prefer a little context and the notion that someone is helping you spot the fakes, it could be Signal.
Bear in mind that the Blockfolio team, in describing their recent raise, explained that during the Crazy Times, they turned down around $2M a month in ICO advertising money in order to keep this space clean. (Editor's note: We sympathize. We weren't offered quite that much, but we turned it all down so that we could also be funded properly.)
At the time writing, 32 projects had already signed up to Delta Direct. These include the teams for blockchain platforms such as NEM (XEM) and Lisk (LSK); payment solutions Nano (NANO) and Pundi X (NPXS); as well as the privacy coin Zcash (ZEC) and Wanchain (WAN), a blockchain interoperability service.
No Bitconnect… at least, not yet.
The author is invested in BTC and ETH, which are mentioned in this article.