Are Zcash Developers Risking Their Future By Going "All In" On ZEC?
Defying market whim, developers go with Bond market.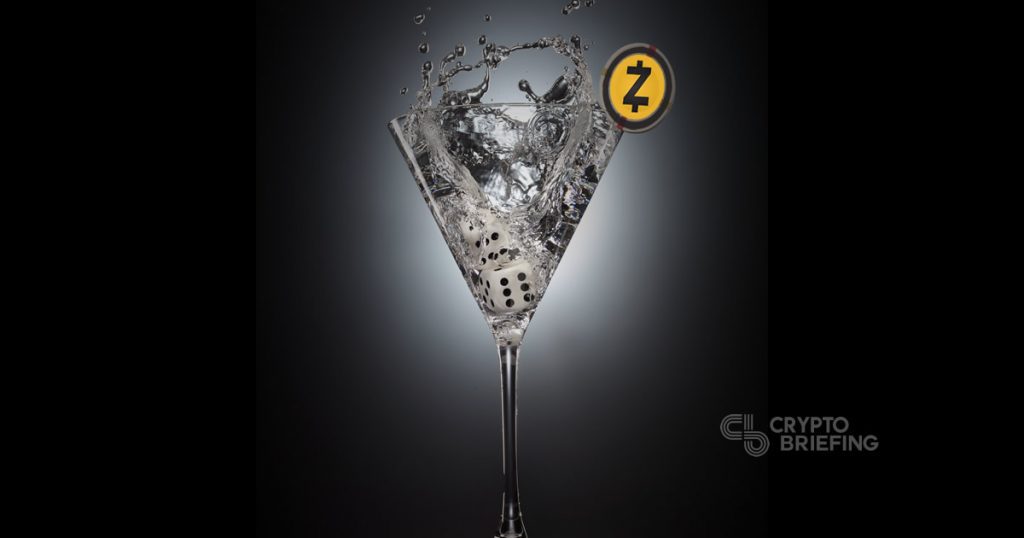 In Casino Royale (arguably one of the best of the James Bond movies) the titular hero goes "all-in" during a game of high-stakes poker, confident that terrorist financier Le Chiffre is bluffing.*
Spoiler alert: Bond misreads the signals and ends up losing all his chips.
Earlier this week the Electric Coin Company (ECC) – the project responsible for the development of Zcash (ZEC) – made a similar move. And while these things tend to work out for Bond, in real life there's not always a Felix Leiter to stake the hero.
In an official blog post, the company said they would go "full steam ahead", in light of the fact that funding is expected to run out as soon as the end of 2020.
"[O]ur path forward is clear," reads the ECC blog, "[it's] to double down on our mission — to empower everyone with economic freedom and opportunity — and to focus all our efforts on experimenting with, developing and evangelizing the Zcash cryptocurrency to that end."
While many other projects raised funds through token sales, in the case of Zcash the ECC receives a small sliver of the block reward, which goes primarily towards operational expenses and salaries for developers. As the table below shows, a small amount is also held in reserve.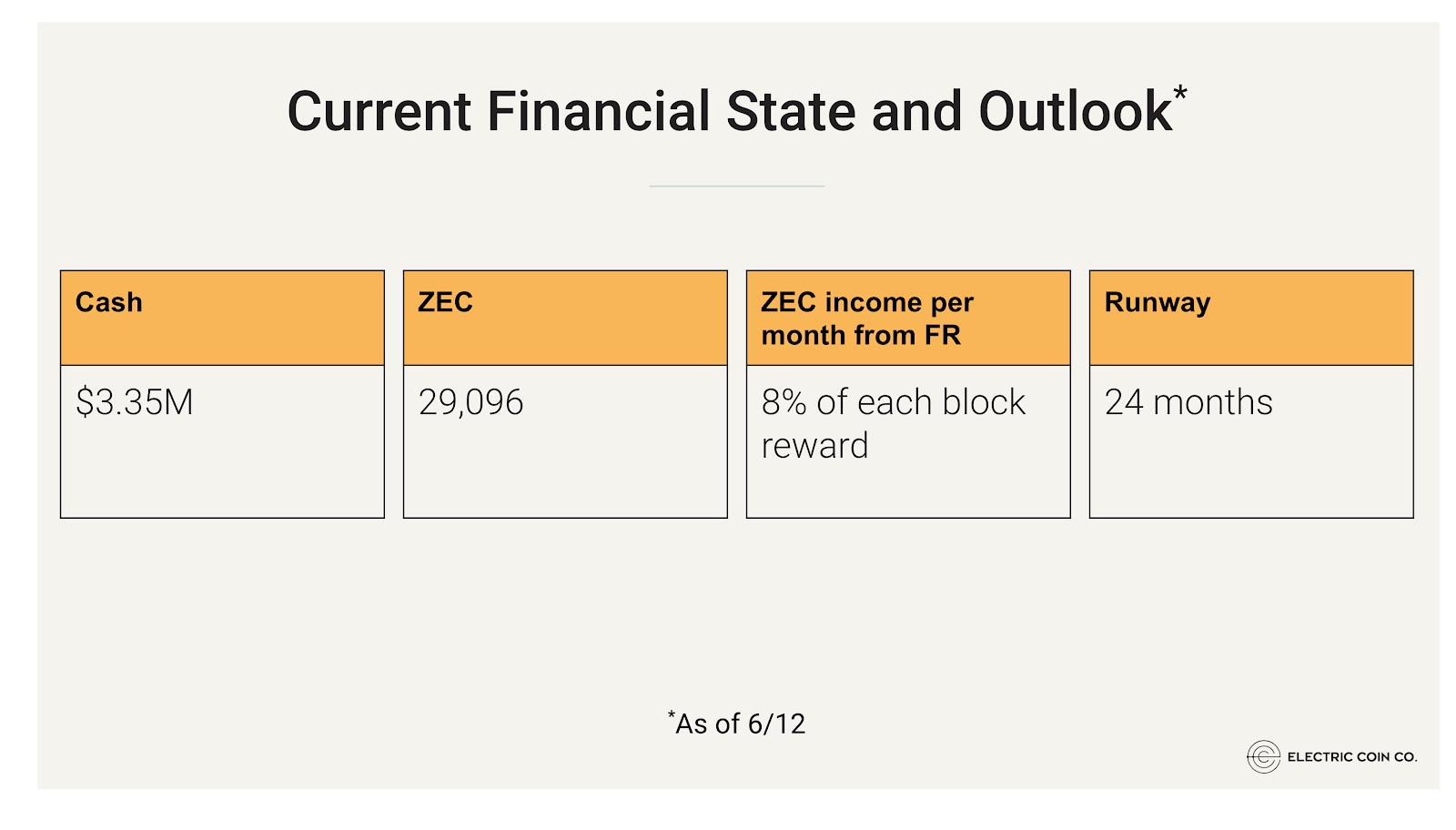 This state of affairs is set to conclude sometime in October 2020 when the ECC will no longer receive any part of the Zcash block reward. They will, therefore, lose their main revenue stream and under current projections, will run out of funds sometime within 24-26 months time – Q3 2021.
That makes the next year incredibly important for ECC. The 'all-in' policy is designed to get Zcash into a position where it can exist independently on the existing funds. As CEO Zooko Wilcox explained, going all-in means ECC can focus entirely on ZEC.
But there's an inherent vulnerability in this strategy: it depends on a stable Zcash market price. Approximately 50% of the company's value is held in ZEC, as the table above shows. All it takes is a prolonged drop in the ZEC price and these projections go straight out the window.
Speaking to Crypto Briefing, Josh Swihart, ECC's VP of Marketing and Business Development, said that the current 26-month runway is based on a ZEC price of $90, but on CoinMarketCap today, the coin was trading just below the $74 mark at press time. Zcash is down around 30% from where it was this time last month.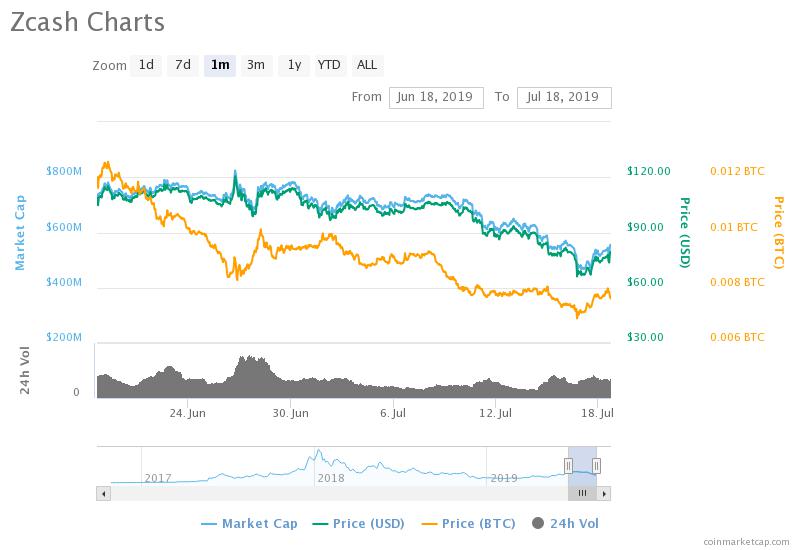 "Obviously that number is impacted by the recent drop in price. We look at various scenarios internally," Swihart added. "The company's financial exposure to market volatility hasn't changed."
Multiple companies suffered during Crypto Winter. One such project was ETCDev, which shut its doors in early December. The overwhelming majority of the company's value was held in Ethereum Classic (ETC) and so when it fell by more than two-thirds, its operational runway was cut back drastically.
Cryptocurrencies are volatile assets. Even if ECC feels its current balance sheet places Zcash at a level of acceptable risk, it is more vulnerable than if it held value in a more balanced basket of assets (although as noted by Crypto Briefing on numerous occasions, market correlations don't always allow for well-diversified portfolios).
All it takes for ECC to go bust could be a sudden drop in the ZEC price which doesn't recover for a few months. That might not happen, of course, but it's still a gamble.
In Casino Royale, Bond eventually beats Le Chiffre because a CIA operative believes he has the skills to get the job done.
ECC's track record suggests they do, too. But there may be some nerve-wracking moments along the way.
*Note: Le Chiffre's clients finance terrorism with cash, for Steven Mnuchin's reference.