EOS Jilted: Larimer Wants To Date Other Cryptos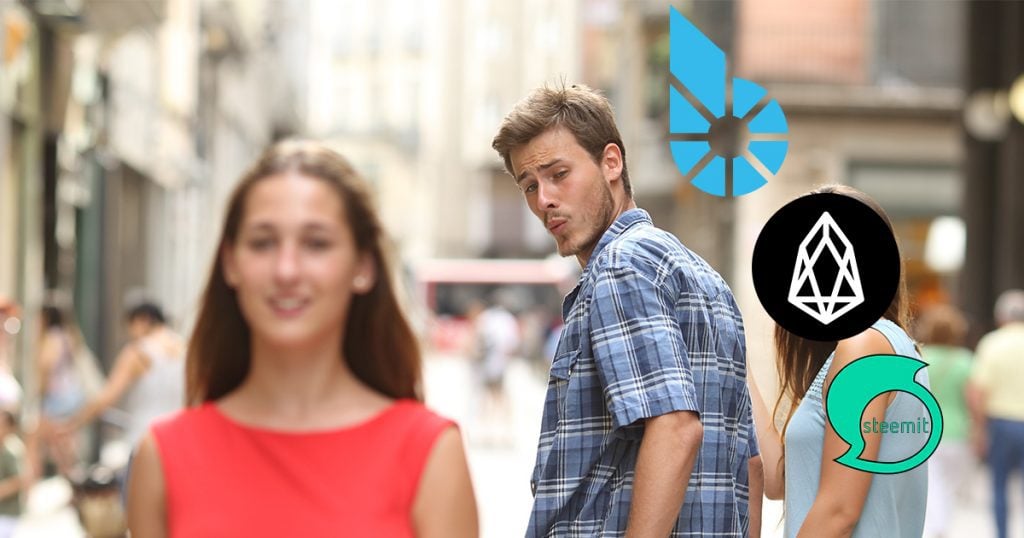 Repeat after me: Daniel Larimer is not abandoning EOSIO or Block.one. Right, investors didn't buy it either, with the price of the once rock-star cryptocurrency EOS having plummeted 21% since the serial entrepreneur announced he would be exploring the creation of a new cryptocurrency, only months after the launch of the EOS mainnet. The damage has been done, and investors want to know if this time it is too late to be reversed.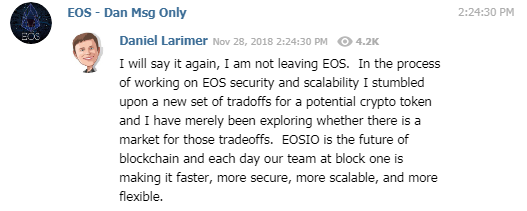 Nonetheless, the EOS community feels scorned amid murmurings of yet another cryptocurrency, and you can't really blame them. Larimer has left a wake of shrinking projects as measured both by staff and value. He launched BitShares in 2013/2014, only to leave that project for decentralized blogging platform Steemit, where he served as the CTO until last year.
Steemit just announced massive layoffs of 70% of its staff, and Larimer is distancing himself from his former project, saying on Telegram that he was "pushed out" and that they "failed to deploy" his "roadmap." For its part, the EOS mainnet remains a "community project," not "our project," which of course would lessen the sting of moving on.

As imperfect a measure as market cap may be, the decline in EOS' value is a reflection of investors fleeing the No. 6 cryptocurrency for seemingly greener pastures, or at least a flight to safety. Larimer, meanwhile, recently declared that decentralization wasn't a top priority of EOS.
Nonetheless, the personality behind the brand, in this case, Larimer, has long been an influencing factor on investor flows on Wall Street, and human psychology is no different in crypto land.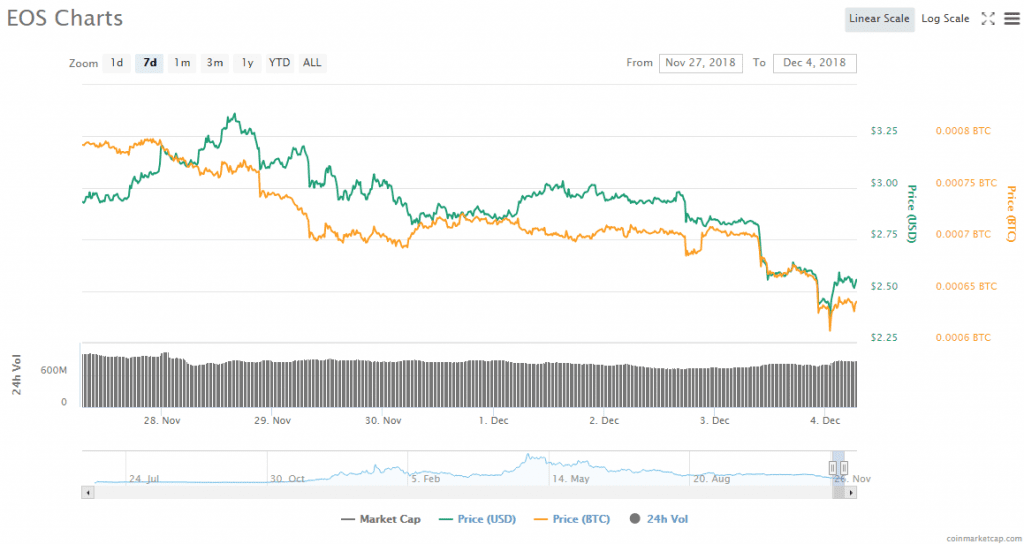 In realizing that he must have opened a Pandora's box, Larimer has since taken to Medium in an attempt to quell any fears about his dedication to Block.one, saying that "it's hard for me to brainstorm with the community the way I have in the past without occasional unintended consequences." But he also defended "bouncing around new thoughts and ideas with the community," saying:
I believe these sidesteps of thought are byproducts of an effective iterative development process when working towards delivering new revolutionary products and capabilities.
Kanye West of Crypto?
Larimer's disclosure to explore the creation of a new Bitcoin-like cryptocurrency has inspired the ire of the community, and perhaps rightfully so. But there are those in the community who basically shrug their shoulders and remind themselves that you can't change a zebra's stripes, and Larimer is just doing what eclectic entrepreneurs do.
Take Elon Musk, who was at the helm of both SolarCity and Tesla before combining those companies and recasting the former as Tesla Energy. Musk is also behind The Boring Company, which is building underground tunnels in high-traffic cities, not to mention SpaceX, which is which has missions to Mars in its sights. The Larimer/Musk comparison isn't too much of a stretch considering the Virginia Tech computer science alum is seemingly working on time travel.
But as one Reddit member pointed out, Larimer knows how to make money, as evidenced by the $4 billion blockbuster Block.one ICO. Indeed, the recipe for a successful project involves "money and people," as Larimer has stated.
But what Larimer should avoid is becoming the Kanye West of crypto, no offense to Ye. After the rapper approached tech leaders for $1 billion to fund his projects, a crowdfunding page was launched so that the "greatest living artist and greatest artist of all time" could maintain his lavish lifestyle. Although the crowdfunding page was launched by someone else as a joke, it still reeks of narcissism.
To be fair, Larimer isn't taking it to that extreme, but you get the point.
As for the water-cooler talk, Larimer's imaginary token is reportedly dubbed MonerEOS.

Unfortunately, Larimer is providing about as much detail on the status of MonerEOS as he is about his future career path, saying on Telegram: "I will leave EOS sometime between now and when I die." Maybe he could use a visit from Jacob Marley to see how it's all going to pan out.
The author is not invested in any digital currencies mentioned in this article but holds investments in other cryptocurrencies.