DApp To The Future: EOS Rockets As Usage Lifts Off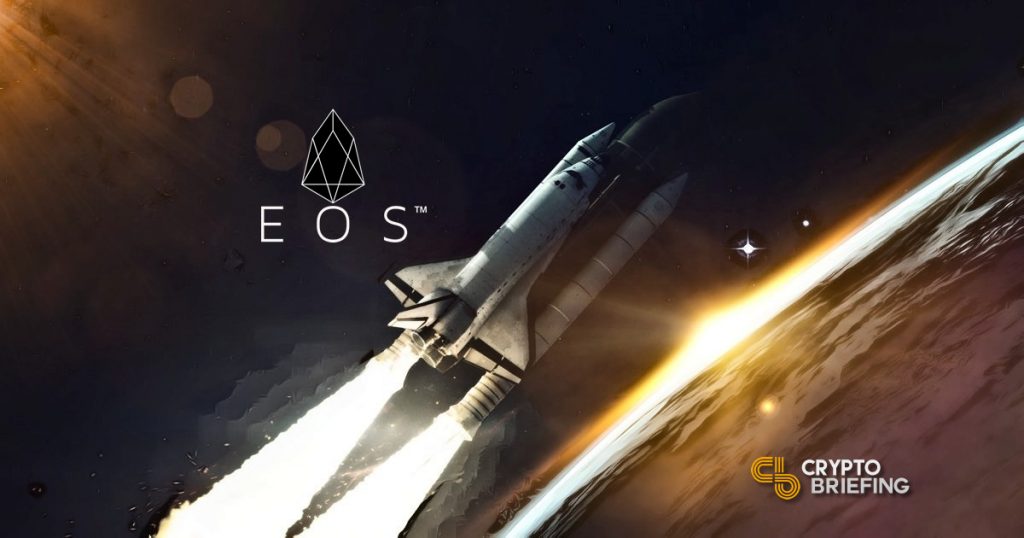 Today's rally was short-lived, but EOS is holding steady as the fifth biggest cryptocurrency by market capitalization. Over the past month, the coin's value has grown by 25%.

---
EOS Leads the dApp Race
One catalyst for EOS' rise could be its dominant position as a platform for decentralized applications, with gambling fueling much of the volume. Most recently, the community buzzed over a smart contract-fueled version of Texas Hold'em for EOS-based bets. Redditors are divided, however, over the fact that the game's code isn't open-source.
While Tron may be the loudest blockchain, they are second to EOS in user adoption. EOS is home to the top three decentralized applications based on the number of users, according to Dapp Radar. Despite the rivalry, EOS and Tron have a lot in common: both use a delegated proof of stake (DPOS) consensus algorithm to validate thousands of transactions per second, which explains why they are so popular for dApps.
The most used EOS-based dApps are PRA CandyBox, EOS Knights, and ENBank, the latter of which is now neck and neck with Tron's Epic Dragons. With more than 10,000 users in the last 24 hours, ProChain's PRA CandyBox is an ad network that rewards users with airdrops.
Not to be outdone, Tron is planning a distribution of its own. Justin Sun recently announced an airdrop of BitTorrent (BTT) tokens.

Unlike EOS, Tron's strength is in transaction volume, as evidenced by TRONbet's 24-hour transaction volume of $41.1 million, or 1.6 billion TRX. By comparison, EOS-based Dice has a daily transaction volume of barely $11 million.
---
Crypto Exchanges Give EOS Liquidity A Boost
Crypto exchange Houbi recently announced the trial launch of its EOS Exchange, with BTC, ETH and USDT trading pairs. As Crypto Briefing previously reported, Huobi also expanded to EOS derivatives contracts, giving traders the ability to take both long and short positions.
Meanwhile, Bitfinex, another leading marketplace, has plans to launch a dedicated EOS decentralized exchange. Bitfinex CTO Paolo Ardoino revealed that the launch of EOSFinex is currently planned for Feb. 15, and "definitely Q1."
EOS may not have been able to hold onto its gains today, but as long as it can hold onto its users, the community has something to brag about to Justin Sun.
The author is invested in digital assets, but none mentioned in this article.