Ethers On The Move: ICO Startups Cash Out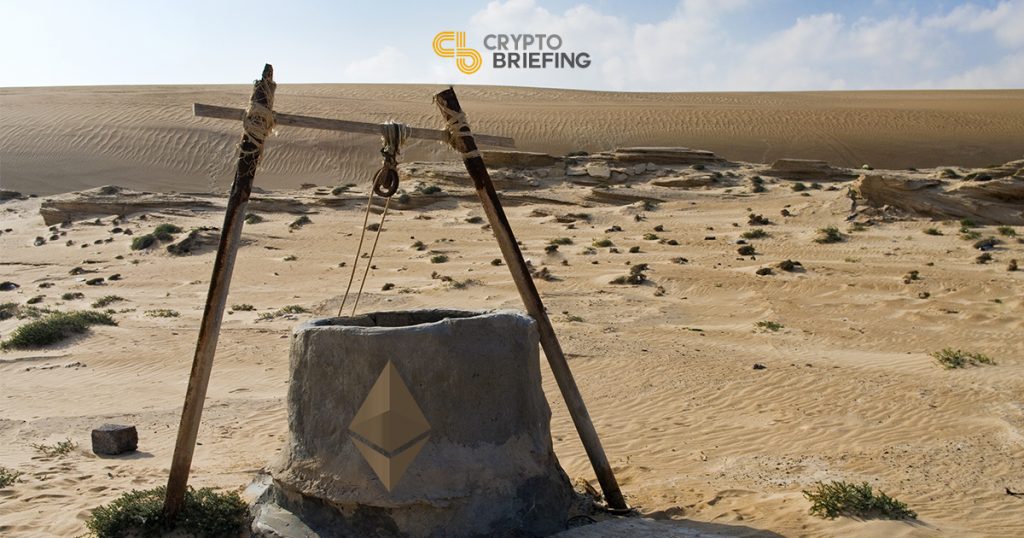 The Ethereum (ETH) price has warmed up from the crypto thawing and has made its way back above the $100 threshold once again. A wider perspective over the last 90 days, however, shows the No. 3 cryptocurrency has shed some 38% of its value.
So who exactly was dumping their ETH? According to Santiment.net, which tracks the wallet activity of ICO's, blockchain projects that raised at least approximately $25 million in their ICOs have moved more than 250,000 ETH over the course of the last 30 days.

Santiment Community Manager Kelvin Lee suggested to Crypto Briefing that while there's no surefire way to prove that the ETH funds are being spent unless the project says so, there are signs.
We take the assumption that any ETH moved from a project's treasury wallet as "spent" unless a project or community member updates us with new details on whether the receiving address belongs to the project as well…It is often the case where a project moves funds and it's likely going to a fund or OTC desk.
---
Kyber's Treasury Wallet Is The Most Active
Based on that premise, the project that moved the most ETH over the last 30-day period was Kyber Network at 67,290 ETH. Kyber Network is an on-chain liquidity protocol through which users can trade instantly and devs can integrate with for "payment and financial use-cases."
Kyber Network recently launched the Wrapped Bitcoin token, or WBTC, which is "an ERC20 token fully backed by real BTC and stored by regulated custodians." The motivation behind WBTC is to deliver non-Ethereum cryptocurrencies to decentralized exchanges, where Kyber identified "major gaps" in liquidity. It would appear that with all this focus on bitcoin, no wonder ETH is being moved. But sometimes there is more than meets the eye.
"Checking their treasury wallet," Santiment's Lee stated, "it reveals a transaction of 19,999 ETH 3 days ago to 0x008024771614f4290696b63ba3dd3a1ceb34d4d9 , which doesn't look like a wallet that belongs to Kyber at all due to the holdings and nature of transactions in that wallet."
Kyber, which raised $50-$60 million in its ICO, continues to hold 5,560 ETH in its treasury wallet. Kyber Network Co-Founder and CEO Loi Luu told Crypto Briefing that the project's Ethers are not for sale:
We didn't sell the eth. Just moved fund and lend some of the eth out to yield some profit.
Another high-profile project that has moved ETH over the course of the last 30 days includes 0x, which moved 5,450 ETH, according to Santiment statistics. 0x raised $24 million in its ICO and its ETH balance has dwindled to 24,600 ETH.
Meanwhile, Aragon's $24.6 million ICO sold out in a matter of minutes. The project has moved more than 52,000 ETH from its treasury wallet in the last 30 days, the most recent transactions of which occurred today and involve the Aragon MultiSig wallet. Aragon, which is an Ethereum-based platform, has about 180,000 ETH remaining.
The list goes on to include projects such as Status (SNT), which offloaded 40,000 ETH and still holds 184,000 that it could offload into the market, in addition to GoNetwork at 23,500, which still holds 9,000 ETH.
The ETH price has shaved approximately 90% from its value this year; the market has been on tenterhooks waiting to see which ICO projects would be next to panic-sell.
Let's hope none of them sold at $85, though.
The author is invested in digital assets, including bitcoin and 0x, which are mentioned in this article.