The Ethereum Dumpers: Who's Cashed Out Their ETH?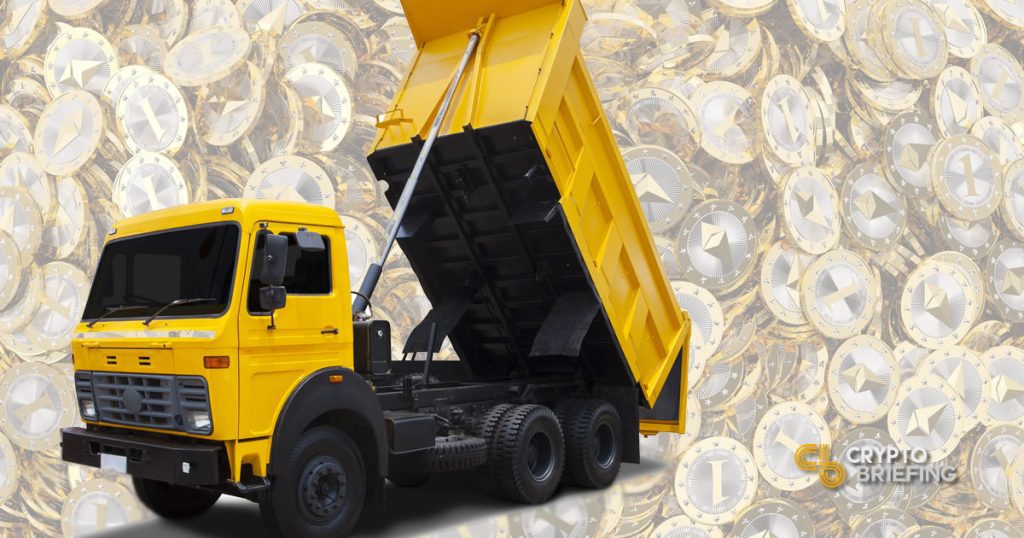 Over fifty ICO projects sold 125,000 Ether (ETH) in the past month, statistics show.
Data collected by SANbase found 57 ICO projects collectively sold 125,218.34 ETH in the past thirty days; this would be worth over $400m at yesterday's opening price.
SANbase is a platform for users to access and share cryptocurrency-related data. Established in the first quarter of 2017, it defines Ether being sold by funds sent from a project's wallet to an exchange; this doesn't automatically mean the ETH has been liquidated, according to the project's methodology.
Amongst the largest sellers included the cryptocurrency exchange COBINHOOD (COB), which has sold 25,630 ETH since mid-July; the IoT security protocol, Atonomi (ATMI), sold 12,000 ETH.
The decentralized exchange platform 0x (ZRX) sold 1,500 ETH, and Kyber Network (KNC), 2,000 ETH. Other high-profile projects include the real estate platform Propy (PRO), which sold 1800 Ether, and Quarkchain (QKC), the peer-to-peer crypto, which sold 2650 ETH in the past 30 days.
Ether is a popular option for ICO contributions, with many projects requesting ETH in return for participation. Although some projects have still managed to reach their funding target, like Telegram, coin offerings have become less successful recently; investor enthusiasm has waned as real-returns were lower than expected.
Ether has been a downward trend since the beginning of May. Since it reached $822 on May 5th, the ETH price has roughly shed $200 every month. It was worth approximately $440 on July 15th, which was 30 days ago; it is worth $266 at the time of writing, a 40% drop in price.
One of the company's that sold some of its Ether stock, Cofound.it (CFI) – a platform to accelerate blockchain projects' early stage growth – told Crypto Briefing it was a shift of funds in their case.
"It's actually very straightforward," said Cofoun.it's CEO and co-founder, Daniel Zakrisson. "We've just spun off our internal treasury management to D2 Capital, to be able to offer treasury management services to other crypto startups. So this move of our ether was actually a change of custodian and rebalancing ether to bitcoin, we didn't sell anything to fiat."
---
COBINHOOD Sells 15,000 ETH In 24 Hours
The founders of the Taiwanese exchange, unaffiliated with the investment platform Robinhood, announced yesterday that their new venture, DEXON Foundation, received a $20m private placement from the venture fund conglomerate, IDG Capital.
A non-profit foundation, DEXON, is a platform designed for the easy development of dApps. Its CEO, Popo Chen, is also the founder of COBINHOOD.
Any mass sell-offs will immediately impact a coin's price on an exchange. ETH price took a hit yesterday afternoon, with $6bn being wiped off the total value in the space of 12 hours.
Although there is currently no suggestion that the events are linked, COBINHOOD's Ether sell-off yesterday would have netted the company somewhere between $48m and $42m, depending on when exactly they sold and at what price.
The decentralized exchange also launched an airdrop yesterday, which said it would reward COB holders with Ether. Whether the ETH given away actually came from the COBINHOOD wallet or whether it came from an exchange wallet is not yet known.
We're giving away #ETH in exchange for your #COBPoints! Log in to COBINHOOD now to check out the Airdrop rules: https://t.co/0AGNdbeeVC pic.twitter.com/EN8JiGXtmf

— COBINHOOD (@COBINHOOD) August 13, 2018
COBINHOOD had not responded to our requests for comment by press time.
The author is invested in ETH, which is mentioned in this article.