Deposit Contract Fulfilled, Ethereum 2.0 Ready for Launch
The Eth2 deposit contract received more than 7,000 validators yesterday, surpassing its minimum 524,288 ETH threshold. The network's Beacon chain will deploy as planned on Dec. 1.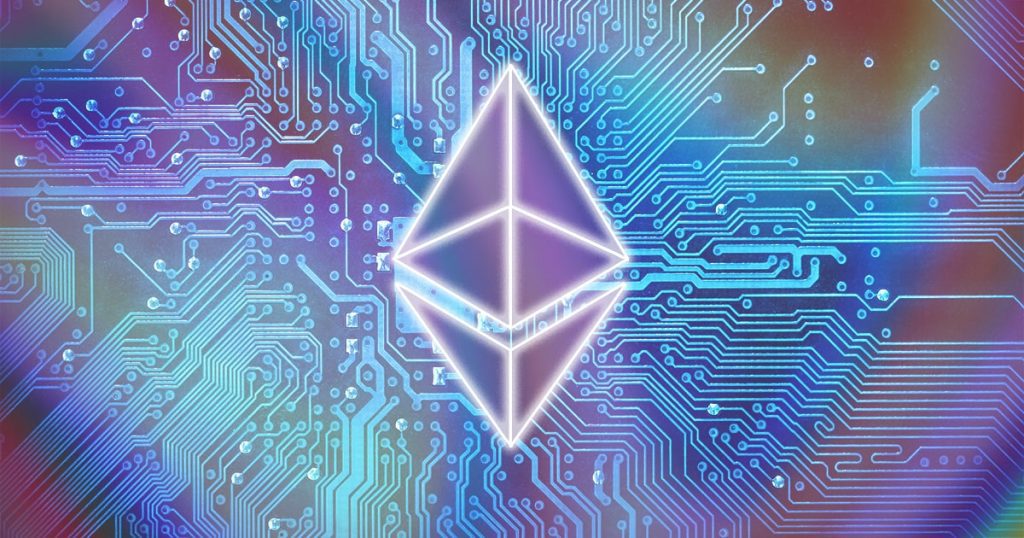 Key Takeaways
The deposit contract for Ethereum 2.0 has exceeded its 524,288 ETH target.
A surge in deposits yesterday helped the contract meet its minimum limit before today's cut-off date.
The Beacon chain is now confirmed to deploy on Dec. 1.
The deposit contract for the network's long-awaited ETH 2.0 upgrade passed its minimum threshold of 524,288 ETH yesterday, meaning that Ethereum's Beacon chain will be deployed as planned at 12 pm UTC on Dec. 1.
Ethereum 2.0 Ready for Liftoff
The contract needed to meet the minimum of 16,384 validators seven days ahead of deployment, but a surge of deposits yesterday meant the target was exceeded late last night.
The deposit contract is the starting point for phase 0 of Ethereum 2.0, also known as Serenity. After Dec. 1, Ethereum will initiate proof-of-stake (PoS), a mechanism where validators provide security to the network and receive ETH as a reward.
It's an alternative to the blockchain's current proof-of-work (PoW) system. Ethereum 2.0 has been discussed since late 2018, and its launch has had a few delays. The deposit contract was finally released on Nov. 4, though the initial uptake to become a validator was relatively slow. To participate in the genesis launch, validators need to deposit a multiple of 32 ETH, meaning a high cost of entry (32 ETH is worth almost $20,000 today).
Setting up a validator is also a relatively complex process for less advanced users.
Despite the slow start, progress picked up significantly towards the end of the one-week cut-off period. The deposit contract met 60% of its target early yesterday. Meanwhile, the ETH price soared past $600 for the first time since 2018 amid the anticipation for the upgrade.
Later, a stream of participants pushed the balance past its 524,288 ETH threshold.
It met the goal with around ten hours to go before the 12 pm UTC cut-off. Many members of the Ethereum community took to Twitter to celebrate the milestone.
524288 pic.twitter.com/N66EmtW0Ih

— vitalik.eth (@VitalikButerin) November 24, 2020
We did it!

— Hudson Jameson (@hudsonjameson) November 24, 2020
I think it's a good time to revisit this masterpiece

🎶 "Eth2.0 yo, Eth2.0 yo, Eth 2.0 yo"https://t.co/WRLwTypd1D

— Camila Russo (@CamiRusso) November 24, 2020
1/ The minimum amount of ETH required – 524,288 – has now been sent to the deposit contract 🥩

This means that the eth2 Beacon Chain (phase 0) will launch as planned on Dec 1st at 12PM UTC!

NEVER BET AGAINST ETHEREUM 🚀

Let's recap 👇 pic.twitter.com/GREZ9DMJSn

— sassal.eth 🦇🔊🐼 (@sassal0x) November 24, 2020
500k ETH! This is so exciting! Eth2 deposits almost there 🚀 pic.twitter.com/SKwPopXC1P

— Linda Xie (@ljxie) November 24, 2020
There's now 612,736 ETH deposited at the time of writing. According to a graph provided by Ethereum, stakers can expect to earn 20% APR as a reward for securing the network.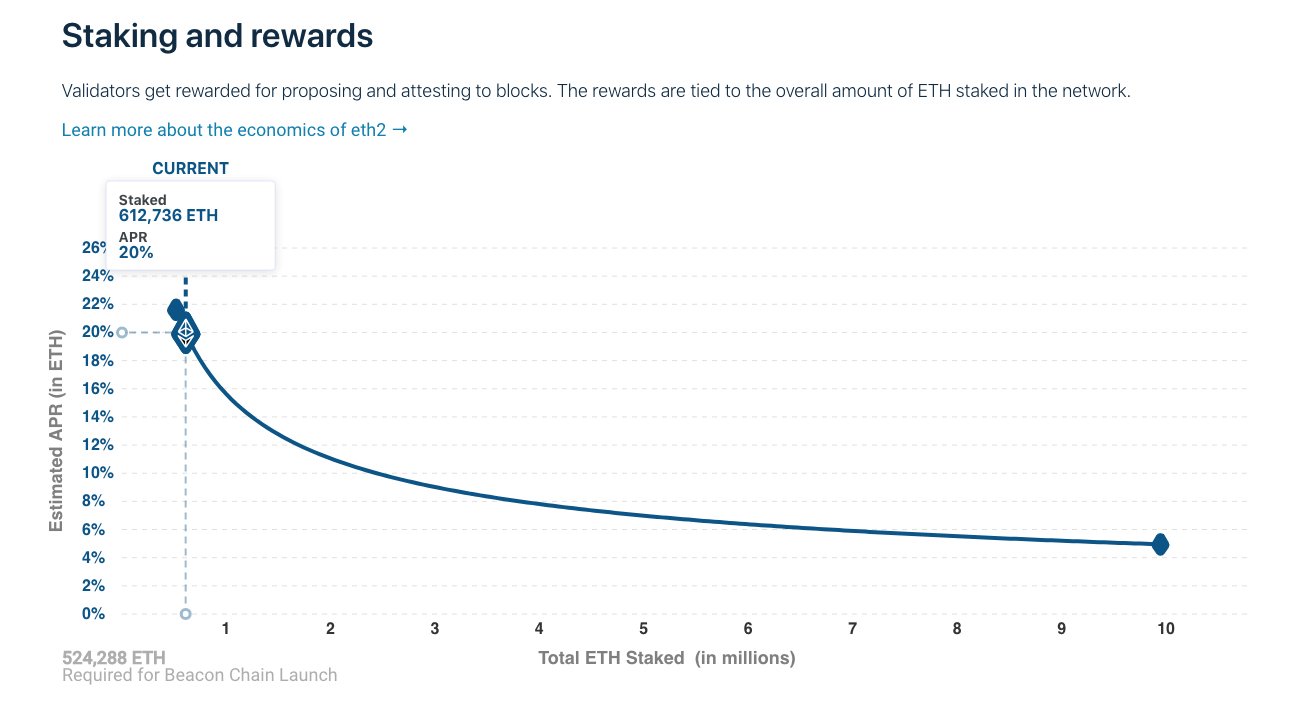 Source: Ethereum
The deployment of the Beacon chain is phase 0 of Ethereum 2.0. It will be followed by several other stages over the coming years, which all form part of the blockchain's Serenity upgrade.
With those developments, it's hoped that the network will achieve scalability, and ultimately, wider adoption.