Ethereum Layer 2 Network Optimism Is Dropping a Token
Optimism has announced a token airdrop.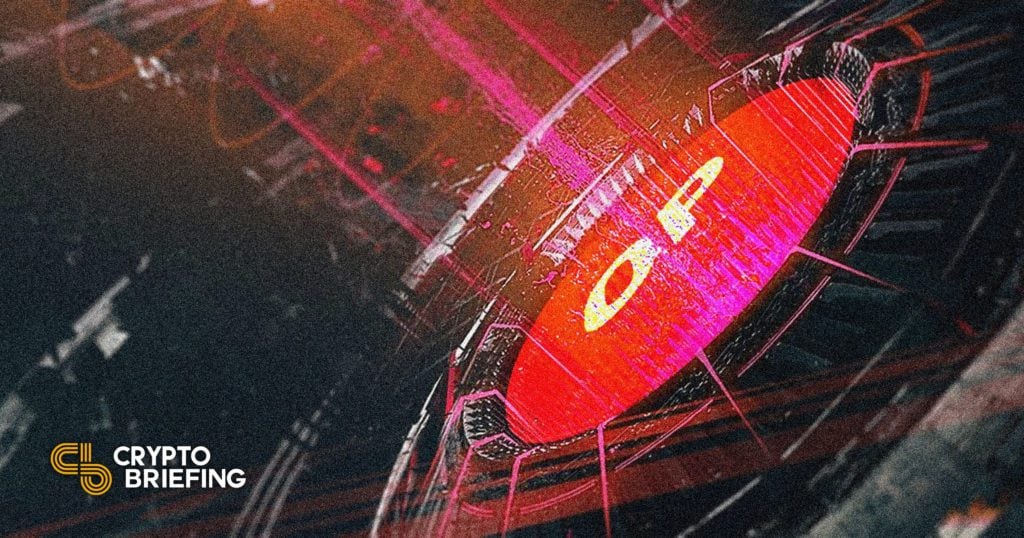 Key Takeaways
The Ethereum Layer 2 network Optimism is launching a token and new governance model.
The Optimism team has announced that the token will be distributed via a series of airdrops, and that new users can still get involved.
Optimism is one of several Layer 2 solutions hoping to help Ethereum achieve scalability.
Optimism's new OP token will be distributed to Optimism users across "an entire season of airdrops." The team revealed its token as part of a larger move toward a decentralized governance structure known as the Optimism Collective.
Optimism Launches Token
Ethereum power users are getting another airdrop—a series of them, in fact.
Optimism, one of Ethereum's top Layer 2 scaling projects, has announced that it will be issuing a governance token under the ticker OP. The Optimism team revealed the news in a blog post Tuesday. The team also shared a list of criteria for airdrop eligibility, which includes items as simple as being an Optimism user to more advanced criteria such as being a DAO voter or multisig signer.
The token airdrop will be the first in a series of airdrops to be released in the coming months. While the team did not provide an exact date for the first airdrop, it took care to warn users that it is not live yet, and any attempt to convince users otherwise is a scam.
The token drop is part of a larger move to a more decentralized governance structure. The Optimism Collective, as it will be known as of today's announcement, will feature a bicameral "house" system that divides governance roles among a Token House and a Citizens' House. The Token House will be comprised of recipients of OP during the first airdrop; Optimism will add users to the Citizens' House later by way of issuing "soulbound" NFTs that cannot be bought or sold. Together, the bicameral system in intended to mitigate the possible plutocratic tendencies of purely token-based governance.
Optimism leverages a form of cryptographic technology called Optimistic Rollups to help Ethereum scale. By running its own network on top of the base chain, it can process transactions at a higher speed and lower cost than Ethereum mainnet while leveraging the security of the network. Optimism has a bridge that connects Ethereum mainnet to its Layer 2 network. Since launching in 2021, the network has welcomed key DeFi projects like Synthetix and Uniswap. In launching a token, Optimism will be adopting a decentralized governance model akin to many other similar DeFi projects on Ethereum.
The token announcement had been anticipated for several days, thanks mainly to an Apr. 19 Mirror post in which Optimism detailed a plan to start a new chapter "driven by community ownership and governance." A leaked Coinbase page also appeared to list an Optimism token last week.
Layer 2 Race Intensifies
The project has seen significant growth over the past few months amid increased focus on Ethereum's Layer 2 scaling solutions. According to L2Beat data, the network holds about $662 million in total value locked, a sum that's jumped 15% over the last week since the token rumors started to surface. Notably, although Optimism is currently benefiting from a wave of hype, it's still lagging behind its biggest competitor, Arbitrum, another Layer 2 solution of the Optimistic Rollup variety holding $3.57 billion in total value locked—more than half the Ethereum Layer 2 market.
While Optimism and Arbitrum are currently two of Ethereum's biggest scaling weapons, that's expected to change once ZK-Rollups like StarkWare's StarkNet gain significant traction. Last week, the early Ethereum DeFi project MakerDAO outlined plans to launch on StarkNet commencing with a bridge launch this Thursday as part of its commitment to helping the Ethereum ecosystem scale (2022 is also a big year for the Ethereum protocol and its scaling roadmap, as it's due to launch its highly anticipated "Merge" to Proof-of-Stake).
With Optimism now dropping a token, other similar Layer 2 protocols face a decision of whether to follow suit. In the world of DeFi, it's not uncommon for projects to release a token once a competitor does to incentivize usage and help bootstrap growth. Either way, alongside the Merge, the race to build out Layer 2 is likely to become a key narrative in Ethereumland over the next few months.
Disclosure: At the time of writing, the author of this piece owned ETH, SNX, and had exposure to MKR and UNI in a cryptocurrency index. They mistakenly thought they were eligible for the first round of Optimism's OP airdrop, but later realized that they had not been included.