Every Major Ethereum Token Airdropped in 2021 Is Down Over 50%
The DeFi space appears to be experiencing something of an airdrop season. However, data shows that the hype may not last.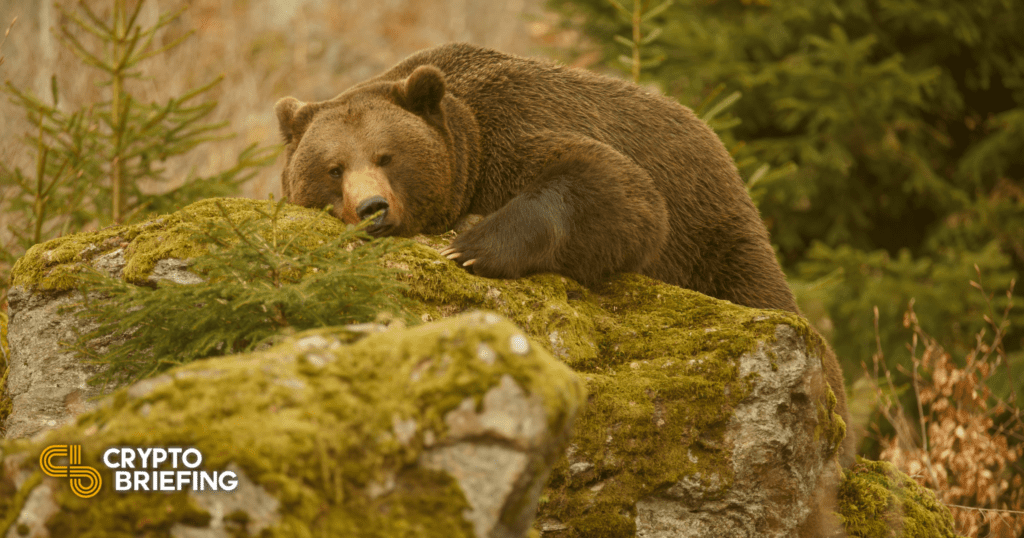 Key Takeaways
The Ethereum community has seen another two airdrops over the last few days, but both tokens have tanked since their launch.
Every other major airdrop on Ethereum in 2021 has led to an initial buzz in the market followed by a selloff.
While other coins in the market have been recording new highs this week, all of the major Ethereum tokens that launched with an airdrop this year are down over 50%.
Ethereum saw several big token airdrops in 2021. Despite the initial hype surrounding the most anticipated airdrops of the year, most of the tokens are down 50% or more.
Ethereum Tokens Suffer in Market Selloffs
Ethereum devotees keep getting token airdrops, but the rewards rarely hold their value.
Some of Ethereum's most active users have received two separate token airdrops over the holiday season, sparking a frenzy within the community. On Christmas Eve, OpenDAO distributed its SOS token after taking a snapshot of every Ethereum address that had made a trade on OpenSea. The token rallied throughout Christmas Day as users claimed their tokens, briefly bringing the project's market cap above $300 million. However, data from CoinGecko shows that it's now down 63.7% from its highs, with one SOS trading at $0.00000397.
Earlier today, Gas DAO launched with a token airdrop for Ethereum users who had spent at least $1,559 worth of ETH on transaction fees. Gas DAO says that it wants "to be the heartbeat and voice of the Ethereum network's active users through on and off-chain governance." Despite some initial momentum on launch, Gas DAO's GAS token is already down 77.1% on the day.
While the selloffs that OpenDAO and Gas DAO have experienced are more brutal than most tokens suffer, post-airdrop declines are not exclusive to newer projects. In fact, every major token that launched with an airdrop to Ethereum users in 2021 is down over 50% today.
DeFi Favorites Plummet Following Airdrops
The Layer 2 derivatives exchange dYdX launched its DYDX token in September in what was touted as one of the biggest token airdrops of the year. DYDX initially traded at around $12 and gained momentum in the market in the weeks following its launch. Euphoria helped DYDX peak at $27.86 on Sep. 30 while ETH traded at around $2,850. In the 12 weeks since then, DYDX has printed nine weekly lows, while ETH rallied to new highs and is currently trading at around $3,800. DYDX is down 66.8% from its high.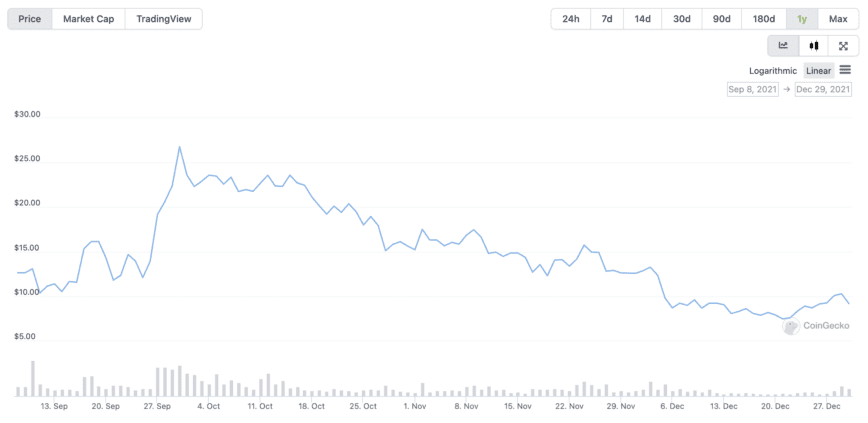 Ethereum Name Service also launched a token this year, generating a huge buzz in the community on launch. After opening trading at around $17, ENS soared to $83.40 within two days. It then tumbled over the course of a few days, and despite a reclaim of $75, it was hit by a selloff as the market started to slump on fears of the Omicron Covid strain in December. It's down 52.9% from its highs today.
ParaSwap, a decentralized exchange aggregator that supports Ethereum, Polygon, Binance Smart Chain, and Avalanche, has also seen its market cap plummet over 80% since it launched a token, though the main reason for the dramatic decline may be its controversial token distribution method. ParaSwap launched PSP on Nov. 15 after weeks of hinting at an airdrop, but the strict eligibility criteria meant that many of the protocol's loyal users were excluded. As a result, the airdrop prompted a fierce backlash within the DeFi community.
Ribbon Finance's RBN is also down 63% from its highs; the options-based yield generator memorably suffered a wave of bad press following its token launch when it transpired that one of its backers, Divergence Ventures, had used insider information to "farm" $2.5 million worth of tokens on multiple Ethereum wallets. One of the tokens that's suffered hardest in the market is Ampleforth's FORTH. Ampleforth distributed FORTH tokens to AMPL stakers back in April, rewarding some with a six-figure payout. It initially traded at just over $55 and has since bled to $9.60.
Although many Ethereum tokens are significantly down from their highs, the market has seen bullish price action in recent weeks. Per data from CoinGecko, Curve's CRV is trading above $5, up 50.9% in the last two weeks. Convex Finance's CVX is trading at $48.82 after hitting an all-time high of $52.16 Monday. Alternative Layer 1 coins such as LUNA and NEAR have also recorded new record highs in the last week. Renewed interest in NFTs has also helped the price of blue chip projects like CryptoPunks and Mutant Ape Yacht Club climb over the last few days. A select number of NFT collectors have also received airdrops this year, though the price action for many of them has differed from DeFi projects like dYdX. Mutant Ape Yacht Club NFTs, for instance, launched after Bored Ape owners were airdropped a serum NFT to turn their character into a Mutant Ape. Like Mutant Apes, the serums have held their value.
While dedicated Ethereum users have celebrated the latest wave of airdrops with plenty more rumored for 2022, the price data shows that the market's interest in a token doesn't always last beyond the initial euphoria.
Disclosure: At the time of writing, the author of this feature owned ETH, ENS, DYDX, CRV, MATIC, and several other cryptocurrencies.