GameStop's Short Squeeze Is Far More Than Just Retail Noise
GameStop's price action is one for the history books, but the social media-backed short squeeze may just be the tip of the iceberg.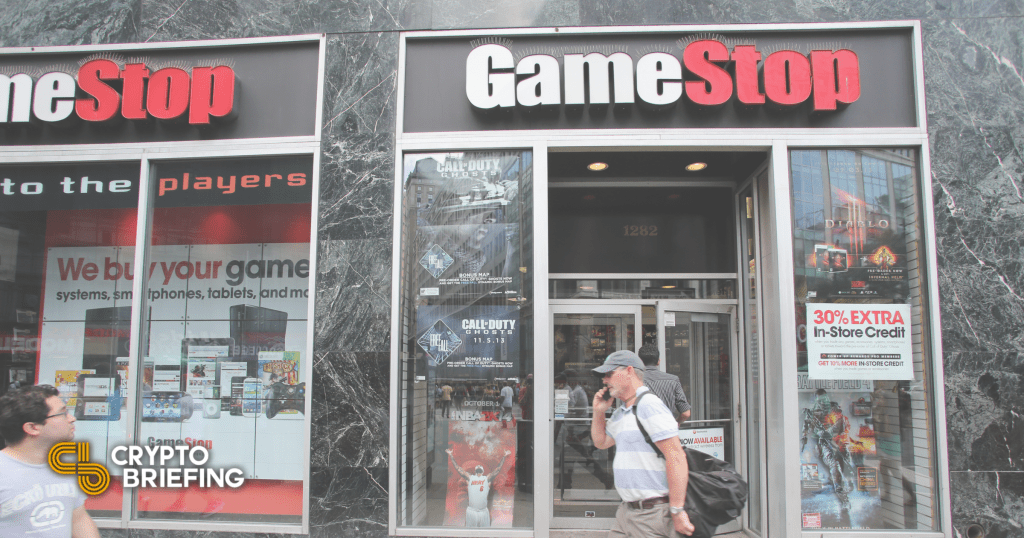 Key Takeaways
The GameStop short squeeze caused a 140% surge in GME's price since yesterday.
Redditors, popular Twitter accounts, and online media all contributed to the pump, and demise of short orders to the tune of $5 billion.
The episode is a sign of a broader paradigm shift in a world economy post COVID-19.
Mainstream media has written off GameStop's (GME) short-squeeze as a win for small guys against Wall Street. Nevertheless, the incident hints at an underlying macro shift in global economics in which Bitcoin and crypto markets become much more relevant.
Historical Short Squeeze of GameStop
A short-squeeze is a rare event that causes an avalanche movement in an asset's price, usually opposite to the dominant position. In 2019, for instance, Bitcoin surged from $4,000 to highs near $14,000 when sentiments were at extreme lows, and short orders were chased to complete exhaustion.
In GameStop's case, American hedge fund Melvin Capital held the largest short position on the company's stock, GME.
The hedge fund got out of the position yesterday afternoon, according to a CNBC report. At 2:30 pm ET on Tuesday, GME was changing hands at close to $125.
Short sellers in GameStop are down $5 billion on a mark-to -market, net-of-financing basis in 2021, which included $876 million of losses early Tuesday, according to analytics firm S3 Partners

— *Walter Bloomberg (@DeItaone) January 27, 2021
Consequently, when the asset management firm closed its position, the markets witnessed a "short squeeze" in real-time.
The wheels for the event were set in motion months ago, however. Redditors have been relentlessly trying to orchestrate a short squeeze, targeting the low value, dying GameStop stock.
So, when Melvin Capital and other short positions finally gave in, the price continued to rise to $145 at closing time.
Closing up short positions implies buying the same quantity of longs, thus causing a surge as the effect of large scale buying unfolds.
The final settlement of the trade takes one to two days. After the execution, the order goes through clearing, which presents the profit and loss statement. The entire process unfolds in stages, causing massive post and pre-market price swings in levered assets.
The pre-market peak price of GME this morning was $365.

The hype reached a peak yesterday. Elon Musk caused a price stir with yet another tweet on the subject. Bitcoin bull and VC investor Chamath Palihapitiya shared his call option position to support the movement.
Essentially, hedge funds and retail traders placed small, low-risk call options and margin trades, which overwhelmed GME's price.
Good night to everyone except those of you who yolo longed Gamestop above $100 just for the shots and gigs.

You ruined the stock market!! Do you know that?! Do you even care??? pic.twitter.com/RKiWNNF5ls

— Mati Greenspan (@MatiGreenspan) January 26, 2021
With over 140% gain since yesterday closing, GameStops' market surged to a peak of nearly $25 billion this morning—a 20x rise since the beginning of the month.
Final Words
Usually, whales are the ones that corner retail traders and force widespread liquidations. That's part of why the GameStop event is such an unusual one. Still, this hasn't been exclusively retail dominated.
Besides retail buyers and spot holders, there may be other large players in the background who contributed to the movement, reaping tremendous benefits from it.
Nevertheless, aside from the superfluous noise of retail traders winning, such drastic moves are usually a tell for something more ominous.
In April last year, the futures market for oil collapsed with prices in the negative. Tesla's short players lost close to $40 billion in 2020 with the blindsided gain in the electric vehicle manufacturer's share price.
The global market has entered into an "irrational exuberance" phase where an unprecedented amount of money supply backs internet communities.
Like the company's earnings or even future projections, the deviation from fundamentals positions non-correlated assets like Bitcoin at a prime spot. However, the uncertainty and volatility in the markets may make matters worse for many crypto investors.
Crypto Briefing will assess the real repercussions and possible consequences to the crypto market in this Friday's edition of wNews.
Disclosure: The author held Bitcoin at the time of press.