How a Small German Firm Brought FAANG Stocks to Crypto
A 19-year-old asset management firm in Germany is responsible for the latest wave of American tech stocks entering crypto. And they're just getting started.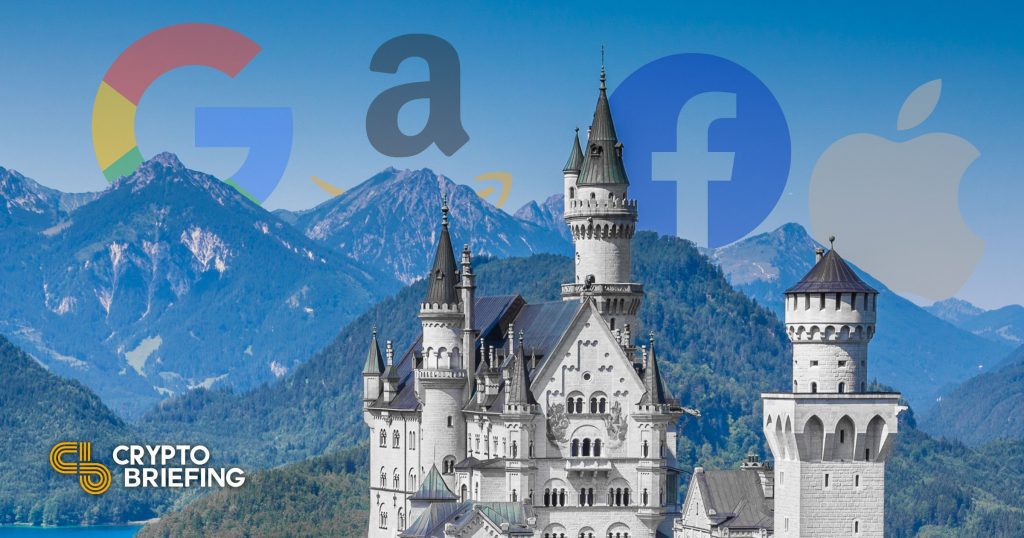 Key Takeaways
Bittrex and FTX exchange recently began listing popular American equities on their platform thanks to a "passportable" licensing software.
Tokenizing Tesla, Facebook, Google, and Apple stocks opens up wholly new markets much like the arrival of CFD brokers in traditional finance.
CM-Equity's software lays the groundwork for future innovations such as crypto-equity index products as well as unique trading pairs.
Cryptocurrency markets have revealed the power of global, never-sleep financial markets. The low barrier to entry has also boosted digital assets' mass appeal. A small German company is now bringing these advantages to Google, Tesla, and other popular American stocks.
And this time around, U.S. citizens will be left out of the innovation.
When Google Stocks Came to Crypto
One of the breakout stories of 2020 has been the arrival of traditional equities in crypto.
Ushered in by FTX Exchange and Bittrex, traders on both platforms can now buy and sell Tesla, Amazon, Google, and many other popular American equities.
The integrations also present the final piece to the financial puzzle.
Proponents of cryptocurrencies and blockchain technology have long championed the technology as one that would "bank the underbanked."
The slogan refers to the low barrier to entry and global nature of buying, selling, and HODLing digital assets like Bitcoin. Users only needed an Internet connection to get started.
This simple prerequisite stands in stark contrast to the cumbersome onboarding process for the average brokerage firm. This also assumes the user is U.S.-based. Crypto, in many ways, has become shorthand for an emerging, distinctly inclusive financial market.
Still, these easy-to-access markets have been limited to cryptocurrencies.
By including brand name stocks like Google and Amazon, FTX and Bittrex have finally closed the loop. But they didn't do it alone. Both exchanges share a common ally that is helping bridge crypto to traditional finance.
CM-Equity is a German-based securities bank, offering far more than a series of API integrations and a network of financial institutions. Indeed, the company's greatest asset is its so-called "licensing roof."
One Regulated Platform to Rule Them All
"We essentially offer a 'passportable' license to any exchange so that they can operate in Europe," said Patrick Gruhn, the chief legal officer for Digital Assets AG, the company that handles the tokenization process for CM-Equity and its clients.
"It's a white label solution that platforms can plug into the backend because crypto exchanges have a superior UI. There's no need to change that," Gruhn told Crypto Briefing. "CM-Equity lets them keep UI and adds a crucial regulatory layer to their services."
Instead of jumping through various legal hoops to offer financial services, CM-Equity provides a one-size-fits-all licensing regime. And due to current regulations in the European Union, this regime applies to all member states.
What's more, the tokens are backed 1:1 to the underlying Google, Tesla, Amazon, and other popular equities. Brandon Williams, Digital Asset AG's corporate development lead, said that these tokens do far more than comparable Contract for Differences (CFDs) products.
CFDs are cash-settled derivatives products, meaning the holder never has access to the underlying asset that the derivative represents.
"Someone buying these tokenized stocks can redeem them at any point and send the stocks directly to their brokerage account," Williams said.
It's not possible to redeem fractional shares of these tokens, however.
Similarly, anyone holding relevant stocks can have them tokenized at will via a manual process, creating a wholly interoperable market that merges crypto with equities. Put otherwise, CM-Equity has essentially improved the current CFD brokerage model and created completely new trading possibilities.
CFD brokers take much more time to fund accounts for the same reasons that bank transfers still take three to five days to process transactions. After that, CM-Equity opens up new trading pairs like BTC: GOOGL, ETH: AMZN, and many other opportunities.
"One of the more popular emerging trades that some traders are executing these days is BTC: Gold," said Williams. "This pair becomes much easier to execute using tokenize stock solutions."
The possibilities are myriad. Unfortunately, they're only available to non-American citizens.
Avoiding Abra 2.0
By preventing U.S. citizens from using their services, CM-Equity completely sidesteps the same misfortunes as Abra.
In July 2020, the Securities and Exchange Commission (SEC) and the Commodity Futures Trading Commission settled $300,000 in penalties with Abra "for offering and selling security-based swaps to retail investors without registration and for failing to transact those swaps on a registered national exchange."
Anytime an exchange or crypto platform engages with American citizens, they immediately fall under the purview of relevant regulators. This was the case with Abra, but also derivatives exchange BitMEX.
In avoiding the same fate, CM-Equity has effectively shut out Americans from the frontier of finance. The average U.S.-based trader may not have any issue with this, of course. Trading popular tech stocks has never posed a problem, after all.
But following moves like this to their logical conclusions paint a sorry picture for the future of crypto in the United States. Or, rather, it paints a much brighter future for the rest of the world.
And based on their current positioning, CM-Equity will be at the forefront of the latter.