Gitcoin Submits To Akita Inu Threats Over Donated Coins
Gitcoin has changed its plan to sell the Akita Inu coins it received from Vitalik Buterin despite governance concerns.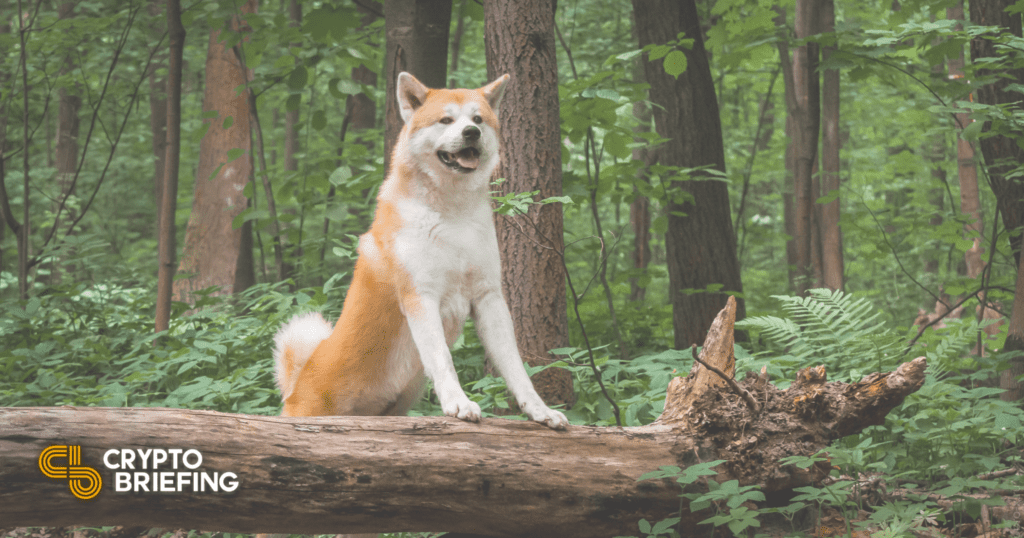 Key Takeaways
Gitcoin has changed its plans to sell 100% of the AKITA tokens it received from Vitalik Buterin.
The Akita Inu team threatened Gitcoin with a token fork to prevent a liquidation.
Under the new plan, Gitcoin will be set up a contract to sell and also burn Akita tokens simultaneously.
Popular dog coin Akita Inu aggressively strong-armed Gitcoin to dissuade the organization from selling tokens donated by Vitalik Buterin.
Akita Inu Threatens Fork
The team behind the Dogecoin clone project Akita Inu told Gitcoin that they would fork their project to prevent the organization from selling tokens it had received from Vitalik Buterin.
On May 12, Buterin sent Gitcoin 49 trillion AKITA tokens that he'd unwittingly received from Akita Inu's creators. Half of the project's token supply was sent unsolicited to one of Buterin's Ethereum wallets after its genesis in February.
Gitcoin is a community-focussed project that relies on donations to fund future development. The tokens Buterin sent had a value of $374 million. Gitcoin's DAO passed a vote to sell the tokens on the open market over a period of two years, but Akita Inu's creators went against the proposal. According to prominent Ethereum evangelist Andrew Redden, the Akita Inu community "threatened to fork" the project before Gitcoin could use the tokens.
Akita community threatened to fork us out before we could do anything without them.

— androolloyd.eth | 🇺🇦 Slava Ukraini! 🇺🇦 | 🦇 🔊 (@androolloyd) June 23, 2021
A screenshot of Akita Inu's Telegram group shows the project's team urged the community to sell AKITA tokens "right now" in exchange for stablecoins. The same message also detailed a tentative token fork that would block Gitcoin from benefitting from any token sales.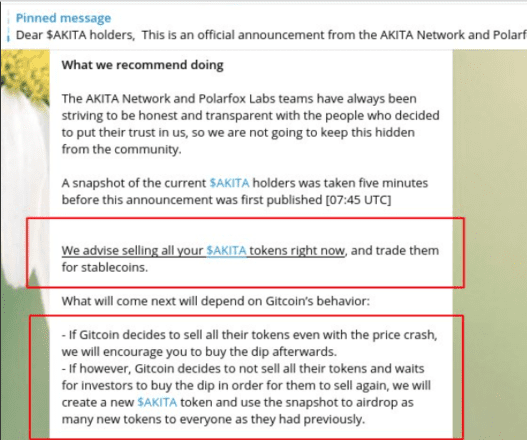 After debating heavily what to do with the tokens gifted by Buterin and the impending threat from Akita Inu, the Gitcoin community changed its approach.
In order protect the value of the acquired tokens, the Gitcoin DAO began talks with Akita Inu team, which led to a new liquidation plan. In a proposal, Redden wrote:
"After some conversations with the Akita community it has become clear that the best path to maximize our ETH outcome is to enable some form of participation with them."
Under the newly modified proposal, a new Balancer pool will be set up to simultaneously sell and burn AKITA tokens.
To prevent AKITA's price from collapsing, for every token purchased, 10 tokens will be burned. The pool will initially allow anyone to purchase AKITA with ETH at a 30% discount from the market rate.
After all the ETH proceeds are collected, only 40% will go to Gitcoin. Another 40% will go to the AKITA Ecosystem Fund, and the remaining 20% to a charity to be chosen by both communities.
The change in plans indicates that Gitcoin's governance was influenced by Akita Inu's creators leveraging a fork threat. Unsurprisingly, some Gitcoin members are unhappy with the new decision.
Lefteris Karapetsas, a Gitcoin steward and founder of privacy-focused portfolio manager Rotki, told Crypto Briefing:
"There were threats on [Akita Inu's] side of forking their coin, to fork the Gitcoin coins out and also their Telegram pinned message to all holders to sell so that Gitcoin gets nothing. But the second vote did happen and the Gitcoin governance participants have spoken."
Nick Johnson, the lead developer of Ethereum Name Service, expressed similar concerns in regards to Gitcoin's governance being influenced by an outsider.
Gitcoin's bizarre proposal to give away more than half of the proceeds of selling the AKITA donated by Vitalik has a hidden justification.

Open governance indeed. https://t.co/rGHzQljJil

— nick.eth (@nicksdjohnson) June 23, 2021
On the other side, Akita Inu's creators argued that the proposal was made to protect the community and that they had done "what any dog backed into a corner would do."
Akita Inu did not address why AKITA tokens were sent to Buterin in the first place if they were not meant to be liquidated. As Buterin suggested on a recent Lex Fridman podcast, it's possible they were sent as a publicity stunt.
Between Mar. 1 and May 12, AKITA's price increased by more than 50,000%. It began to crash once Buterin had made the donation.
The token is currently trading at roughly $0.000029 after a 96% drawdown from its May peak, according to CoinGecko.