Hundred Proof: How Blockchain Can Fight Counterfeit Booze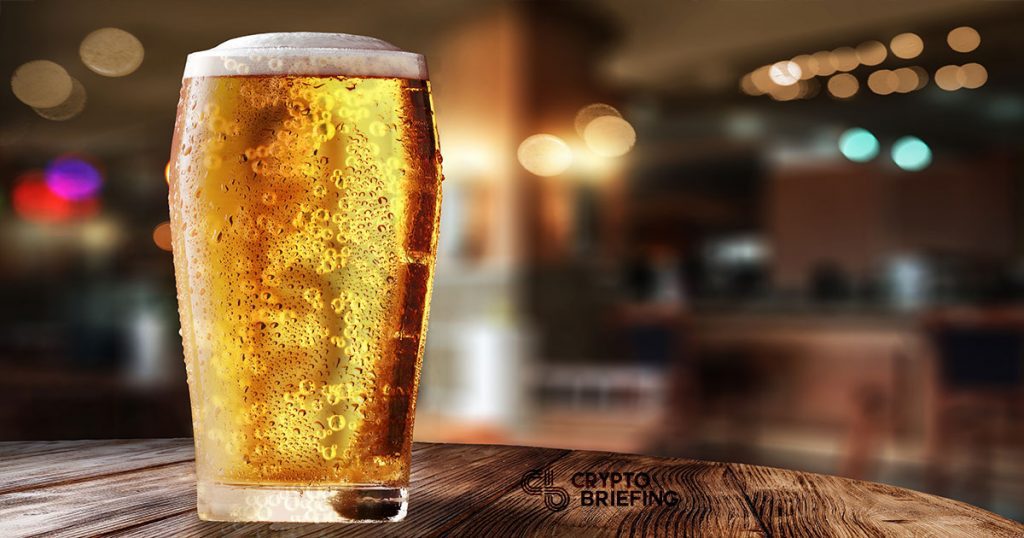 The market value of alcoholic drinks in the UK reached nearly £54 million in 2018. As a highly profitable industry, it is also very susceptible to counterfeit products.
Figures from the European Union's Intellectual Property Office (EUIPO) found that the UK loses £218 million every year from imitations of well-known wines and spirits brands. Not only that, but according to the International Center for Alcohol Policies, 30% of all alcohol consumed worldwide is counterfeit.
---
Brewing on the Blockchain
But the industry is fighting back, using blockchain technology to track the provenance of wines and spirits. In a bid to boost transparency, several Alberta-based companies have teamed up with TE-FOOD, a blockchain-based farm-to-table food traceability solution, to deliver a new beer called the Bock Chain.
Hamill Foods, Canada Malting Co., Red Shed Malting, and Last Best Brewing & Distilling are using ledger technology to trace Bock Chain ingredients from field to can. The beer, which officially launched at the beginning of February, is a wordplay on the bock brewing method.
According to Phil Brian, director of brewing from Last Best Brewing & Distilling, bock beer is a traditional malty strong lager originating from Germany. "We put a Canadian prairies twist on the style, using small amounts of chocolate and amber malt from Red Shed Malting," he said. "This enriches our Bock Chain beer with a rounded malty body and a touch of sweetness while being an easy drinking beer."
Kyran Flett, sales manager at Canada Malting and local project manager, said that craft beer consumers are becoming increasingly concerned with supporting their local communities and businesses.
"The potential for blockchain in the beer industry is to deliver the transparency of supply chain and for now, it is the best technology for that purpose," Flett explained to Crypto Briefing. "Furthermore, it has great potential to support other industries where the provenance drives value, such as the Scottish or American whisk(e)y industries."
The barley for Bock Chain was grown and harvested at Hamill Foods before traveling to Canada Malting for the malting process. After that, it was transported to Red Shed Malting for roasting into speciality malts before its final stop with Last Best Brewing & Distilling for brewing and packaging.
Consumers can follow the beer's story by scanning a QR code label on the bottle, which takes viewers to a microsite developed by TE-FOOD. It shows photos and videos of the barley at various stages of production, and also displays important information such as time stamps, volume, vessel identification, and test results at each stage, said Flett.
For TE-FOOD, most customers are from the fresh food industry. Its system tracks and traces around 20,000 pigs, 200,000 chickens, and 2.5 million eggs each day from thousands of farms to abattoirs, wholesalers and retail shelves, according to Marton Ven, CMO of TE-FOOD.
Bock Chain was TE-Food's first experience with beer traceability, Ven says. "The goal was to create a unique experience, which presents food quality information in an engaging way, so consumers can enjoy 'the story of the beer,' " he told Crypto Briefing.
TE-FOOD was selected by GrainCorp, an Australian grain company – with the aid of the Terra AgTech Accelerator – to establish a use case for field-to-can beer traceability on the blockchain at their Canadian subsidiary, Canada Malting Company.
---
Wine: Appellation Earth
And it's not just the beer industry. Everledger, which uses blockchain technology to track diamonds and other valuable products, has teamed up with Avery Dennison Corporate, an intelligent labelling and adhesive specialist, to track the provenance of wine.
In January, it was reported that the partnership would see the launch of Appellation Earth wines from Napa Valley by the U.S.-based Wine Trade Network. The wine was harvested in October 2015 and bottled in December 2018.
The wine is a red blend containing 34% Merlot, 28.1% Cabernet Sauvignon, 19.2% Zinfandel, 11.4% Petite Sirah, 2.9% Malbec, 2.2% Petit Verdot, and 2.2% other red wine for blending and acid balance. The alcohol content is 14.68%.
Speaking about intelligent labels and the blockchain, Jay Wittmann, intelligent label product manager at Avery Dennison, believes that bringing transparency to the wine's lifecycle and authenticity will help to increase consumer confidence.
"Intelligent labels and blockchain allow consumers to be able to interact and learn more about the wine and where it came from at the store shelf before they purchase it," he added.
Avery Dennison typically focuses on apparel and footwear; the venture with Everledger marks its first step into the wine industry with its Janela Smart Products Platform.
According to Wittmann, the process is not much different aside from the fact that apparel and footwear applications use UHF inlay technology, whereas the wine application employs high frequency or NFC (near-field communication) technology.
"There is a different process for converters, however, as they now have to combine the inlay with the pressure-sensitive label as they print the wine labels," Wittmann added. "It is also different from apparel in that NFC for wine is more focused on a 1:1 interaction and providing authenticity."
This means that with each unique label it provides a digital identity that enables a chain of custody data to be captured through the blockchain. In turn, this will highlight whether the label or the bottle has been tampered with at any point during the process.
---
Whisky: The Brisbane and The Winter Queen
Fusion Whisky and Adelphi Distillery have teamed up to launch a number of Scottish whiskies in the past, starting with the Glover in 2015. In 2018, the Brisbane was the first whisky to use the blockchain to demonstrate its provenance and to tell the story of Scottish soldier and astronomer Thomas Makdougall Brisbane.
The second whisky to use the blockchain was the Winter Queen, which launched late last year, and honours Elizabeth Stuart, a Scottish princess born in 1596.
To make this possible, the team paired up with digital company arc-net to use its blockchain platform. Adelphi Distillery pioneered the technology in 2017 with arc-net for its Ardnamurchan AD spirit.
"Given the complicated process involved in creating these fusions – and the interest in that process – as well as the stories behind each character, it was an obvious decision for us to seek to use blockchain with our fusion whiskies," said Colin Campbell, brand manager at Fusion Whisky, to Crypto Briefing.
With only 932 bottles of the Brisbane and and 866 bottles of the Winter Queen ever produced, the iconic whisky bottles are already becoming collectibles, Campbell said. Adding the blockchain into their production process adds a level of transparency which Fusion Whisky believes is becoming "increasingly necessary within the whisky industry."
Some of the information the team upload to the blockchain includes the journey of all individual components, blending volumes, the bottling date and volumes, and the distillery source of all casks involved.
"For some whisky fans, knowing who bottled their dram is a personal and novel way to add to the "story" of the whisky," Campbell added. "[But] it's also something that whisky experts especially appreciate as they can see which casks and which distilleries comprise the fusions, giving them a level of detail they would not be able to gain normally."
---
The blockchain is bridging the information gaps in the supply chain, so that consumers can they know exactly where their alcohol comes from. Whether you're drinking a glass of red or enjoying a whisky, filtering out the counterfeits leaves behind a smoother finished product.
---
The author is invested in digital assets, but none mentioned in this article.