Litecoin Leads Weekly Crypto Gains With 45% Rise
Litecoin has joined the crypto bull run, surpassing Bitcoin in weekly gains.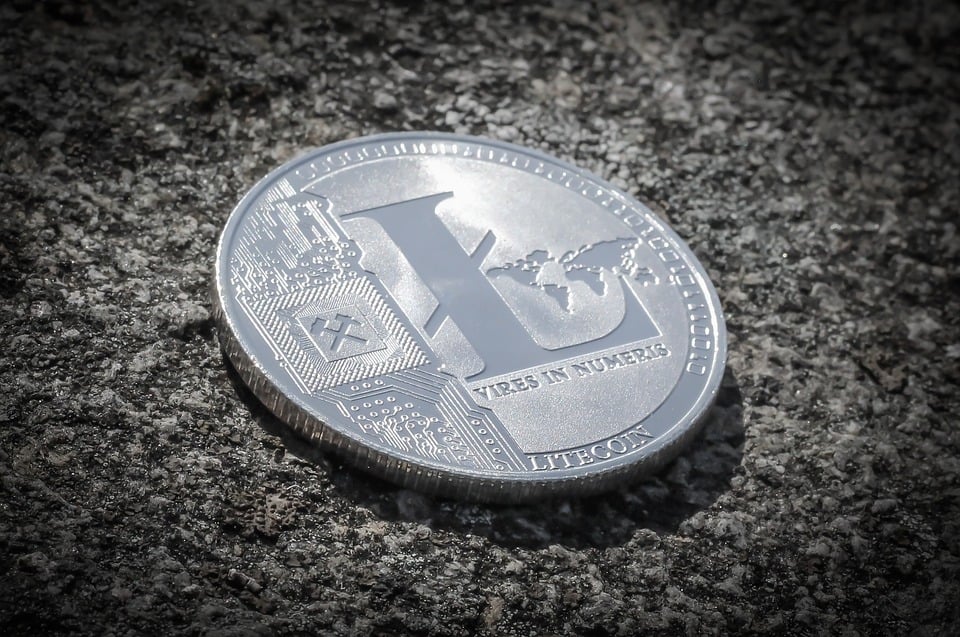 Key Takeaways
Litecoin's price increased by 43.8% over seven days, making it one of this week's top-performing cryptocurrencies.
The number of LTC addresses in use has crossed 60 million, following steady growth in the last two years.
While on-chain metrics are signalling overbought conditions, the trading volume and technical outlook are bullish. 
Litecoin prices increased by 43.8% over the past seven days, putting the coin's price above $100 for the first time since July 2019 and making it one of the best performing cryptocurrencies of the week.
Widespread Market Euphoria
The 43.8% increase in Litecoin's price over the past week seems to be a result of the liquidity flow produced by Bitcoin's all-time high and the widespread market euphoria that resulted.
Litecoin, however, performed even better than Bitcoin itself. In fact, it outperformed every other top-50 cryptocurrency in terms of seven-day gains. Only three minor altcoins (Chimpion, Elrond, and SwissBorg) performed better than Litecoin.
Long-term trading volume growth may also be behind the coin's gains. In November 2020, Litecoin's trading volume was nearly two times larger than it was in August 2019. The growth in Litecoin's trading volume is a robust indicator of massive liquidity in the market.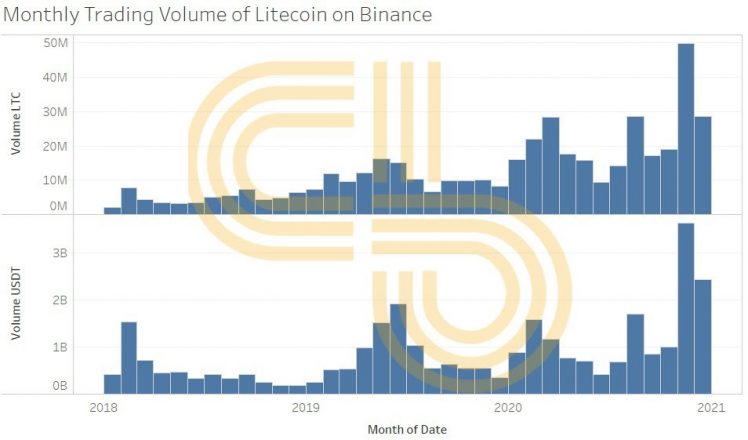 Additionally, Litecoin's current weekly price chart is very bullish. The cryptocurrency has broken above the symmetrical triangle pattern and 23.6% Fibonacci retracement level, now targeting 2019 highs of $146. The support levels, in case of a downturn, are $90 and $83.

Furthermore, investors are looking for the next double-digit gain, as Bitcoin breaks the psychological flood gates at $20,000. While this could come from any of the thousands of currencies in the market, institutions are more likely to favor a liquid and established cryptocurrency such as Litecoin.
Velocity Sees Little Change
Litecoin's velocity—a measure of how quickly the coin is circulating—has not changed much since Q3 2019. This measure is calculated by dividing on-chain transaction volume by market cap.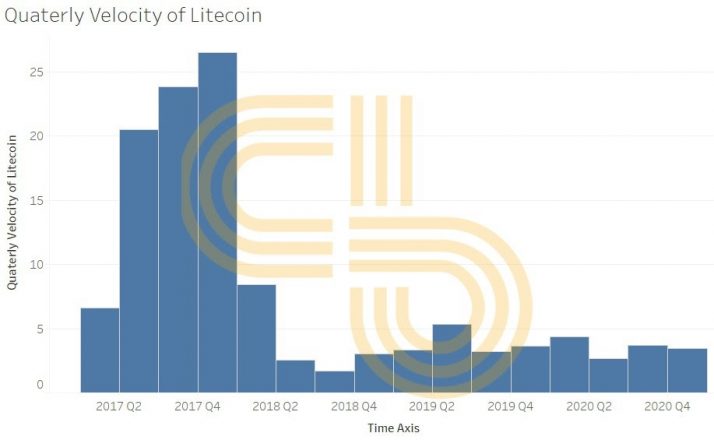 There is one important factor at play here. In 2019, Litecoin underwent its block reward halving, which was intended to drive up demand and reduce inflation. But judging by low velocity, that strategy failed to create demand, suggesting that there is little improvement in Litecoin's use in transactions.
On the other hand, Litecoin now has more than 60 million addresses, following linear growth since 2018. That implies that users may be holding LTC for the long term without spending it.
Mining and Hashrate Trends
Tangentially related to Litecoin's increasing market value is its mining activity. The coin's mining hashrate continues to trend around the lower bounds (150 TH/s), which has been seen for the past three years.

Litecoin's 2019 halving reduced miner block rewards in order to discourage the creation of new Litecoin and reduce inflation. Now that the price of LTC is higher, greater potential mining revenue could encourage miners to join the network once again.
That, in turn, could affect prices slightly due to supply and demand.
Litecoin Is Healthy Overall
Litecoin enjoys the reputation of being the silver to Bitcoin's gold, and there are definite signs that fans are holding it. It also has a healthy core developing team led by Charlie Lee and is currently due for a privacy update, expected to roll out in the first half of next year.
At the time of writing this author held Bitcoin and less than $15 of altcoins.