Litecoin Fights Off Other Cryptos To Become First UFC Sponsor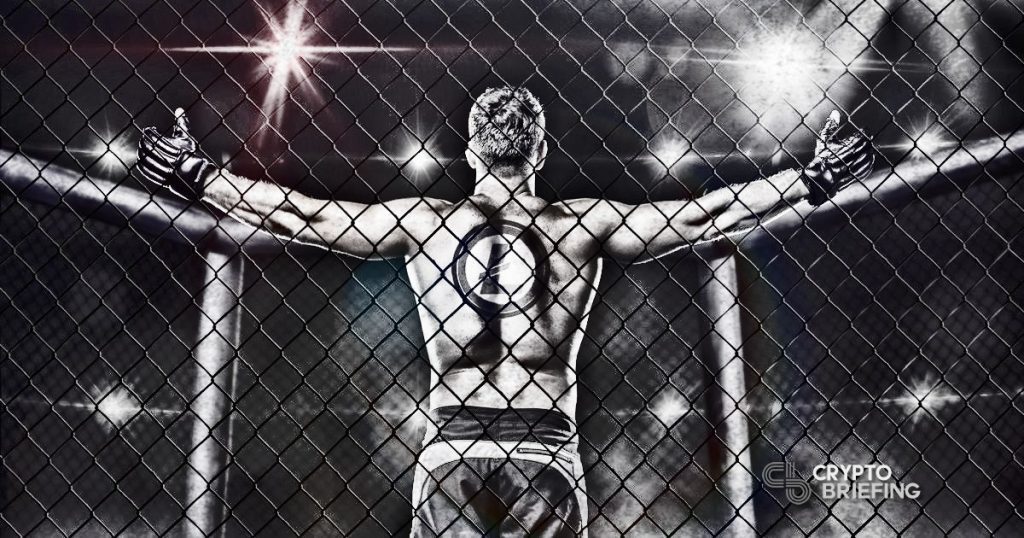 Not for the first time, it's Litecoin creator Charlie Lee versus the rest of the cryptocurrency market. Lee has declared that Litecoin will be the Official Cryptocurrency Partner of UFC 232 – Jones vs Gustafsson in California on December 29th.
Now of course Charlie Lee knows a thing or two about getting pummeled mercilessly after selling all of his LTC just in time to escape the ravages of the bear market, so the UFC platform suits him just fine.
Excited to announce that the Litecoin logo will be on the canvas as the Official Cryptocurrency Partner of @UFC 232 on 12/29 in Inglewood CA! Read more: https://t.co/y4yvPWb6rj pic.twitter.com/ddML54j5GH

— Charlie Lee [LTC⚡] (@SatoshiLite) December 26, 2018

The rivalry between Jon Jones and Alexander Gustafsson is vicious, with Jones recently calling his opponent "delusional" and Gustafsson making hay of the fact that Nevada refused to sanction the fight following a failed drugs test on the part of Jones.
It sounds a lot like some of the Twitter fights that are unfolding in crypto of late.
Litecoin was once considered the "silver to bitcoin's gold," but it has since unceremoniously fallen from grace as rival coins including EOS have forced it to take a supporting role. Created as a fork of Bitcoin core in 2011, Litecoin boasts lower fees that are more conducive to everyday transactions like buying coffee.
---
Litecoin Logo To Appear On The Octagon Canvas
The UFC deal represents a first for a cryptocurrency to be spotlighted inside the Octagon, positioning the Litecoin logo in front of potentially millions of pay-per-view fans and possibly some Google searches to boot.
"This is a milestone for Litecoin and cryptocurrency in general as no other coin has sponsored a UFC event to date. With brands and institutions continuing to push into cryptocurrency and blockchain, this is yet another signal of this technology moving closer towards the mainstream."
Litecoin is not the first crypto project to go mainstream with its advertising campaign. EOS has made its way onto the Times Square Jumbotron, as has crypto exchange BitMart, which ran an ad on the Nasdaq Tower.
Litecoin could use some positive attention ever since Lee has become a punching bag of the crypto community for liquidating his Litecoin portfolio. He also predicted the bear market of 2018, warning investors a year ago not to invest in LTC if you can't handle it dropping to $20. He wasn't too far off, as today LTC is trading at $30 on CryptoCompare.
As for the fight, one Reddit member cleverly suggested it will be a "no HODLs barred" event.
The author is invested in digital assets, including bitcoin which is mentioned in this article.