Market Commentary: Bitcoin Goes To Cuba, As Cosmos And Dash Rise
Crypto is making inroads to Cuba.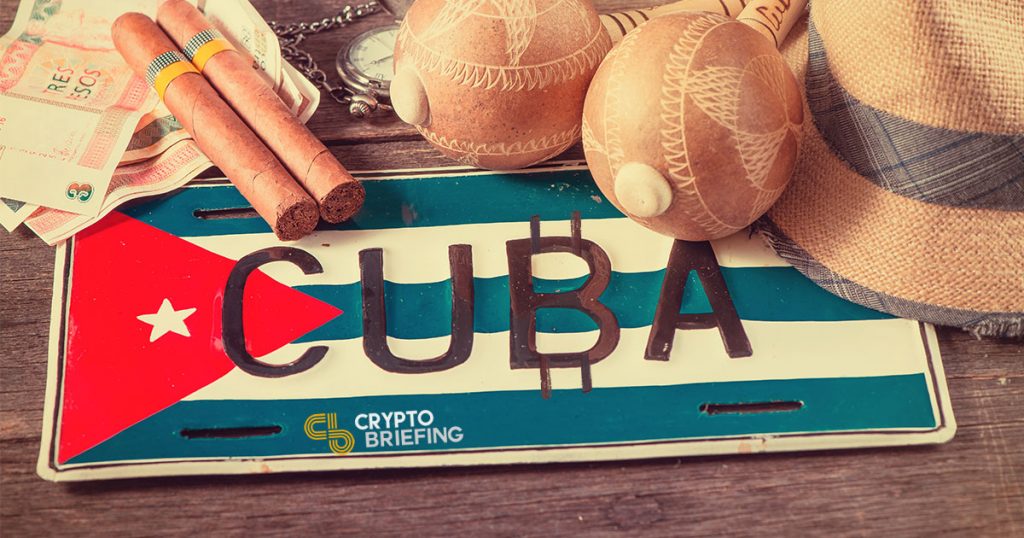 The end of the week brings the market back to a familiar situation. Bitcoin remains largely uneventful, gaining only $100 on yesterday's price. Top altcoins appear to be on the same boat with the exception of ATOM and DASH, which gained 23.67% and 10.67% respectively.
Binance Coin has recovered from yesterday's hiccup, while MaidSafeCoin has now posted a new ATH since July.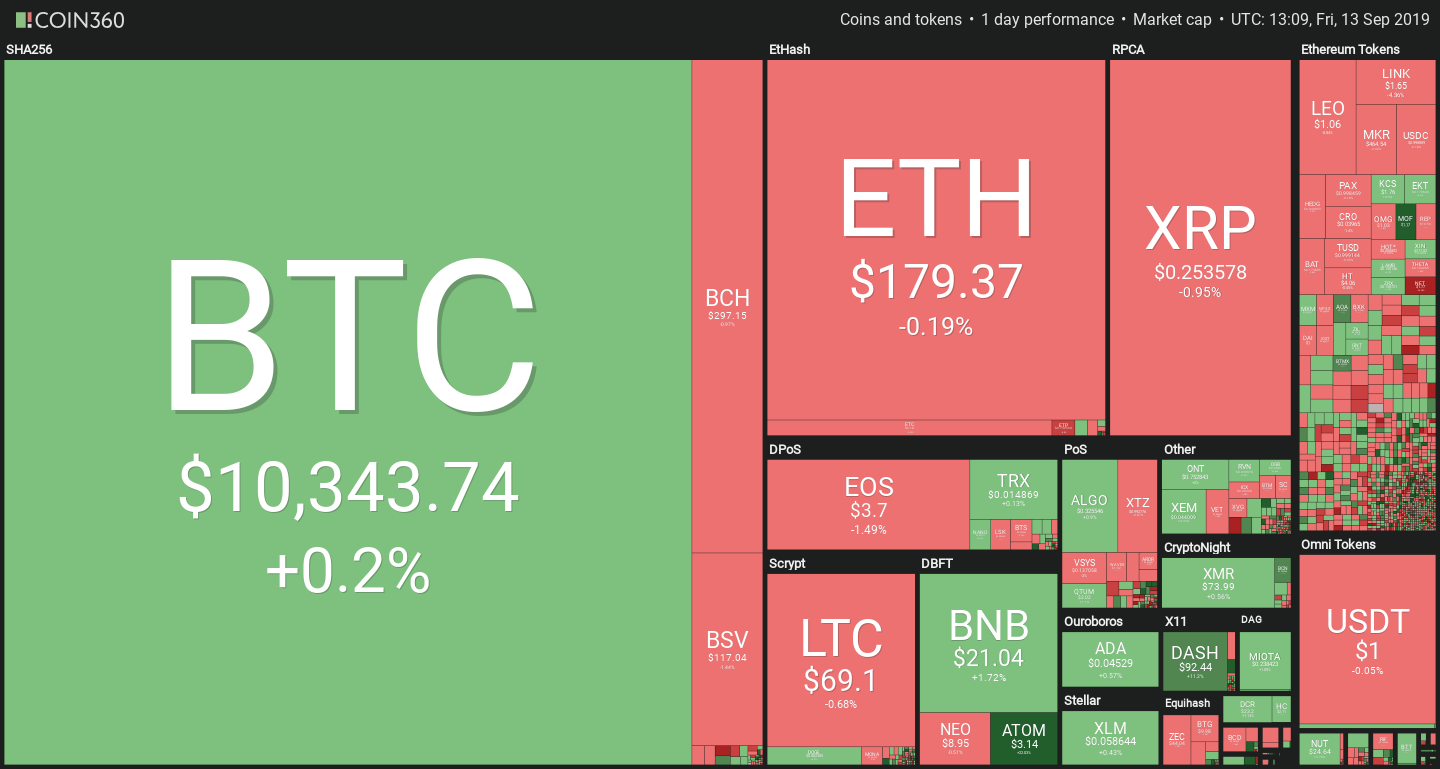 As the world focuses on Venezuela, Bitcoin is making inroads in another Latin American country: Cuba.
According to a report by Reuters, Cubans are appreciating crypto's borderless nature. The country has been subjected to a decades-long embargo from the U.S., which completely disconnected it from international finance and made it impossible to obtain a simple debit or credit card.
Cryptocurrency's potential is exemplified by Jason Sanchez, who is reported to have used bitcoin to purchase spare parts for his cellphone repair shop from an online store in China. Alex Sobrino, the founder of Telegram channel CubaCripto, provided more details on crypto adoption in the country. "We are using cryptocurrencies to top up our cellphones, to make purchases online, and there are even people reserving hotel rooms with (it)," he explained, estimating that there are 10,000 users active users in Cuba.
Still, crypto operates in an opaque grey field in Cuba. The central bank of the country has stated in July that it would explore the potential of crypto payments. But just like Iran, it might decide that a centrally-controlled digital currency could make for a better option – even though the pioneering Petro has failed to achieve its goals.
---
Cosmos recovers amid continuous software releases
The ATOM token has had a strong performance this week. After posting its ATL on September 5, it has rebounded by 58% in the past seven days – most of it due to today's 23% gain.
Excitement is building for the upcoming release of IBC, the Inter Blockchain Communication protocol. The third Release Candidate version of its Interchain Standards was published a few days ago. This will be an important resource for developers on IBC, paving the way for additional attention by the community. The project has also announced Game Of Zones, a gamified network test for the system.
What Games of Stakes was for Cosmos Hub, Game of Zones is for IBC 🤺

Are you ready for 3 weeks of back-to-back gaming? 🛠️

📌 Week 1: Test connections between zones
📌 Week 2: Test token transfers
📌 Week 3: Adversarial zones

🔜 Stay tuned for updates!

— Cosmos – Internet of Blockchains ⚛️ (@cosmos) September 12, 2019
Excitement around the fundamental drivers, in addition to a fertile technical picture, are likely to have contributed to ATOM's cosmic performance this week.
---
Coinbase Pro Announces DASH listing
The markets have reacted to yet another Coinbase announcement. Trading is set to start on Monday, after a 12 hour period in which only deposits will be open. The coin will only be available on Coinbase Pro, previously called GDAX.
The announcement is responsible for almost the entirety of DASH gains this week, which are currently set at 12%. It's worth noting that Dash will not be available for New York and UK-based traders, likely due to concerns about its privacy features, which led to Zcash trading restrictions last month.
---
MaidSafe price sees steady rise
MaidSafeCoin, the token of the decentralized internet project Safe Network, has seen a steady rise in the last few weeks.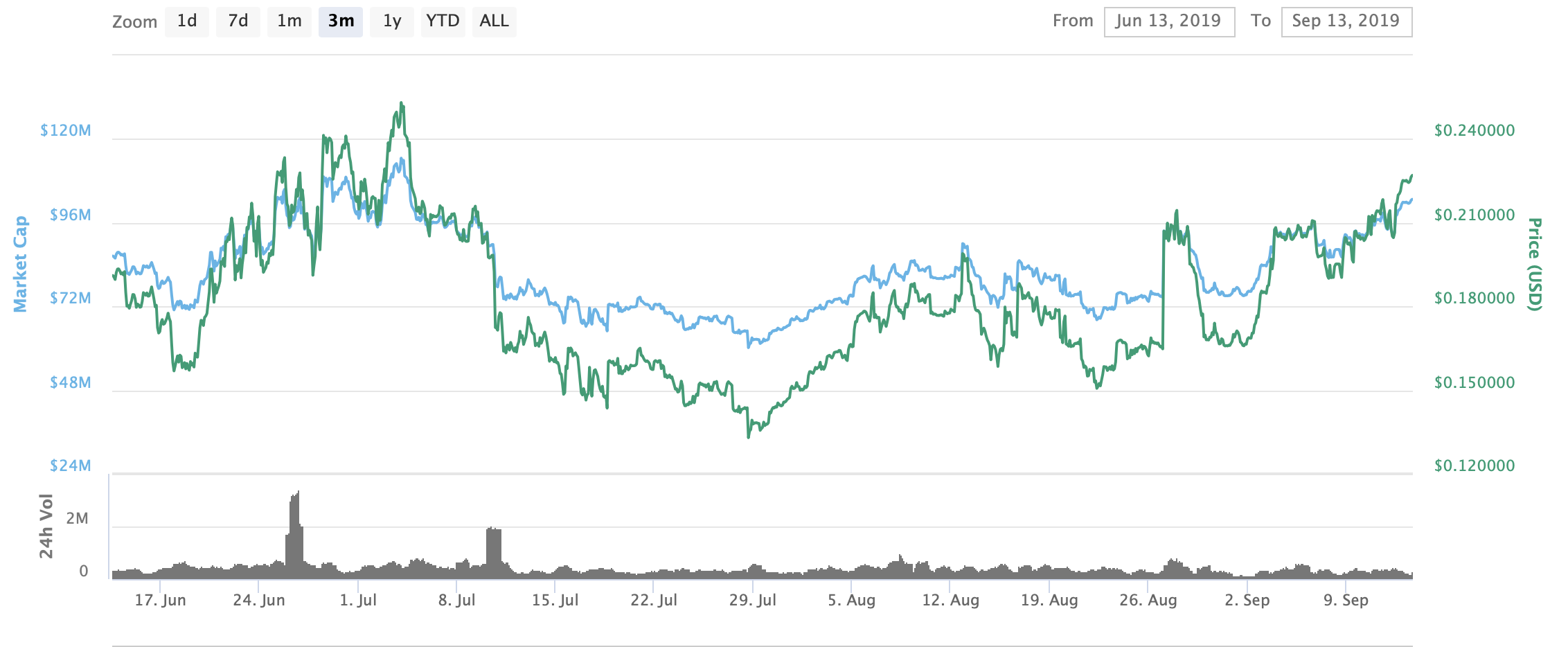 What's noteworthy about the project is that it had its ICO back in 2014. While the development journey was expected to be quite long, the fact that it is active after all these years is giving hope to its traders. Many other project tokens have simply flatlined since 2018.
The excitement is likely coming from MaidSafe reaching its Phase 1 milestone at the beginning of the month. Timely development updates and meaningful activity have also compounded the initial effect.
Last week we were beyond delighted to announce that we released real Vaults and therefore, we've landed at the Phase 1 milestone!

But what are Vaults, what's Phase 1, and why is this such big news? https://t.co/ja1tW8mmxk

— MaidSafe (@maidsafe) September 6, 2019
---
Bitcoin Commentary By Nathan Batchelor
Bitcoin is starting to push lower as we head into the U.S trading session, after the cryptocurrency ran into a wall of technical selling above the $10,400 level. Yesterday I highlighted this key technical area as the likely short-term bullish target.
The $10,000 level is now a possible short-term bearish target if we continue to see the BTC / USD pair losing upside momentum over the weekend.
The one-hour time chart clearly shows that a bullish falling wedge breakout occurred yesterday, once price moved above the $10,150 level. We are likely to see a re-test of the triangle breakout if we continue to hold below the $10,400 level; technical analysis shows that key trendline resistance from the triangle pattern is now located at the $10,000 level.
The $10,600 level still remains the overall short-term bullish target, should a more bullish scenario happen today or even over the weekend. A test towards the current monthly trading high is even possible if the BTC / USD pair finds renewed technical buying interest above the $10,600 level.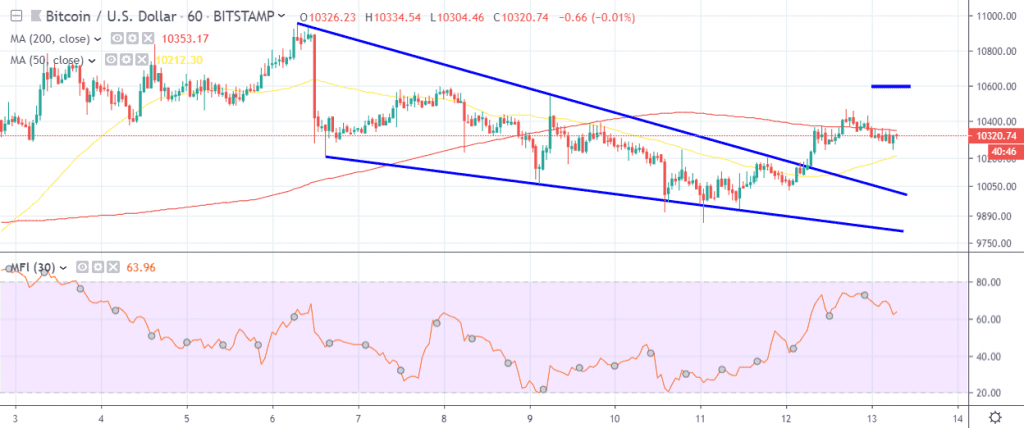 The Money Flow Index on both the one-hour and daily time frame has turned bullish, while the Relative Strength Indicator on the daily time frame has risen to its highest level since September 6th. The improvement in these indicators is definitely a positive sign Bitcoin.
*The recent bullish wedge breakout on the one-hour time frame remains valid while the BTC/USD pair trades above the $10,000 level.*
SENTIMENT
Intraday bullish sentiment for Bitcoin has notably increased from yesterday, to 60.00%, according to the latest data from TheTIE.io. Long-term sentiment for the cryptocurrency is largely unchanged, at 66.50 % positive.
UPSIDE POTENTIAL
If the recent bullish moves continue, we should then expect the $10,600 level to be a major area of interest for BTC / USD buyers.
The $10,960 level will be the next technical region for bulls to break, with the $11,700 and $12,400 levels then becoming the next targets for further breakouts.
DOWNSIDE POTENTIAL
The $10,120 and $10,000 levels are the main support areas to watch today, with the $9,876 level the most important technical area to watch below.
We should also consider the weekly price close. If BTC / USD bulls fails to close the weekly candle above the $10,600 level we should expect downside pressure to resume next week.
---
A full version of Nathan Batchelor's Daily Bitcoin Commentary, together with his calls, is available to SIMETRI Research subscribers earlier in the day.