Sorry, NEO: Ontology Starts Seeing Other Blockchains
Ontology is setting groundwork for life after NEO.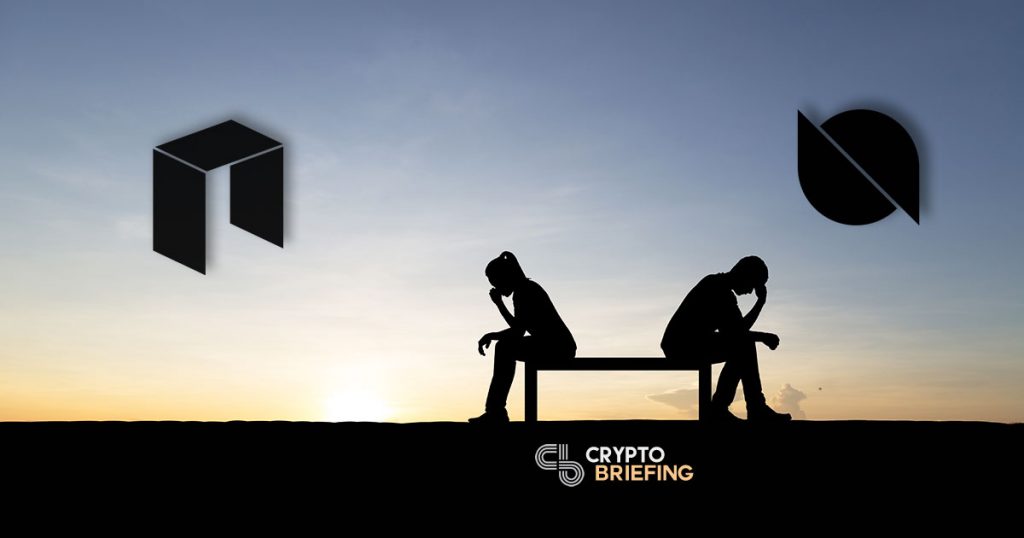 Leading figures at Ontology (ONT) are seriously contemplating a future outside of the NEO ecosystem.
Erick Pinos, Ontology's U.S. Ecosystem Partner, told Crypto Briefing that the project, although currently committed to using NEO technology, has begun laying the foundations for integrations elsewhere.
"We're preparing on a technical level to integrate with them [blockchain platforms]", Pinos said. One aspect currently under development is cross-chain swaps, enabling assets to move across blockchains. Ontology is already developing swaps with Ethereum (ETH) and EOS, according to Pinos.
Ontology is designed to provide a layer of privacy on top of a public ledger. It was launched in late 2017 by Onchain, a Shanghai-based R&D company founded by Da Hongfei and Erick Zhang, the creators of the NEO project.
Despite significant team overlap, Ontology and NEO remain independent of one another. After beginning as a NEP-5 token, Ontology moved onto its own blockchain last summer.
But the project still uses the NEO virtual machine, which allows it to execute smart contracts. Despite having separate ledgers, the two projects have worked closely together, signing an "MOU Concerning Strategy and Technology" in May 2018 to collaborate on building and promoting a NEO smart contract ecosystem.
An Ontology spokesperson defined the relationship between the two as "strategic technology partners" at the time of the mainnet, as reported by CoinDesk.
Ontology is still committed to collaborating with NEO. "NEO is one of the first projects we worked with," Pinos emphasised, "and we [Ontology] continue to support them."
But Pinos also raised the possibility that Ontology could also go elsewhere: "If NEO doesn't succeed we can integrate with other platforms." They've considered EOS, which according to Pinos, "made sense" to collaborate with. Whether this means they would stop using NEO's tech is still not certain.
Ontology's Marketing Executive Director, Jesse Liu, told Crypto Briefing that the project has been assessing the advantages and disadvantages of working with NEO. Although they wouldn't provide any additional details, he said they were formulating future plans.
Liu also noted that Ontology's objectives have begun to diverge from those of the older blockchain. "NEO's object is back to focusing on games," he said, which is "totally different" from what Ontology is developing.
Crypto Briefing invited NEO to comment, but did not receive a reply by the time of publication. Speaking privately with Crypto Briefing, a leading figure at NEO expressed doubts that Pinos' statements represented Ontology's official position.
---
Ontology Follows The Crowd…. To the Exit
Ontology wouldn't be the first project to move out of the NEO ecosystem. The decentralized algorithm platform Effect.AI – one of the most popular dApps by transactions and daily active users – announced a move to EOS back in February. At the time, a spokesperson expressed the project's "disappointment in the performance of the NEO technology and concerns about the lack of direction of NEO's future."
But while Effect.AI had always considered itself to be "blockchain agnostic," Ontology's fate has always been closely intertwined with that of NEO. Preparing the technical ground for a move elsewhere could be a sign that all is not well at the 'Chinese Ethereum.'
Indeed, today's news comes a week after Da Hongfei announced the NeoEcoBoost, a $100M injection to finance further development work on NEO platform. The funds will be used to fund NEO development, including NEO 3.0, a newly-optimized blockchain network slated for release sometime in Q2 2020.
It's no surprise that NEO is investing in development: most of these funds were earmarked for that purpose in the genesis block. But if projects are leaving or expressing dissatisfaction with the tech, NeoEcoBoost could also be seen as a hasty attempt to stem the tide.
Whether $100M is big enough of a convincer is another story.