Polkadot, Cardano Are Eating Payment Protocols' Lunch
Ethereum killers are taking over leading payment protocols in Litecoin and Bitcoin Cash.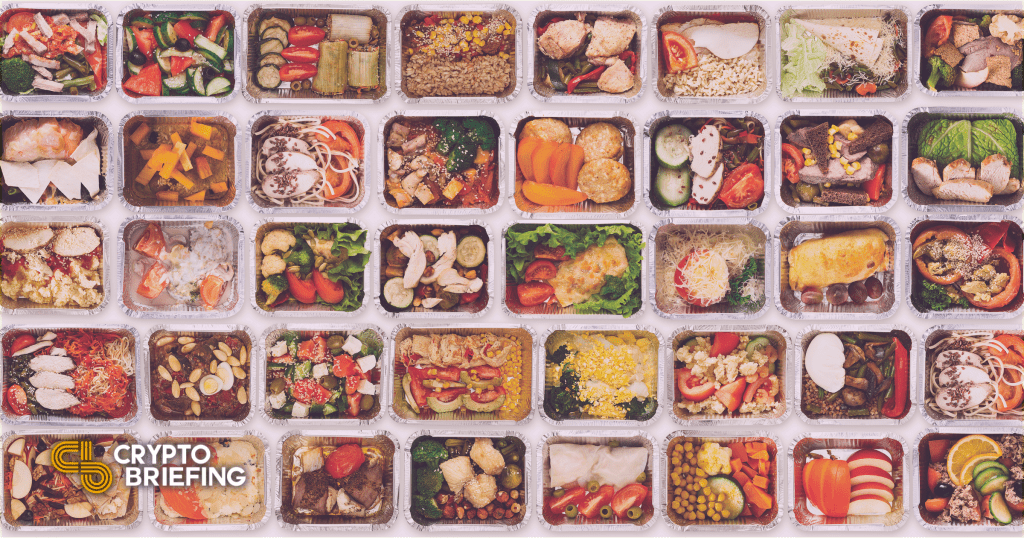 Key Takeaways
Polkadot moves up to the top 5 position in market capitalization, leaving Litecoin behind. 
Last week, Cardano surpassed Bitcoin Cash (BCH) and is closing in on Litecoin. 
The trend in the top cryptocurrencies expresses the market's inclination moving towards blockchain platforms, rather than payment coins. 
The cryptocurrency landscape is changing in the ongoing crypto bull market. Proof of Stake (PoS) blockchain platforms like Polkadot and Cardano are fast overtaking payment tokens like Litecoin and Bitcoin.
Cryptocurrency Landscape Shifting Focus to BaaS
Over 6,000 cryptocurrencies have been created in less than 10 years since Bitcoin's inception. The first instance of an altcoin wasn't seen before April 2011 with Namecoin.
Later in 2015, eight co-founders of Ethereum built a blockchain platform that changed the course of the cryptocurrency markets, paving the way for thousands of others.
Two Ethereum co-founders Charles Hoskinson and Gavin Wood, separated themselves from the project and have led two independent projects in Cardano and Polkadot.
These so-called "Ethereum Killers" are now taking over payment-focused cryptocurrencies at a quick pace. It hasn't been long since Polkadot beat Bitcoin Cash at the $10 billion for the sixth position concerning market cap.
In less than a fortnight, Cardano's ADA token has also taken over Bitcoin Cash.
Polkadot has now moved up yet another spot above Litecoin with a market cap of $11.6 billion.

Polkadot is the second most active DeFi platform, according to its founder Gavin Woods. Recent developments with StaFi, Reef Finance, and others are fostering the growth within the Polkadot ecosystem.
Polkadots' DOT token has gained 71% since the crypto market dipped on Jan. 11. Launched in August, three years after its ICO in 2017, the DOT token has gained over 210% from the support of $4.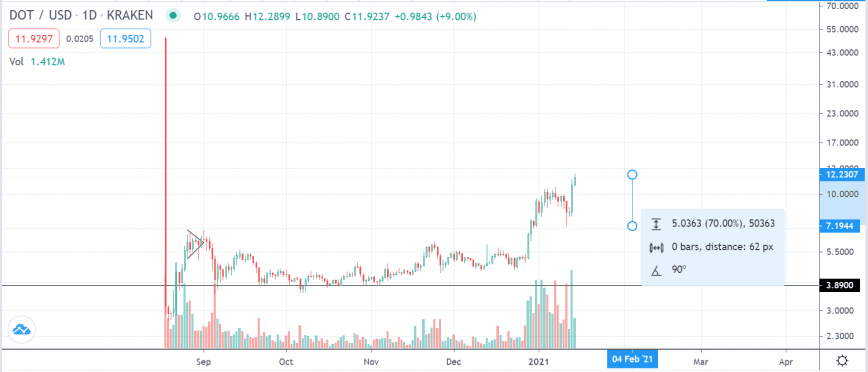 DOT is trading for $11.9 at the time of publication.
Stablecoins Hurting Payment Tokens
The general increase in Bitcoin and Ethereum prices has also been a major factor in the entire market's rise. Moreover, the bulls have been moving investments into blockchain-as-a-service (BaaS) networks due to the rise in stablecoins.
In 2020, the crypto markets saw a massive 500% increase in stablecoin supplies to $31.5 billion. The daily on-chain transaction volume of USDT and USDC stablecoins is $5.9 billion and $1.5, respectively.
The above trend is hurting the attractiveness of payment protocols like Litecoin and Bitcoin Cash. The seven-day moving average of on-chain transaction volumes on LTC and BCH is $270 million and $1.1 billion, respectively.
This is evident in Cardano's rise, which has so far only claimed decentralization of its token; however, it is pending updates that bring applications to the platform.
The community expects the updates and launch of decentralized applications (dApps) in 2021 to raise ADA prices higher. ADA is trading for $0.31, with a market capitalization of $9.7 billion.
Disclosure: One or more members of Crypto Briefing's management team owns FIS. The company (Decentral Media Inc.) owns FIS.