Ripple Exec Touts Company's Partnerships
Unlike Stellar, XRP has a "working product"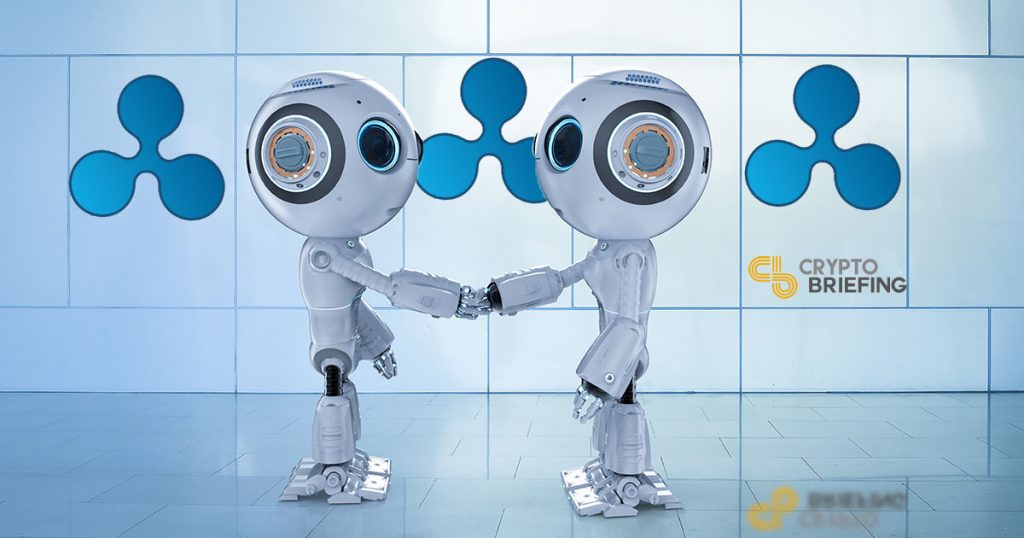 There used to be a time when crypto companies could raise money just by saying they were "decentralized" – kind of like the "toasted" cigarette ad in Mad Men. But cryptocurrency investors are now showing more discrimination, and many projects have to work harder to justify their business models.
That also applies to Ripple Labs, which released its quarterly report yesterday. The company behind the third-largest cryptocurrency is facing increasing competition from rivals such as Stellar, another brainchild of Jed McCaleb.
Competition is heating up among remittance solutions, says Nadeem Ladki, Ripple's Director of Business Development. Speaking to Crypto Briefing at the Blockchain Expo in London, Ladki acknowledged that several other players have entered the race to produce the best, cheapest solution for cross-border settlements.
While XRP is faster than the vast majority of cryptocurrencies, it's not the fastest token in the race. "[O]ur underlying tech is very similar to Stellar," Ladki admitted, "so yes, we are in close competition with them."
---
Partnerships Are Key
But that might be missing the point, Ladki says, noting that XRP is a well-known and trusted digital asset. Although the tech may be similar to other new cryptocurrencies, Ladki believes it is has a key advantage when it comes to developing viable use-cases.
"The main difference between us and our rivals", Ladki said, "is that we actually have a working product. Stellar and IBM may be working together on World Wire, but we have the partnerships and we are already looking at how to best use the technology and exploring interconnectivity with other platforms, like with Interledger."
Adoption has been slow because it took time to build sufficient liquidity and to get regulators on side. But patience is paying off: Ripple solutions like RippleNet and xRapid are now fully operational in jurisdictions like Mexico and the Philippines. At present, RippleNet is used by over 200 financial institutions, and xRapid – which uses the XRP currency- has twelve.
More are on the way, Ladki added.
---
XRP Report: Is it too centralized?
According to yesterday's quarterly report, Ripple sold approximately 700 million XRP tokens in the last three months, an increase of 80M from last quarter. In dollar terms, the company made $169M from XRP sales, $40M more than Q4 2018.
Ripple Labs remains the largest holder of XRP, a fact which has raised eyebrows among the company's skeptics. Ripple currently holds 53bn XRP tokens in a series of secure time-locked escrow accounts, which are released in billion-coin increments each month. These can be used to fund joint initiatives, network development, and XRP ecosystem investments.
Any unsold tokens are locked up for later release. Of the 3bn tokens that have been released so far this year, 2.3bn were returned to escrow.
Ripple justifies its majority share, saying that it creates a degree of predictability. Releasing a set amount every month, in line with increasing adoption, prevents the token's price from fluctuating too much.
But critics – including the NANO founder, Colin LeMahieu – say it's a major weakness, which will prevent businesses from adopting Ripple as their main settlements solution.
"Many FX firms I've talked with have considered and dismissed them based on the fact that one company holds over 50% of the market cap," LeMahieu told Crypto Briefing, in December. "A single company holding this much of a position on a currency isn't something they would accept from a risk perspective."
---
Jalen Fargharson contributed reporting and research.