Ripple Increases XRP Sales by 18x in Q2 After Earlier Cutbacks
Ripple sold $32 million worth of XRP in Q2 2020, marking a nine-month high for the company's sales.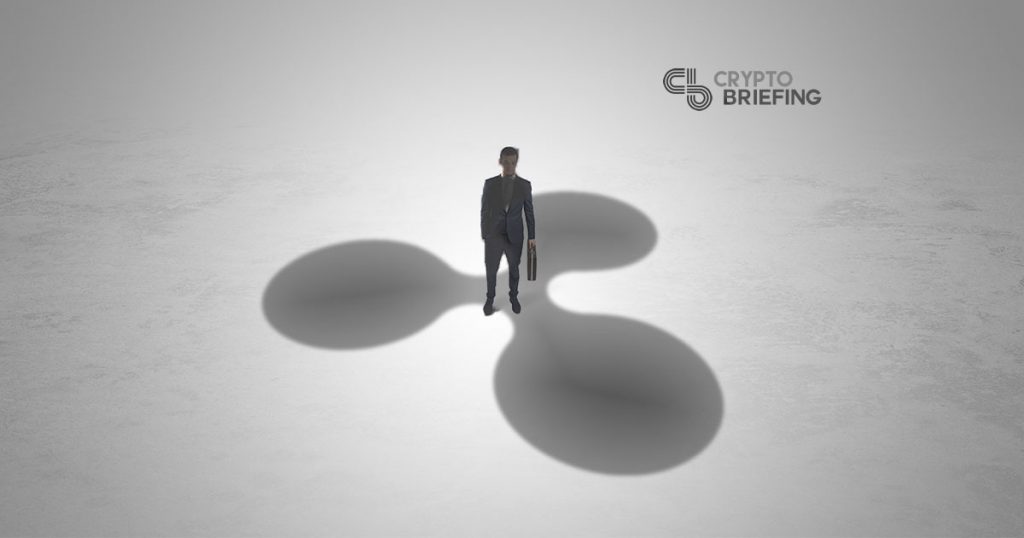 Key Takeaways
XRP has published its latest quarterly report, which says that the firm sold $32 million of XRP in Q2 2020.
By comparison, Ripple sold just $1.75 million of XRP in Q1 2020.
Several companies and exchanges adopted XRP this quarter, possibly justifying Ripple's larger sales.
Ripple has published its Q2 report, indicating that the firm increased its XRP sales following lower sales in Q1 2020.
Ripple Sells $32 Million of XRP
Ripple sold $32.55 million of XRP in Q2 2020. That amount is 18 times greater than in Q1 2020 when it sold just $1.75 million. Ripple also paused programmatic sales to exchanges last year, meaning that Q2 sales were directed entirely at institutional buyers.

XRP's Q2 sales do not represent an all-time high, though: in Q3 2019, Ripple sold $66 million tokens. It also sold $252 million worth of XRP in Q2 2019, more than it has sold in any other period. This quarter's sales are merely higher than they were in the last two periods.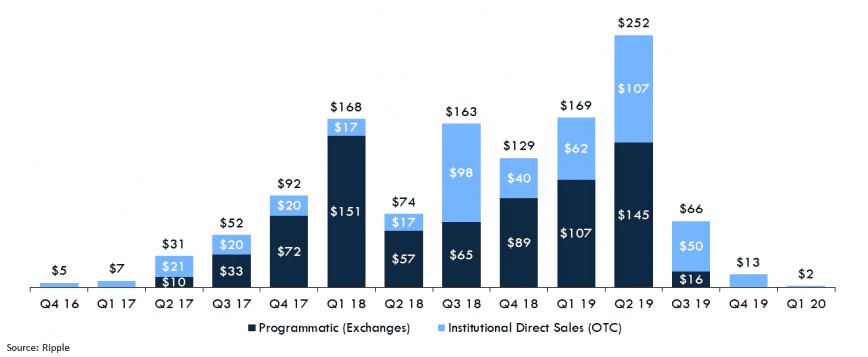 Other Market Statistics
Ripple's report also describes other token-related statistics, including:
Volatility: standard deviation of daily returns fluctuated by 3% in Q2 2020, making the coin slightly less volatile than BTC and ETH.
Escrow: Ripple released 3 billion and returned 2.6 billion XRP to escrow; this affects circulating supply.
On-Demand Liquidity: RippleNet's ODL (remittances) service accounted for 20% of RippleNet's volume in Q2.
Transaction volume: 85 million transactions took place on the ledger in Q2.
Trading volume: XRP was the fifth-most frequently traded cryptocurrency in Q2.
Adjusted transfer value (NVT): Ripple claims that its token had "greater usage" relative to its market cap than any other cryptocurrency.
Transaction fees: The network collected $20,000 in fees in Q2, charging fewer fees than other top cryptocurrencies used for payments.
Partnerships and Integration
Ripple's high sales this quarter may be partially due to growing XRP adoption and integration. Ripple explains in its report:
"The development of liquid and robust markets is key to the success of ODL. The second quarter of 2020 saw numerous integrations that helped contribute to the health of XRP markets."
Regarding adoption, Binance and Huobi added XRP contracts to their derivatives markets in Q2. Sygnum Bank, Zero Hash, Swisscom, and Uphold also added the cryptocurrency to their services. Ripple additionally joined PayID, an open payments initiative, this quarter.
However, it is arguable whether there is a real demand for XRP or whether Ripple is releasing more tokens than is necessary. Regardless, the cryptocurrency is performing well: XRP prices rose 68% over the past 30 days, while BTC prices rose by just 23% over the same period.