Watch Out, Ripple: JPMorgan Coin Could Be A Direct Threat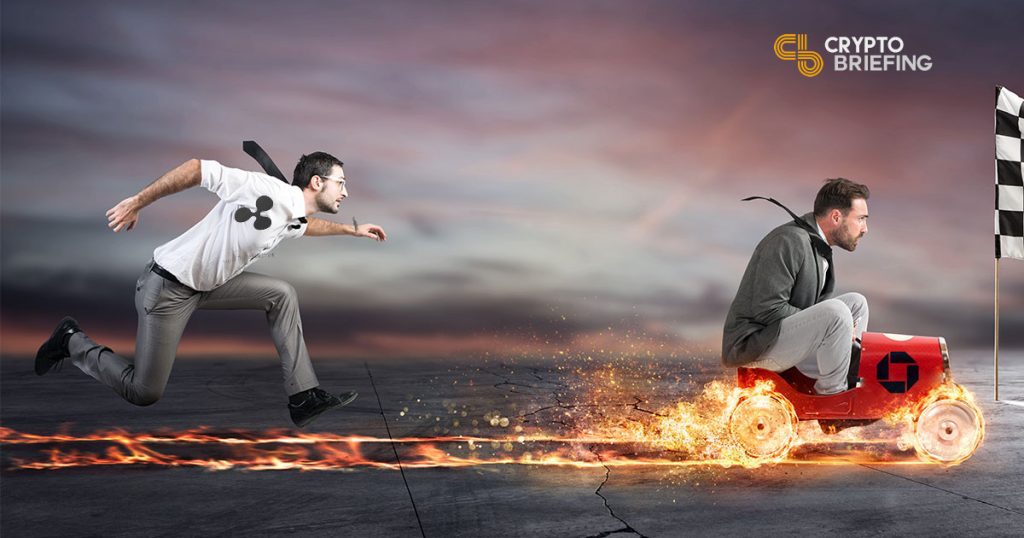 Hell appears to have frozen over, as JPMorgan, run by bitcoin's biggest bête noire on Wall Street, is launching its own cryptocurrency. The newly-announced JPM Coin will be used for settling transactions in real-time among clients of the bank's wholesale business, the bank announced today. The token resembles a stablecoin in that it will be pegged 1:1 to the U.S. dollar, much like Tether (USDT). Meanwhile, the cross-border focus sounds a lot like the business model of a certain leading blockchain company.
It gets better. JPMorgan already built its own internal blockchain, a permissioned Ethereum fork dubbed Quorum. It seems they've finally realized that it's going to take a cryptocurrency to make it work:
"Exchanging value, such as money, between different parties over a blockchain requires a digital currency, so we created the JPM Coin," according to the announcement.
Well, duh.
So why didn't Jamie Dimon, the chief executive at the biggest U.S. bank based on assets, just ring Ripple's Brad Garlinghouse? Now that the cat is out of the bag on accelerated bank settlements, and customers know they won't have to wait two days for a payment to clear, Dimon could have partnered with Ripple for XRP-based xRapid. Instead, the battle lines have been drawn over the future of cross-border payments, and it's JPMorgan on one side and Ripple on the other.
The thing to keep in mind about JPM Coin is that its use case will be controlled. JPMorgan is testing it in limited capacity among a tiny sliver of transactions in its wholesale business, which is the product of the recent combination of Chase Merchant Services and the investment banking arm's Treasury Services segment, designed for "businesses of all sizes."
This suggests that JPMorgan won't be targeting the same customers as Ripple, at least not directly. Ripple counts among its customers leading banks such as Spain's Santander for cross-border payments in addition to credit unions and smaller payments processors and financial institutions. JPM Coin is targeting "a small number of J.P. Morgan's institutional clients."
As eToro Senior Analyst Mati Greenspan pointed out on Twitter, crypto exchanges won't be lining up to list JPM Coin, nor can they.
Emphatically true. It will only be available privately. https://t.co/jX63fOzHBz

— Mati Greenspan (@MatiGreenspan) February 14, 2019
---
Friends Close and Enemies Closer
This is not to say that Ripple shouldn't be worried. JPMorgan has stated that it has plans to "expand its pilot program later this year." Plus, the bank has already proven that it can say one thing and do another, as evidenced by Dimon infamously referring to bitcoin as a "fraud" while simultaneously building up the bank's blockchain business. Do as I say, not as I do.
Here's the rub: JPM Coin happens to be compatible with other blockchain networks.
According to the announcement:
"The JPM Coin will be issued on [JPMorgan's proprietary] Quorum Blockchain and subsequently extended to other platforms. JPM Coin will be operable on all standard Blockchain networks."
---
The Stakes Are High
eToro's Greenspan further explained what's at stake to Crypto Briefing:
Certainly a bittersweet announcement from Ripple's perspective. Bitter because JPM coin is a direct competitor. Sweet because having compilation from a player like JPM could entice the regulators to take a more favorable stance.
Indeed, Ripple's Garlinghouse is probably either cursing Dimon under his breath or thanking him. Dimon may have just done more for the mainstream adoption of cryptocurrency and the blockchain than Ripple ever could have done alone.
While JPM Coin is business-to-business, individual consumers are eventually going to begin asking questions. They are likely going to want to know how they can participate in this movement or at least demand an explanation for how the bank can engage in this market yet ban credit card purchases of cryptocurrencies.
Yes, JPMorgan has single-handedly helped to catapult blockchain-fueled cross-border payments into the spotlight. This is Ripple's bread and butter. Once word gets out in the mainstream that archaic technology such as wire transfers have been replaced, Ripple is going to have a place in that conversation. That's why Garlinghouse may actually want to call Dimon to say thank you. Or, perhaps, replace 'Thank' with a different word.
Based on the XRP price in response to the JPM Coin development (it's currently trading flat), we'd say the jury is still out.
---
The author is invested in digital assets, but none mentioned in this article.