Smartphone Integration Boosts Adoption For Brave and Sirin Labs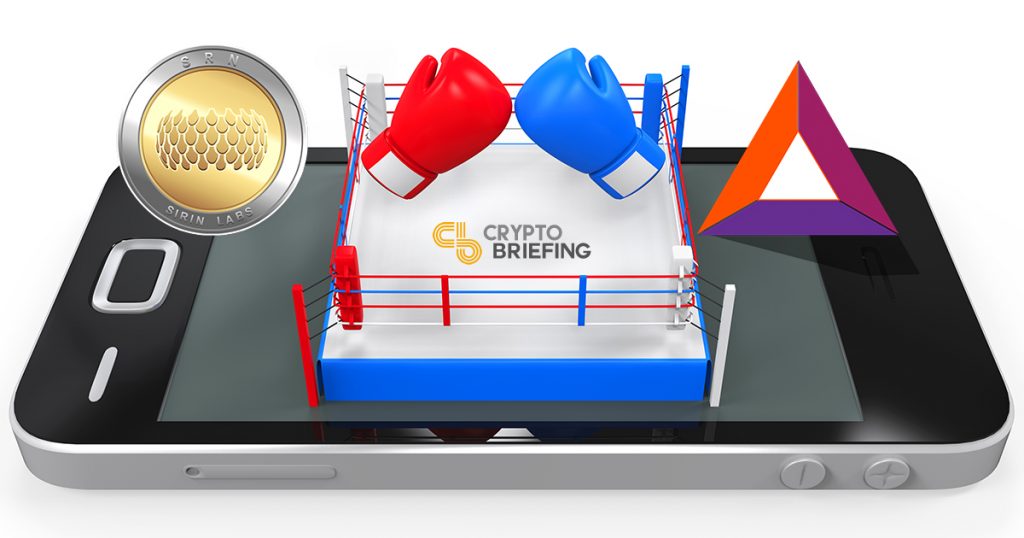 Cameron Winklevoss, of Gemini fame, is looking for "crypto-native companies" – the startups that wouldn't be around without crypto, similar to how Amazon couldn't exist without the internet. Winklevoss said in a tweet he is "excited to see what crypto-native companies build in the coming year," once the short-timers are weeded out.
Among the startups that are betting the farm on decentralization are Brave and Sirin Labs, two brands ushering in the blockchain smartphone era.
---
Brave Browser Makes Its Way Onto The HTC Blockchain Smartphone
While Brave doesn't make the hardware for mobile devices, its software has become to blockchain smartphones what the Chrome browser is to Google's Android. Taiwan-based smartphone maker HTC has selected Brave as the default browser on its new Exodus crypto-phone, according to Brave Co-Founder and CEO Brendan Eich in a tweet.
It's not an iPhone, but HTC has reportedly shipped 100 million smartphones over the last decade. The Exodus blockchain smartphone is the maiden product from HTC's decentralized division, delivering dApps like CryptoKitties to smartphone users. Meanwhile, the Brave browser is already known to the crypto community for its ability to block annoying ads and reward content creators with the project's native cryptocurrency Basic Attention Token (BAT). Brave is reportedly superior to ad-blockers found on Google and Apple's respective browsers and like the new Internet Explorer is based on Chromium.
And while Brave will be the default browser on Exodus, it's already been downloaded more than 4 million times on other popular devices including iOS, Android and Windows, according to CNET. The new partnership will bolster the visibility of both crypto and the Brave brand, assuming the Exodus takes off.
If the competing blockchain smartphone Finney is any indication, it could be a hit.
---
Sirin Labs Battles Negative PR
Swiss-based Sirin Labs, which is behind the Finney blockchain smartphone that is shipping thousands of devices this month, is suffering from some bad PR. A Bloomberg story about bankrupt startups, suggests that after raising nearly $160 million for its phone, Sirin Labs would survive no longer than a year and might drop its hardware business in favor of selling software operating system to other device makers. Sirin Labs has since rebuffed that claim, saying it was taken out of context.
The shift to software over hardware is a hypothetical scenario that Sirin Labs would only pursue if faced with insufficient sales, which is not the status of the Finney. Sirin Labs CEO Moshe Hogeg set the record straight on Twitter, saying: "I've never said we're pivoting, our distributors' order book is >100K phones!" To complement that strategy, Sirin Labs is also in talks with other hardware makers to use the Sirin OS, which includes a cold wallet for secure crypto custody.
Sirin Labs actually raised 205,000 ETH, which in today's market is worth approximately $17 million. Hogeg explained how the company has "managed risks" and "sold enough to get through this hard year," which he believes will usher the company into profitability.
---
If you're in the market for a new smartphone, the HTC Exodus can be yours for 0.15 BTC or 4.78 ETH. Like much of the crypto market, the Sirin Labs Finney is currently on sale, for $899.
The author is invested in ETH, which is mentioned in this article.