SoFi To Add Crypto To Fintech Offerings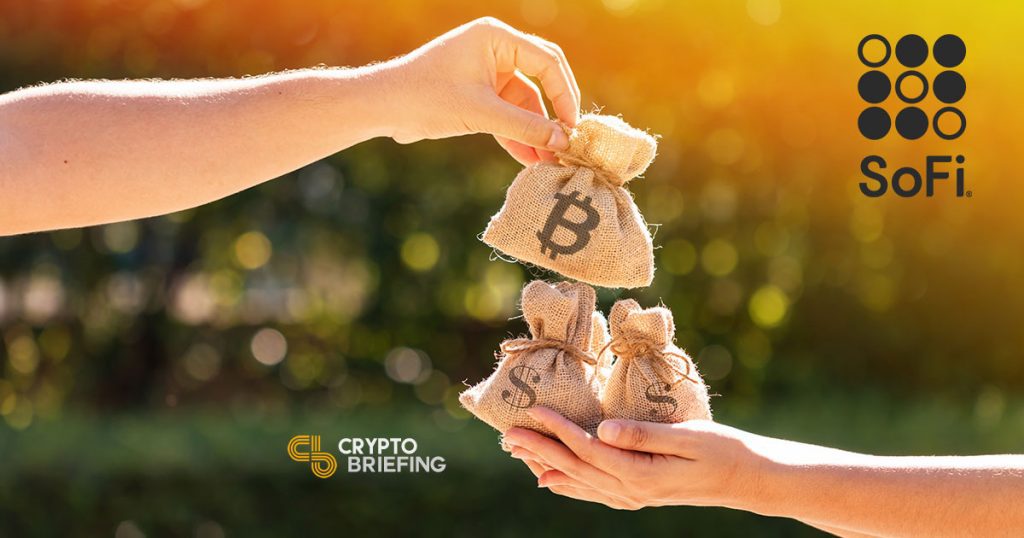 Bitcoin prices might be sluggish, but signs of mass adoption are everywhere. Most recently, alternative lending startup SoFi has announced an expansion into cryptocurrencies. The San Francisco-based platform is partnering with the leading U.S. exchange and wallet provider, Coinbase, for the initiative.
SoFi CEO Anthony Noto is cited in CNBC as saying:
"Our target audience wants to see what the price of cryptocurrency is, and to buy it. They have a desire to do that and in many cases they already are."
---
Crypto at the Water Cooler
While it's not every day you hear about alternative lenders expanding into crypto, SoFi's latest actions aren't much of a stretch.
A few years ago SoFi suffered key executive defections including then CEO Mike Cagney, who resigned from his post amid a flurry of lawsuits and an overly ambitious expansion plan. The current CEO, Noto, is a former chief operating officer at Twitter, and there's no guessing what crypto-related conversations he might have had with Jack Dorsey at the water cooler.
SoFi plans to roll-out its crypto offering in Q2 2019 under the SoFi Invest brand, at which time customers will be able to buy, sell, and access market data on supported coins through the Coinbase partnership. Incidentally, Coinbase is also a partner to Fidelity Investments, allowing customers of the financial services giant to view their crypto balances on a Fidelity-hosted portfolio.
The SoFi service is already popular among millennials given the digital nature of its products. Customers can qualify for a mortgage in as little as two minutes and proceed to apply for the loan online. Once approved, borrowers can gain access to the funds in as little as 30 days.
SoFi also has its sights set on the ETF market and recently made a splash with an SEC filing for zero-fee exchange-traded funds (ETFs), to be comprised of stocks and real estate investment trusts (REITs). While it may be too early for a bitcoin ETF, there is no telling what other plans might be in the works.
The lending platform had previously been pursuing a banking license, but those plans have since been scuttled. An initial public offering is also on the cards, but unlikely this year.
---
Competitive Landscape
Dorsey's other company, Square, is no doubt paying attention to what SoFi is doing, considering that the Square Cash app supports buying and selling bitcoin (BTC). Square reportedly has plans to add Lightning Network technology as well, to support bitcoin as a currency use case.
But SoFi's bread and butter is consumer lending, and blockchain startups that facilitate crypto loans such as SALT Lending are no doubt also watching their next steps.
Fintech companies have already disrupted legacy banking, and it's not surprising that they have begun to catch crypto fever. SoFi, despite its checkered past, is as good a choice as any of them.
Whether other alternative lenders follow in SoFi's footsteps remains to be seen. But no doubt they are either cursing their competitor for setting a precedent or waiting on pins and needles to see how it turns out.
---
The author is invested in digital assets, but none mentioned in this article.