SushiSwap Goes Parabolic With 3,000% 3-Month Gains
SushiSwap has seen tremendous growth in terms of price and liquidity.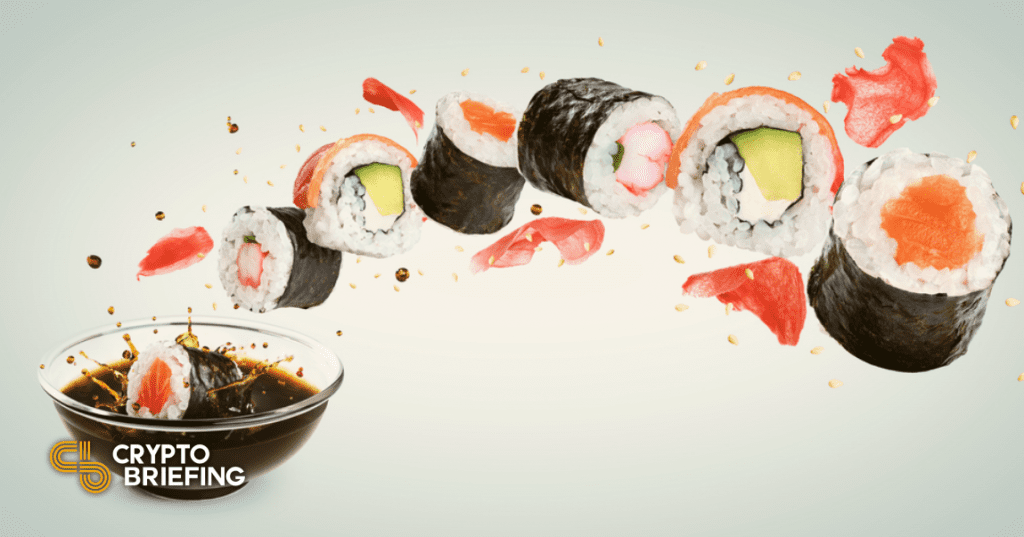 Key Takeaways
SushiSwap has witnessed a 1,000% increase in liquidity and a 3,000% increase in market value over three months.
The team has announced its Minimal Initial SushiSwap Offering, which allows users to list their projects on the protocol.
SUSHI has attracted attention from celebrity investors and blockchain projects alike.
SushiSwap has seen significant gains in terms of exchange volume and market price over the past three months.
SushiSwap Fundamentals Have Improved
The project's governance token, SUSHI, has surged from $0.52 to $15.60 in the span of three months, representing an increase in market value of approximately 3000%.
The change in the coin's price reflects the fundamental changes that SushiSwap has gone through in the recent past.
Most notably, SushiSwap's liquidity has risen drastically. On Nov. 4, 2020, the protocol had $258 million in Total Value Locked (TVL). Currently, the project has $2.97 billion in TVL. This represents a liquidity increase of more than 1000%.
SushiSwap's rising liquidity can be attributed to the decision to pay liquidity providers trading fees generated from the protocol (along with SUSHI tokens) as a reward.
Collaborations have also benefited the project. In late 2020, SushiSwap merged with Yearn Finance. This collaboration allowed SushiSwap to gain access to Yearn's development resources. In turn, SushiSwap will help Yearn ship Deriswap, a service that combines swaps, options, futures, and loans into one contract.
The project's generous rewards have attracted attention as well. Messari researcher Ryan Watkins reports that the protocol gave $6.1 million of rewards to SushiSwap participants in January 2021. He suggested that this might be the largest amount of money a DeFi protocol has handed out to date.
The coin has also attracted celebrity attention. Mark Cuban, Shark Tank investor and owner of the Dallas Mavericks, stated in an AMA that that he holds the SUSHI token.
The Future of SushiSwap
Earlier this week, the team announced Minimal Initial SushiSwap Offering (MISO), a suite of smart contracts that allow developers to launch new projects on SushiSwap.
With MISO, users can launch and bootstrap liquidity for their project. This helps the protocol by increasing trading volume, which leads to more fees generated for the protocol.
Currently, trading fees on SushiSwap are 0.3%. Liquidity providers earn 0.25% of that, while the remaining 0.05% goes to the users who stake SUSHI on the platform.
On Jan. 9, 2021, the SushiSwap team announced their roadmap for 2021 and outlined the products they have under development. The team also suggested that they are looking at ZK-rollups as their preferred Layer-2 solution and stated that Matter Labs have been very cooperative in this endeavor.
On Jan. 12, 2021, the community voted in favor of hiring four core developers for a period of one year.
SUSHI is currently trading at $15.59. It ranks #28 on CoinGecko with a market cap just under $2.0 billion.
At the time of writing this author held Ethereum (ETH).