Tether's CFO Has Vanished from Twitter
Giancarlo Devasini's Twitter account has been deleted.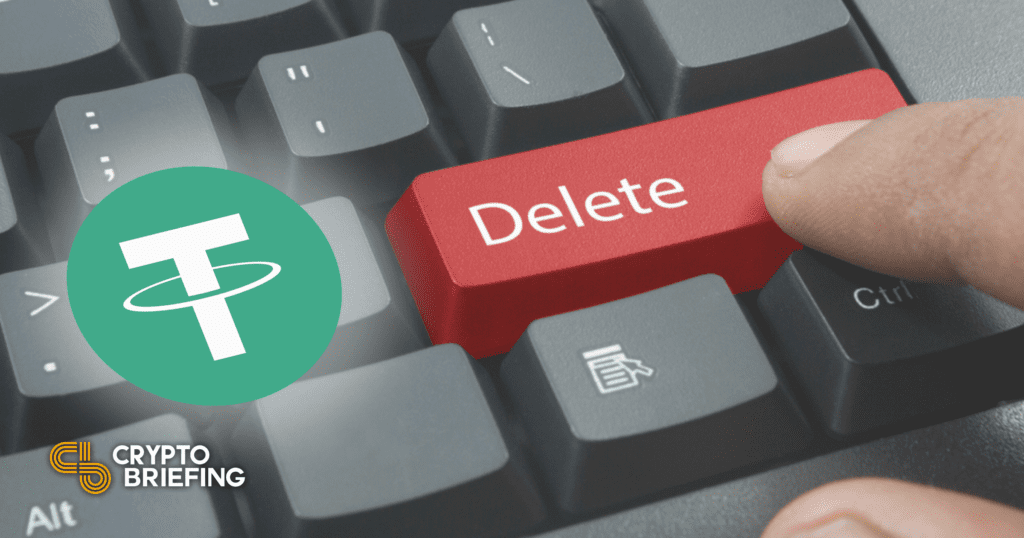 Key Takeaways
The Twitter account belonging to Tether's CFO was deleted today.
The deletion occurred shortly after Bloomberg published an investigation into the company's USDT reserves.
The CFO's last statement read "stay tuned" which implies that the company will engage with Bloomberg.
The Twitter account belonging to Tether's CFO was deleted today following a controversy over the USDT stablecoin.
CFO's Twitter Account Is Gone
Earlier today, Bloomberg published an investigation into the reserves backing Tether's USDT token. That report concluded that Tether backed the coin with questionable assets including Chinese debt.
Now, the Twitter account belonging to Tether CFO Giancarlo Devasini has been deleted, either by himself or by someone with access to the account.
Devasini's account was previously located under the handle @urwhatuknow. His last tweet, published on Oct. 4, is still available as an archived page and anticipated the content of Bloomberg's article by several days. That message reads:
[A]nother financial enslaved dying magazine trying to come up with some #Tether FUD in order to bring in some bucks and delay its extinction for a few more days, stay tuned…. #dinosaurs
Though another Twitter account exists under Devasini's name, it appears to be a parody account given its anti-Tether stance.
Does the Deletion Indicate Trouble for Tether?
While Tether's harshest critics believe that the company is on the brink of collapse, it is unlikely that such an extreme outcome will result from Bloomberg's exposé, especially given that Tether has survived various controversies in the past.
It is possible that Devasini's account was deleted in order to avoid conflict on Twitter. If Bloomberg's piece prompted hostile messages, Tether's CFO may have deleted his account for personal reasons. In fact, today's deletion resembles a 2019 incident in which Craig Wright of Bitcoin SV disappeared from Twitter following a massive controversy.
Yet given Devasini's low profile, it seems unlikely that he would be personally targeted by anti-Tether groups. Furthermore, other Tether executives, such as CTO Paolo Ardoino, remain active on Twitter.
Tether May Retaliate Against Bloomberg
Today's events also resemble incidents in which high-profile crypto companies have engaged with mainstream media.
Last year, Coinbase preemptively responded to a New York Times article criticizing its racial policies. In another incident, Binance sued Forbes for defamation over a report on its regulatory tactics.
In this case, it seems likely that Devasini (or someone managing his account) deleted past statements in order to prepare a clean slate for a fight against Bloomberg, as implied in his final tweet.
It is possible that Tether plans to publicly respond to Bloomberg, or that it plans to challenge the media outlet in court. The latter possibility is merely speculative at this point.
Update: Tether has responded to Bloomberg on its blog. This article will be updated if further statements are published.
Correction: A previous version of this article incorrectly identified the Twitter handle as belonging to Tether CFO Jan Ludovicus van der Velde when it in fact belonged to the company's CFO.
Disclaimer: At the time of writing this author held less than $75 of Bitcoin, Ethereum, and altcoins.