While Alts Sink, The Tezos Tsunami Triples Up For Tezzie Investors
The baker's delight is just warming up.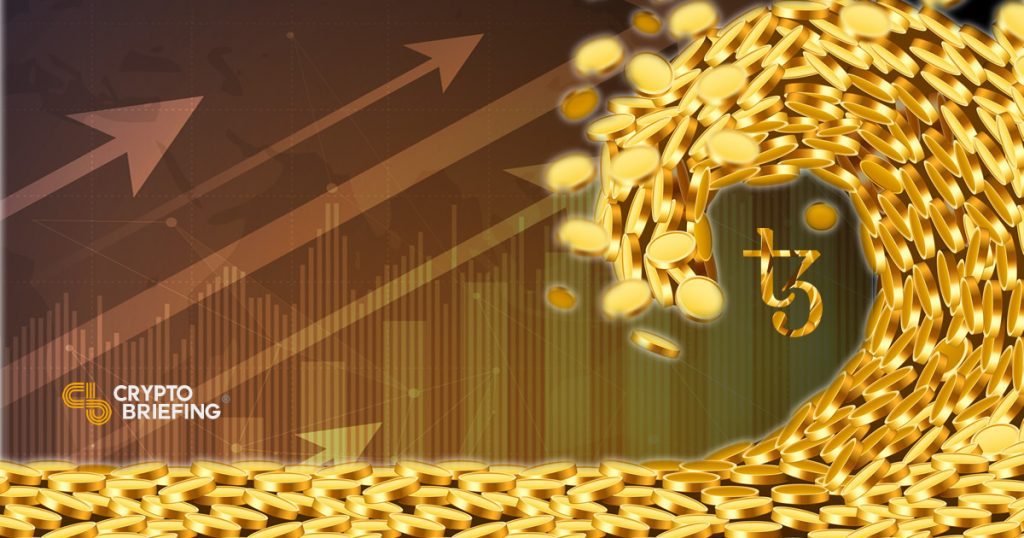 Altseason has been indefinitely postponed, but not everyone's watching the clock. With threefold price growth for the year, Tezos (XTZ) is one of the few altcoins to keep pace with bitcoin and leave better-funded rivals like EOS in the dust.
Coinmarketcap currently ranks XTZ as the 16th-largest cryptocurrency project, with a market cap nearing a billion dollars.
Life didn't begin well for Tezos, with a messy 2017 ICO that threatened to devolve into lawsuits and feuding between the projects' founders. But that was 2017. Had Tezos failed, it wouldn't have been the only project littering the pages of Dead Coins.
---
XTZ Gets The Bump
The project is making headway with major market players. Coinbase added support for Tezos XTZ last week, as part of the company's plans to offer access to 90 percent of all of crypto's market cap.
The exchange is also considering the merits of Cosmos, Dash, Decred, Matic, Harmony, Ontology, and Waves, having just added Algorand.
eToro, the social trading and multi-asset brokerage company, also announced plans to add Tezos to its platform on August 6. Per eToro co-founder and chief executive Yoni Assia:
Green lights from Greenspan and handshakes with Armstrong are one thing. Does Tezos offer anything different from its competitors?
---
On Tezos… and Baking with No Forks
Although commonly compared with EOS and TRON, Tezos has a few advantages over earlier protocols. Instead of forking node software with updates, Tezos upgrades continuously with community consensus.
Tezos also deploys a dynamic version of dPoS aimed to prioritize decentralization, coordination, and security, ahead of scalability. This theoretically egalitarian version of PoS has been labeled as Liquid Proof-of-Stake, as opposed to Delegated Proof-of-Stake. Think Delegatable Proof-of-Stake.
Holders can still transfer validation rights to delegates, but doing so is optional. Referred to as baking in the Tezos network, consensus can still be achieved without a fixed set of block producers verifying transactions, though there are financial incentives for Tezos holders to delegate validation rights.
There are currently 86 AAA or AAA+ rated Tezos bakers by efficiency level, suggesting that aspirations for more validators than, say, EOS, are being realized.
The network is designed to appeal to enterprise and nonprofit uses as well as individual developers. With all token holders able to either bake or delegate and participate in decisions on network upgrades, the protocol's self-amending nature could allow Tezos to keep pace with innovations as they happen.
Notwithstanding all those features and the many who call Tezos another Ethereum-killer, Kathleen Breitman still regards 'money for the internet' as the most important focus for blockchain projects:
With a market cap fast approaching one billion dollars, a former president now out of the way, and the seal of approval of two big industry players, Tezos seems to have shaken loose from its controversial beginnings.