U.K. Bank Barclays Blocks Card Payments to Binance
The bank claims it took action to help keep customers' money safe.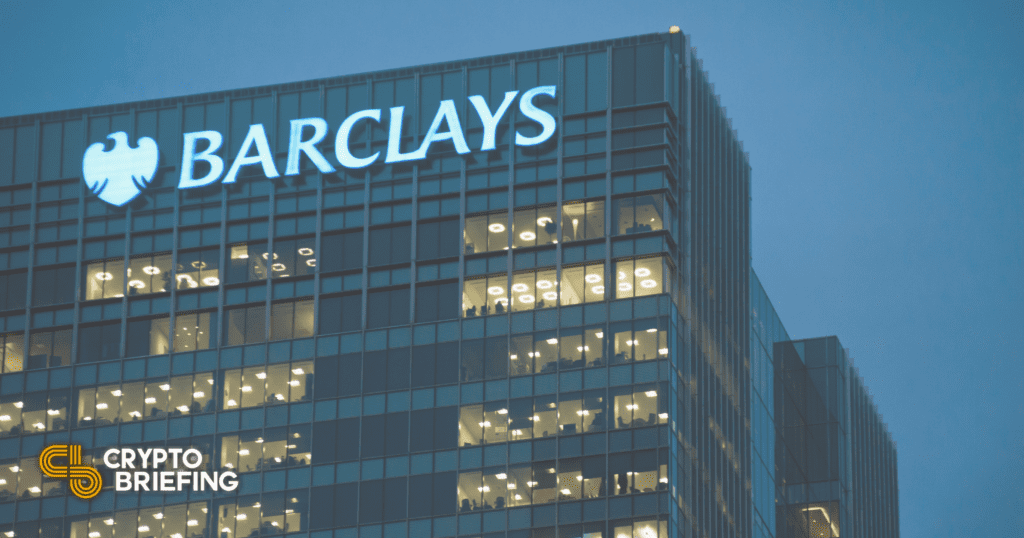 Key Takeaways
U.K. bank Barclays has confirmed customers will no longer be able to deposit funds on Binance.
Barclays says it made the decision to keep customers safe.
Binance has faced regulatory pressure in several countries in recent months.
U.K. bank Barclays has informed customers that it will no longer allow card payments to the cryptocurrency exchange Binance.
U.K. Bank Blocking Binance Transfers
Barclays has blocked customers from making card transfers to the cryptocurrency exchange Binance.
Barclays account holders who had previously sent money to the exchange received text messages informing them of the change Monday.
https://twitter.com/TeddyCleps/status/1412055127666610176?s=20
In the text, Barclays explained that it made the decision to "help keep customers' money safe" and urged customers to check the Financial Conduct Authority's website regarding Binance for more information.
Disgruntled customers immediately took to Twitter to voice their concerns, only to receive a similar message from the official Barclays U.K. Help Twitter account.
Barclays isn't the only U.K. bank to take a stand against crypto: Natwest recently issued a similar block in hopes of protecting customers from scams and frauds, while HSBC has banned clients from buying MSTR stock on its trading platform due to MicroStrategy's exposure to Bitcoin.
Although Barclays has stopped card transfers to Binance, it has assured customers that this action does not impact their ability to withdraw funds from the exchange. The message also didn't mention instant transfers, but only those made with a credit or debit card.
Over the last month, Binance has faced several regulatory issues both in the U.K. and globally. On Jun. 26, the Financial Conduct Authority banned Binance from offering crypto derivatives in the U.K., the same FCA ruling that Barclays cited in its decision to stop transfers to the exchange. On the same page as the Binance ruling, the FCA also gives more general advice regarding investment in crypto assets. The website states:
"Be wary of adverts online and on social media promising high returns on investments in cryptoasset or cryptoasset-related products. Always be wary if you are contacted out of the blue, pressured to invest quickly or promised returns that sound too good to be true."
This warning is particularly relevant to Binance, as the platform's Binance Smart Chain has become notorious for hacks, liquidity farm rug pulls, and pump-and-dump schemes. Barclays may have been influenced by Binance's reputation when making its decision as customers have not reported issues transferring money onto other exchanges, such as Coinbase.
With regulatory pressure building, and banks taking action, Binance will have to act fast to mitigate any further damage to its platform.
Disclaimer: The author held ETH and BTC at the time of writing this article.