Unikeys Launches Biometric Crypto Card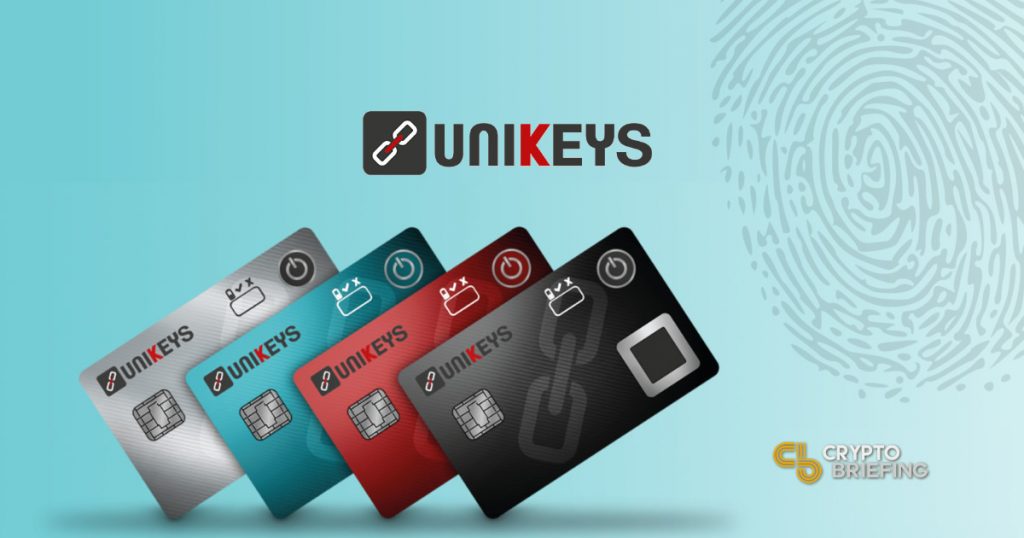 Unikeys has unveiled a biometric cryptocurrency card that you can verify each transaction with your biometric data. It's a huge step in the battle against fraud and could be rolled out across the industry before too long.
The company is starting small, with a pilot scheme in Hong Kong. But this biometric system could be far more than a fraud counter-measure in the end. It could easily be the basis of a blockchain debit and credit card system.
Visa and Mastercard are already working to replace the Chip-and-Pin – a moderate success in the fight against fraud, but far from the final solution. A biometric card, though, could put an end to phishing expeditions that have cost the industry in terms of actual money and consumer confidence.
The Ukey card from Unikeys looks like any other credit card, but it's essentially the physical key to an online wallet that contains Bitcoin, Bitcoin Cash, Ether, Litecoin and a number of other popular currencies.
Unikeys is looking to license the tech and is in talks with a number of different partners.
A Stronger Physical Key
Physical keys are nothing new in the cryptocurrency world and help secure wallets that can contain millions of dollars of cryptocurrency. The biometric element is a new touch that we think will be a hit.
Unikeys has partnered with MeReal Biometrics in Hong Kong, which has licensed the fingerprint technology from Sweden's Fingerprint Cards. When the card is activated, the user's fingerprint is stored as a secure authentication key and then no transactions can take place without a biometric confirmation.
That would have saved a lot of investors from painful cryptocurrency scams that are an inevitable part of of a new financial landscape. One investor (who happens to run a huge cryptocurrency and blockchain organization) is suing AT&T after losing $24 million through a phishing hack.
Could This Be More Than a Key?
At the moment, this card is little more than a physical key, but the potential is obvious. If merchants begin to accept cryptocurrencies as payment, or Unikeys can create a gateway using Stripe or the in-built functionality in the Stellar Lumen framework, then this biometric card immediately becomes a functional debit card.
Behind the scenes, the money may route to a cryptocurrency exchange and convert to the local fiat currency, but this could all happen through the magic of smart contracts and you would simply pay at the till with your crypto card and biometric reader as normal. That's a halfway house solution and in the end we'll switch to clean crypto purchases.
Debit and Credit Cards Coming
It is an intriguing prospect and a crypto debit or credit card is widely seen as the next step. Ethereum creator Vitalik Buterin recently revealed his dream of people buying pre-paid cards from a convenience store. However, conceiving of a crypto credit card and actually delivering one have proved to be very different on the difficulty scale, as our recent notes on TenX and Monaco Crypto demonstrate.
This biometric card is an alternative that could easily replace bank accounts, though, and remove a vast amount of friction from the payment process.
For now the biometric cryptocurrency card is a step forward in the quest for security. In the near future, it could be so much more.
The author is not currently invested in digital assets.