WBTC: Wrapped Bitcoin Project Aims To Bridge BTC And Ethereum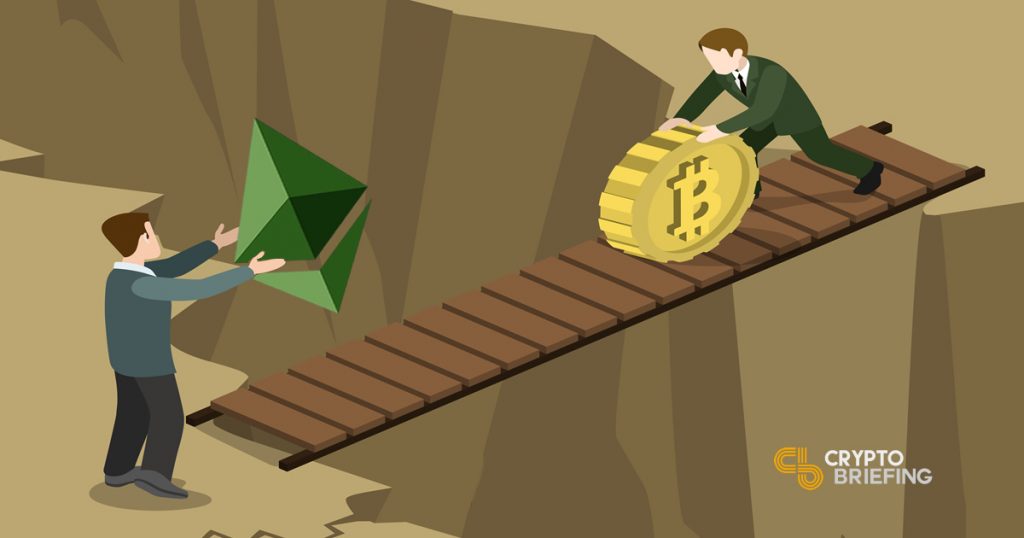 A gulf separates the Bitcoin (BTC) and Ethereum (ETH) networks. Although many investors hold both assets, they have so far been unable to use them together in any meaningful way. A new initiative now wants to enable traders to get as close as they can to using bitcoin on the Ether network, gaining access to its dApps; and even introducing BTC trading onto decentralized exchanges.
Wrapped Bitcoin (WBTC) is a new project looking at introducing BTC-backed derivatives into the Ethereum ecosystem. Deposited bitcoin will lead to the generation of WBTC, representing its value on a 1:1 ratio. Being ERC20 tokens, these can then be used freely on the ETH network.
WBTC is a collaboration between cryptocurrency security and custodial firm, BitGo; the decentralized liquidity pool Kyber Network (KNC); as well as the Republic Protocol (REN), a dark pool platform for institutional traders. A wide range of companies is supporting the initiative, including the algorithmic stablecoin provider MakerDAO and the decentralized exchange IDEX. Crypto app Blockfolio and wallet-to-wallet trading company AirSwap are also launch partners.
---
How WBTC works
In order to mint WBTC, users will have to deposit their bitcoin with BitGo. The network uses a proof-of-reserve mechanism to show that the amount of WBTC in the Ethereum network directly corresponds to the amount deposited. Tokens are burned whenever a holder redeems them for the underlying bitcoin.
The three founding projects said WBTC would enable users to enjoy the benefits of both blockchains. The ETH community would have access to the greater liquidity enjoyed by the Bitcoin protocol, while BTC would be able to take advantage of Ethereum's smart contract capabilities.
Kyber Network's CEO, Loi Luu, said WBTC would benefit both networks: "This initiative will be bringing together the liquidity of Bitcoin and the extensive smart contract developer ecosystem of Ethereum."
"Applications on Ethereum such as decentralized exchanges and financial protocols will all be able to use Bitcoin seamlessly, creating bitcoin trading pairs which have been impossible until now," he went on to say. "The usage of Bitcoin will be expanded by having more decentralized use cases, such as exchange, loans, token payments."
---
What the Wanchain!
The two largest blockchain networks operate in silos; the goal of cross-chain compatibility is to help bridge this gap. This can help to improve liquidity as a wider range of users will be able to spend their assets within the ecosystem. This can make the everyday running of the network a lot easier.
Wrapped Bitcoin is not alone; Wanchain (WAN) has also been developing along very similar lines. Users can deploy proxy tokens on other networks that can be used and transacted with. Wanchain has so far managed to successfully link its own blockchain to that of the Ethereum network. It plans to be able to have full chain compatibility with the Bitcoin protocol, following the launch of its 3.0 testnet.
Another project worth noting is RSK, which is focused on facilitating cross-chain smart contract execution between the Bitcoin and Ethereum blockchains. The approach may be different, but the goal is similar – effectively linking the world's top two blockchains.
Although Wanchain will undoubtedly be concerned about the emergence of a direct competitor, time is still on their side. Wanchain's roadmap slates the mainnet release for the end of the year, whereas Wrapped Bitcoin plans to be fully operational by January 2019.
The author is invested in BTC and ETH, which are mentioned in this article.
Crypto Briefing's CEO is an advisor to Wanchain, and was not involved in creating this article.