What Is Polymath Network?  Introduction to POLY Token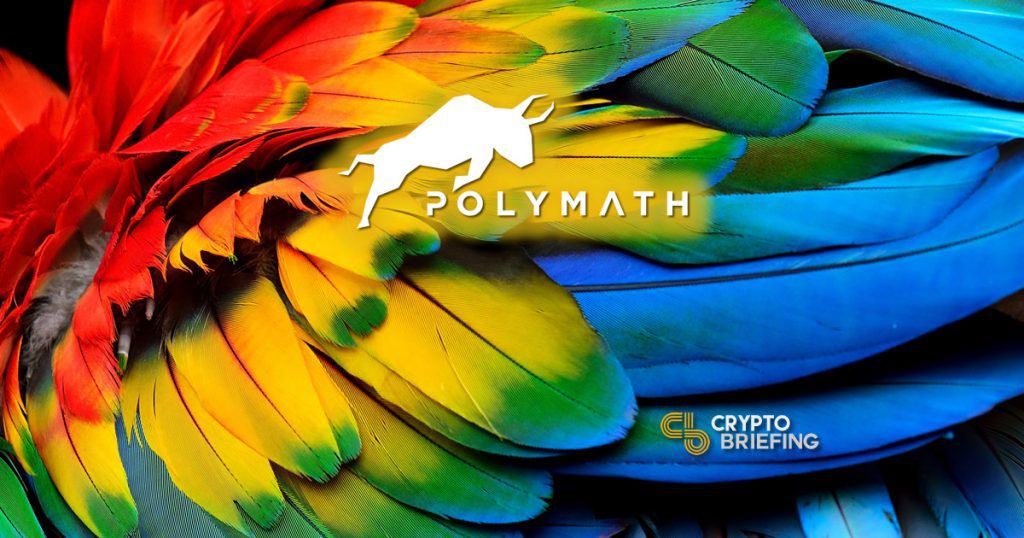 What Is Polymath?
Polymath is a security token platform that uses the ST-20 token standard to ensure compliance with government regulations when issuing digital securities. Polymath is a platform like Ethereum, but instead of creating utility tokens like an ICO platform, it offers equity in a company – a model which has a well-established regulatory framework. Polymath focuses on KYC, AML, and other legalities to ensure regulatory compliance with securities laws.
ICOs came under fire from government regulators around the globe in 2017 and 2018.
The difference between an ICO (initial coin offering) and an STO (securities token offering) is the resulting equity stake in the company. The effort from Ripple Labs to separate itself from the XRP token and the legal woes behind Tezos are great examples of the perils early blockchain projects face, as their networks, foundations, and tokens are used interchangeably, and the actual lines between them being blurred.
When the concept of the ICO was proven, everyone jumped on the bandwagon. It became a big business, with $5.6 billion raised by ICOs in 2017 and over $13 billion in 2018, according to PwC Switzerland. This money attracted some bad actors, and over $100 million was lost to ICO exit scams.
Polymath believes it has the answer, sparking the rise of the STO and building a solid blockchain ecosystem. And CPO Thomas Borrel believes the STO can change the investment industry at its core.
But is this really the death of the ICO?
Before answering that question, let's take a look at the POLY token and its performance on the cryptocurrency market.
---
POLY Cryptocurrency Summary
The total supply of Polmath's token is 1,000,000,000 POLY. The peak price so far was $1.59 on February 19, 2018.
POLY is created through Proof of Stake (PorS). Although Polymath created the ST-20 token standard, it's staked using POLY, which is an ERC-20 token on the Ethereum blockchain. This means while Polymath enables security offerings, its own native token is a utility token itself.
The Polymath ICO was the first to actually be registered with the Securities and Exchange Commission and be fully SEC compliant. Over $59 million was raised during a private token sale to accredited investors. Once it got its foot in the door, Polymath built the road for everyone else in crypto to follow.
The initial token supply of 240,000,000 POLY was airdropped to Polymath participants registered by January 10, 2018. The remaining supply was retained by the founding team. POLY can not be mined.
POLY fuels transactions on the Polymath network, just like ETH does for Ethereum.
Over $4 million worth of POLY is traded on a daily basis. It's supported by a variety of cryptocurrency exchanges, including CoinZest, Upbit, Binance, Bittrex, Huobi, and LATOKEN. POLY trading pairs include ETH, BTC, and fiat currencies like KRW.
Because it's an ERC-20 utility token, POLY is supported by any ERC-20 compatible wallets, including Ledger's hardware wallets and MyEtherWallet.
---
Securing the Wild West of Crypto
To raise capital, companies will issue shares of their company. These shares are a stake, or stock, in the company that provide voting, profit-sharing, and other rights.
Of course, in an unregulated (or under-regulated) market will bring bad actors. Just like how the ICO market attracted exit scams, the New York Stock Exchange back in 1929 was filled with overvalued stocks with no real backing. The stock market crash in October of that year led to the Great Depression.
The SEC is one of many government agencies created in the aftermath. Specifically, the SEC was created by the Securities Exchange Act of 1934. Securities law has two main focuses, in the agency's own words:
Companies publicly offering securities for investment dollars must tell the public the truth about their businesses, the securities they are selling, and the risks involved in investing.
People who sell and trade securities – brokers, dealers, and exchanges – must treat investors fairly and honestly, putting investors' interests first.
To maintain this public trust, publicly held companies (those who sell shares to the general public on the open market) are required by the SEC and its laws to file registration statements for newly-offered securities, annual quarterly filings (Forms 10-K and 10-Q), proxy materials sent to shareholders before annual meetings, annual reports to shareholders, documents concerning tender offers, and filings related to mergers and acquisitions.
In addition to these documents, SEC investigators routinely monitor emerging and established markets for signs of information misrepresentation, market manipulation, unregistered securities sales, insider trading, and other illegal activity. Most ICOs were being targeted for selling unregistered securities, although some have violated other rules.
As a whistleblower, I've dealt with the SEC's enforcement agents, and they are remarkably intelligent and effective people. In other words, not to be messed with.
Navigating all this information takes the help of a skilled professional. And that's where the Polymath network comes in.
---
Under the Hood of Polymath
Polymath has four layers in its blockchain: Protocol, Application, Legal, and Exchange. The protocol layer is the smart-contract layer with all of the terms built in. The application layer is where the security tokens are created. The legal layer is the network governance layer, where templates are created and used by accredited lawyers. The exchange layer works like Bitcoin's digital ledger.
Three parties are then involved in transactions. Investors, developers, and issuers. Issuers pay POLY to create and issue securities tokens. Investors pay POLY for KYC/AML verification and transaction fees. Developers receive POLY for keeping the network updated and secure.
Because it's dedicated to securities tokens, Polymath is a full-stack ST platform that makes it easy for anyone, even without technical knowledge, to issue a security.
Using a decentralized model with a digital ledger, Polymath is basically a "securities in a box" platform that is useful beyond blockchain to the foundation of Wall Street itself. Here are the fields presented when you create a token on the Polymath network:
Legal Name:
Legal Entity Type:
Type of Security:
Project Description:
Logo:
TOKEN CHARACTERISTICS
Voting Rights:
Dividend:
Dividend Frequency:
Corporate Governance:
Governance Integration Partner:
Additional Features:
TOKEN ALLOCATION
Tokens to Create:
Percentage of Tokens Held by Company:
Percentage of Company Equity Distributed With Tokens:
Price per Token in USD:
LEGAL DETAILS
Issuing Jurisdiction:
Offering Security To:
Investors Must be Accredited:
Investor KYC Needed:
KYC Integration Partner:
Tokens Freely Tradable:
CONTACT DETAILS
Contact Name:
Position at Company:
Contact Phone Number:
Contact Email:
Permit Contact from Polymath:
Once a token is created, you'll shop for legal delegates using your own due diligence and price shopping. You then pay your fee to the lawyer to prepare your legal documents to register with the SEC and other regulators to remain compliant.
To become an investor, you'll need to choose a KYC provider and place the required POLY balance in escrow. This will verify your identity and accreditation status, which is stored in a smart contract by the provider.
Selling security tokens isn't as easy as selling POLY on a crypto exchange. Only authorized, accredited investors can take ownership. Because it's baked into the smart contract, selling to an unaccredited investor will be like attempting to submit a web form without filling out the required fields.
And crossing all your T's and dotting I's is important when filing securities with any government entity. That's why Polymath is attracting so many partners on its STO platform, including:
tZero – Overstock's blockchain-based subsidiary is building a better Wall Street infrastructure on the blockchain.
Minthealth – A healthcare solution that puts patient medical information on the blockchain.
Corl – An investment platform that lets businesses offer revenue sharing instead of equity, an ironic twist on Polymath's focus on securities.
BlockEstate – A fund using the blockchain to tokenize real estate transactions.
Although it offers a different crypto product, the success of Polymath hinges on the strength of its ecosystem, just like Ethereum. These partnerships are a good sign the industry likes what Polymath is doing.
---
Polymath Summary
The Polymath network is a turn-key securities platform similar to Ethereum, but with a focus on government compliance. This focus makes Polymath a beacon leading the industry way from the ICO and down the path of the STO. Polymath's quest to make cryptocurrency acceptable by governments worldwide depends on these key features:
Polymath is a four-layer blockchain that includes securities issuers, investors, and developers to ensure full KYC/AML compliance for issuing financial securities.
ICOs became a lightning rod for government regulators around the world due to exit scams exposing the lack of rights to coin holders. STOs put new blockchain launches in compliance.
POLY utility tokens are used to pay for services and make transactions. Only accredited investors can use POLY to buy security tokens, but anyone can buy POLY on ERC-20 marketplaces.
With these pieces in place, Polymath is at the forefront of an important rush in the blockchain industry. Compliance is a crucial step to mainstream crypto acceptance, and Polymath may have the formula to lead the charge. The danger of being in front, however, is being shot in the back or passed up by those behind you. We'll wait and see how well Polymath sustains over time.