What The FCT: Factom Quadruples In A Month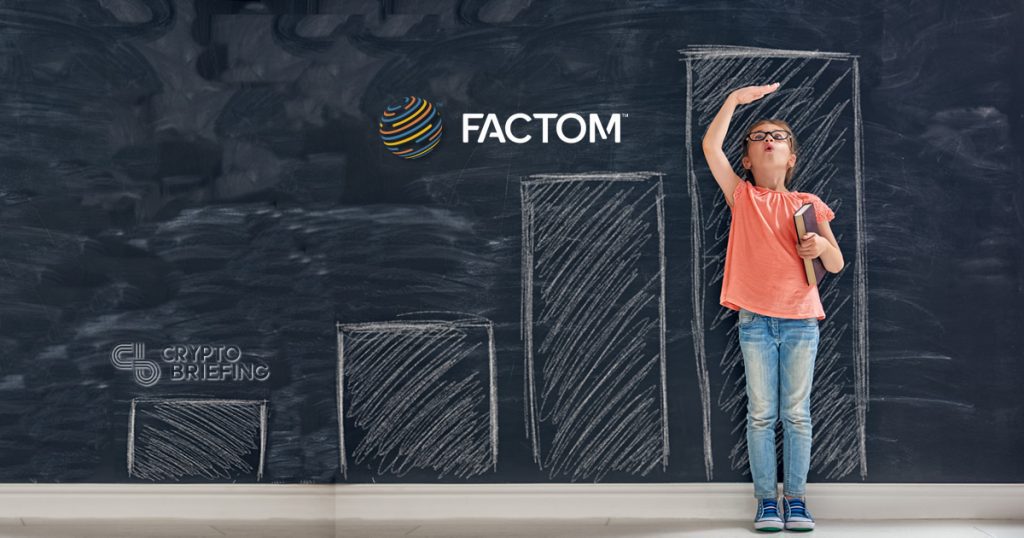 Prices for Factoid (FCT) tokens, the native currency for Factom, are rising. While the rest of the market went into meltdown, FCT has been on an upswing for the past month. Partnerships, collaborations, and adoptions are driving prices upwards.
In November, when the market looked like it was on the verge of a breakout, the FCT token price sank to a new yearly low. It traded at roughly $3.88 per coin in the middle of the month, its lowest value since early 2017.
But then FCT began to rise, breaking through the $10 mark on November 26th. It wasn't an uninterrupted surge – the price would correct after a strong upwards trend – but it was still increasing in value. The coin reached $11 by the end of the month, gaining nearly $70M in total value and gaining 200% in two weeks.
The coin is now trading at just below $15, and the market cap stands at $132M at the time of writing. That means FCT tokens are now worth nearly four times what they were in mid-November, less than three weeks ago.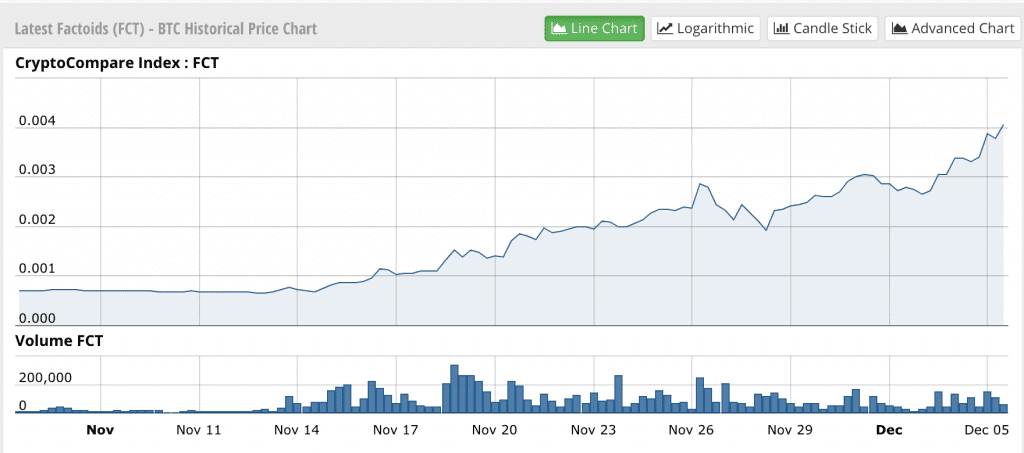 ---
Facts about Factom
Factom is a blockchain for companies to create their own record systems. Factoid tokens provide incentives for market participants. They are used in tandem with the network's sister token, Entry Credits (EC), which are used to exchange value on the blockchain. They can also be used to purchase storage data.
Factom is a near-contemporary of Ethereum (ETH), having been established in the latter part of 2015. Companies have expressed interest in using the protocol and the project's CEO, Paul Snow, said revenue was reportedly up by nearly 700% in the last quarter. "Factom has begun seeing a change in the blockchain industry as we prepare for 2019," he said. "Factom's Q3 2018 revenues were up over 675% from Q3 last year as it prepares to begin 2019 busier than it has ever been."
On November 13th, real-estate software provider Equador announced it would partner with the project to integrate its Harmony project into its default mortgage process. Two days ago, the Chinese online streaming and advertising platform, Yooya, announced it had also adopted Harmony. Yooya said it will use the blockchain to provide validated traffic and performance data from its featured videos.
"Yooya's adoption of the market-leading Factom Protocol is a powerful addition to our roster of solutions for brands and online video advertisers in China," said Yooya CEO Rick Myers. "Factom will be a critical part of our ongoing development of China's first blockchain-based marketplace for the buying and selling of media rights in China."
Much like how Ripple's xCurrent doesn't use XRP, Factom Harmony is a blockchain-as-a-service (BaaS) protocol that doesn't use cryptocurrencies or tokens. The market reacted positively to the news two companies were onboarding the solution by buying Factoid tokens. Some traders clearly didn't read the small print.
Disclaimer: The author is invested in ETH, which is mentioned in this article.