XRP Retains Popularity Despite SEC Lawsuit, According to Ripple Report
Ripple's XRP sales enjoyed a very strong Q4 2020 despite the legal troubles from the SEC.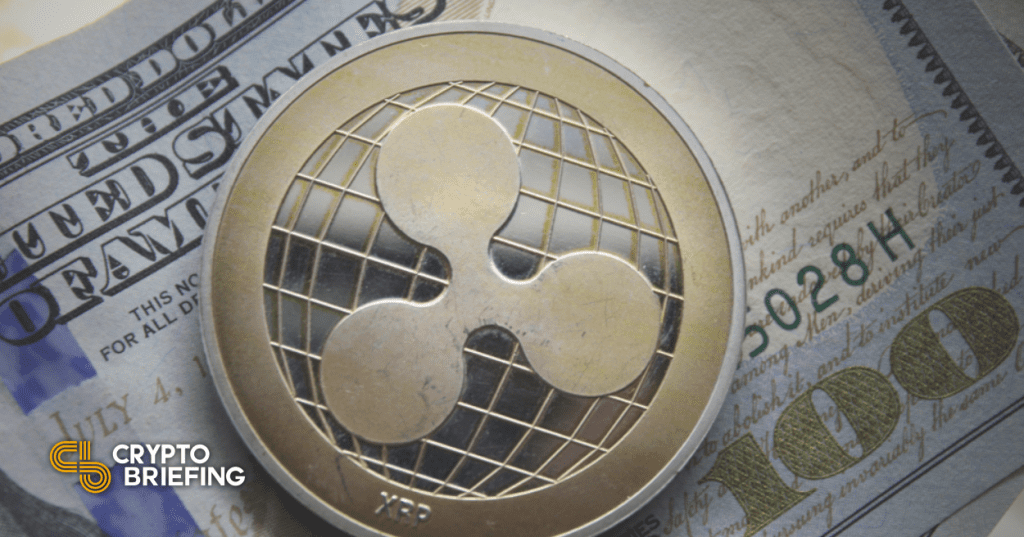 Key Takeaways
Ripple published its latest XRP Markets Report for Q4 2020, surprising many with its contents.
In the report, Ripple boasted higher XRP sales to clients for ODL product.
Ripple determined that total XRP volume was up about four times in Q4 compared to the previous quarter.
According to Ripple, the company enjoyed a 400% increase in XRP trading volumes and onboarded a record number of clients for its On-Demand Liquidity (ODL) service.
Ripple Boosts Volume, Adds New Clients
Blockchain payments company Ripple has published its Q4 XRP Markets Report of 2020. Despite the company's ongoing legal battles, the report revealed several encouraging findings.
Ripple said it registered a record number of clients in the last quarter of 2020 for its On-Demand Liquidity (ODL), the company's cross border payments product that uses XRP. The firm claimed that continued client traction during the legal issues emphasizes that its ODL product had real value in facilitating cross-border payments for financial companies.
Ripple's net XRP sales doubled those of Q3 2020, registering $76.27 million compared to $35.84 million in the previous quarter.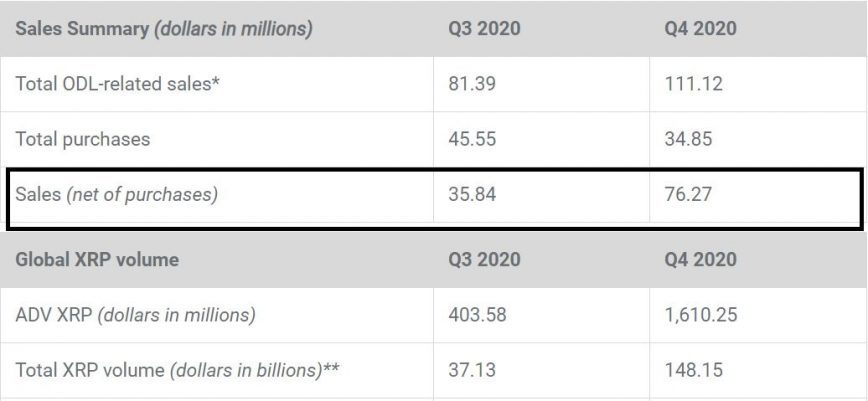 Asia-Pacific Keeps XRP Afloat
Using data provided by CryptoCompare, Ripple determined that total XRP volume had quadrupled in Q4 compared to the previous quarter. According to its estimate, the total XRP volume was $148.15 billion in Q4 versus $37.13 billion in Q3.
Ripple said the snapshot for Flare Spark token airdrop was likely the reason behind the massive surge in volume.
Despite the growing volume, a large portion of the volume was impacted due to the SEC's enforcement action, Ripple wrote. In December 2020, SEC's enforcement action against Ripple intensified legal risks for U.S. exchanges, many of which suspended XRP trading.
Ripple said 33 market participants took some restrictive move against the token worldwide. As a result, "approximately 12% of XRP volumes were impacted."
However, exchanges from outside the U.S., especially in the Asia Pacific region, continued ahead with their XRP operations. This ensured that the large majority of trading volumes remained unharmed.
The Q4 2020 Markets Report showed the digital currency has mostly retained its popularity despite the SEC enforcement action.
Given the net XRP sales have more than doubled during the last quarter, it is yet to be seen how the SEC responds to the fact.
Disclosure: The author did not hold crypto mentioned in this article at the time of press.