Understanding The ETH Rally: Is This Altseason?
Derivatives have much more influence in the market.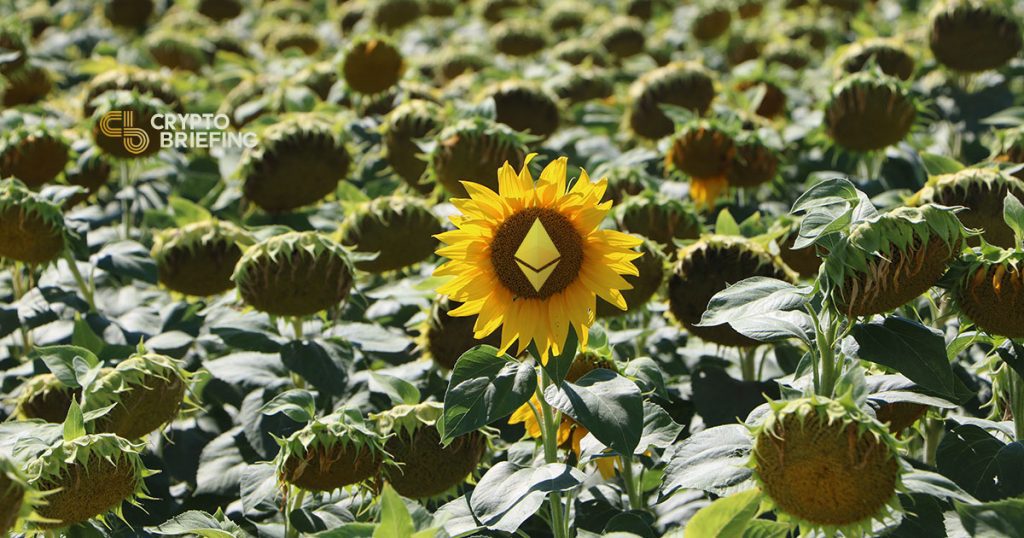 Markets are in a state of flux, with several cryptocurrencies rising by double digits. After several months of dashed hopes, many investors are wondering if today's gains are the beginning of a long-postponed altseason. Those hopes are stoked by the fact that Bitcoin remains range-bound, after several weeks of uninterrupted increases for BTC dominance.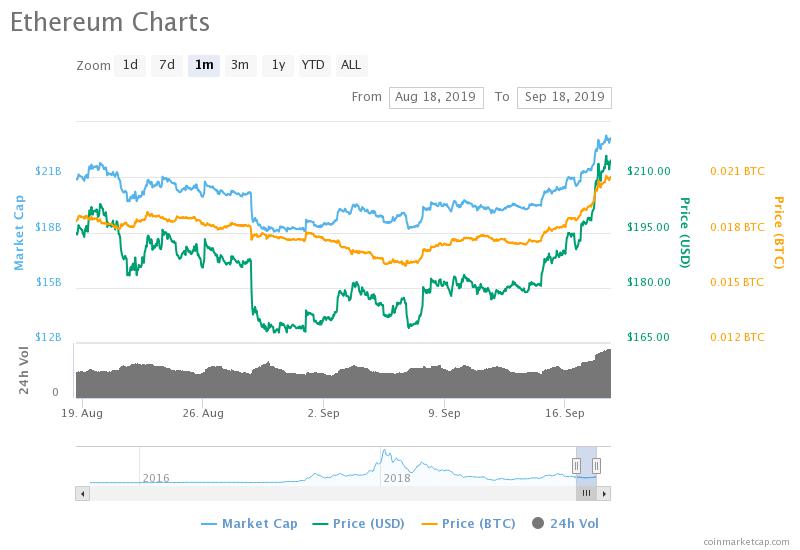 Historically, a sudden increase in prices relative to BTC suggests an oncoming altcoin rally. "BTC volatility has dropped significantly over the past week, allowing alts room to breathe," explained Ross Middleton CFO of DeversiFI (formerly Ethfinex). It could be that value is moving from BTC into other large-cap cryptocurrencies, possibly from investors seeking to diversify risk or to realize greater returns.
But that may not be the case with the latest rise. The money flow between BTC and ETH remains prominent, but there's no sign that investors are moving value from stablecoins to altcoins, according to Gerald Chee, CoinMarketCap's Head of Research.
As the graph below shows, Tether has continued to maintain parity to the USD over the past few days.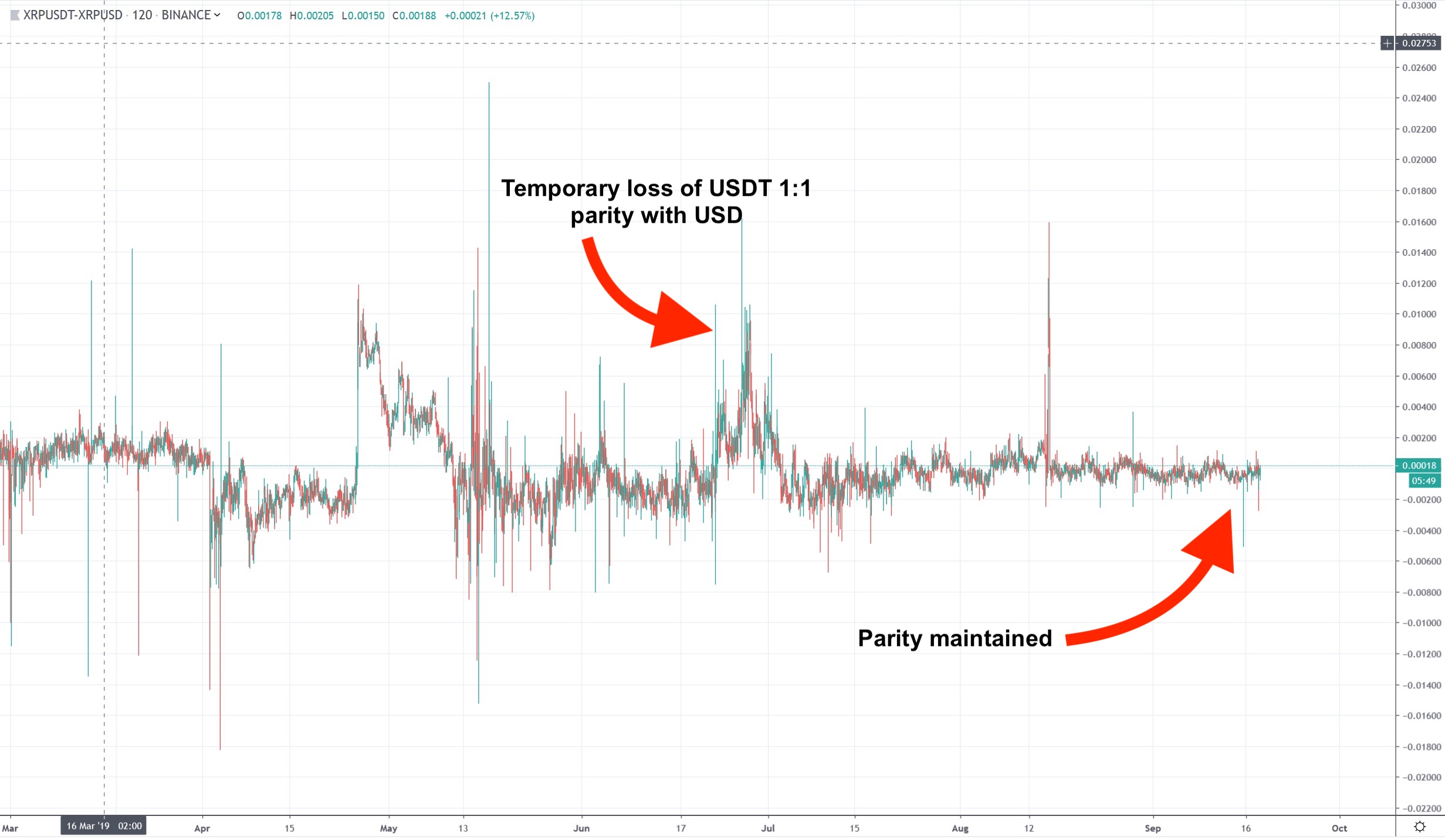 Tether's peg tends to slip during rallies, as investors race to trade USDT for other cryptocurrencies. "We have seen in prior instances of value shifting out of USDT causing a depreciation in the value of USDT before," Chee explained in an email. "The most recent event was the massive bull run that happened end June."
Interest in altcoins has been weak for most of the year. Institutional investors, who now comprise a much larger share of the market, have only shown interest in buying Bitcoin as a store of value and recession hedge. Altcoins barely got a look-in.
But that narrative has started to change in the past month or so. As data from The TIE highlights, daily sentiment – which measures enthusiasm in online conversations – showed a noticeable increase in interest in Ether over the past week, compared to the past thirty days.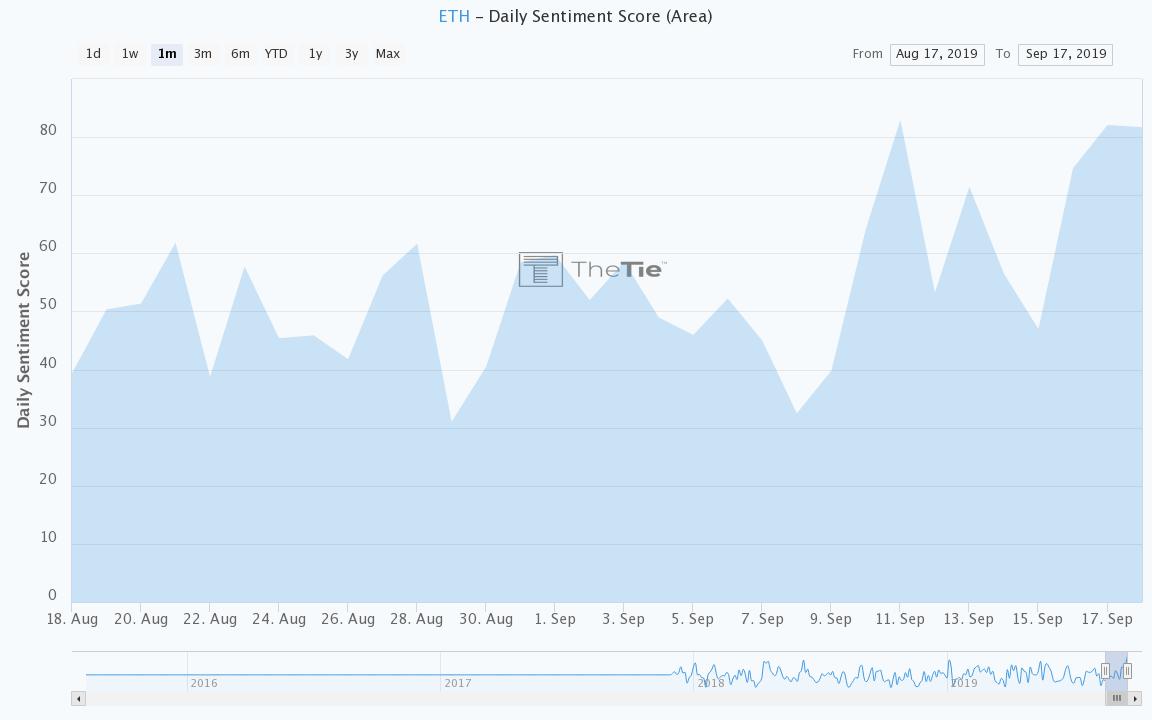 An increase in sentiment is a tell-tale sign of a possible rally, but that growth isn't coming from BTC and USDT. It's coming from somewhere else.
BitMEX's ETH Open interest – the number of outstanding derivatives contracts – is up 100% over the past month, as measured in USD. It increased by more than 66% in the past week alone.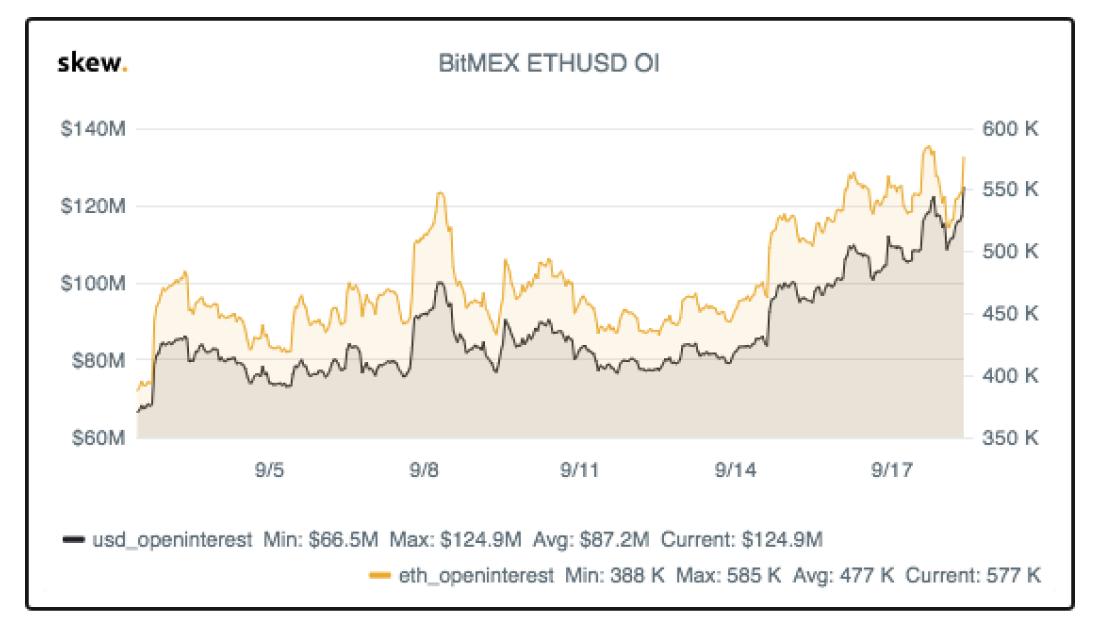 ---
Short Squeeze On Ether?
A high level of open interest indicates more money flowing in, suggesting that the market is especially interested in the underlying asset. Since the increase in open interest coincided with the interruption of Ether's two-month downtrend, today's surprise rally could be due to a short squeeze.
A short squeeze occurs wherever short-sellers are forced to liquidate their positions, due to a sudden increase in the underlying asset's value. This usually happens when a heavily-shorted asset experiences a turnaround.
When prices are headed downwards, it's likely that many traders have already taken short positions, creating a clear incentive for another trader to cause a short squeeze. The ensuing cascade of liquidations can remove downwards pressure, causing the spot price to rise sharply.
But there's no guarantee that a short-squeeze could cause prices to rise for the long-term. "Although most alts are posting gains of between 5-10% across the board," highlighted Middleton, "…it remains to be seen if this is a 'dead cat' bounce or the green shoots of a more sustained relief rally."
It may be too early to tell whether this is actually 'altseason,' but the latest increase is similar to the Bitcoin boom which occured in early April – a rally that ultimately saw BTC triple in value.
But unlike the April rally, the short-squeeze appears to have taken place on futures markets, rather than on the spot price. That could be a sign of how quickly the space is evolving: derivatives platforms are finally eclipsing the spot market.