Atari Crypto Casino Launching in Ethereum Metaverse
Atari Casino will form part of Decentraland's virtual Ethereum-based gaming world.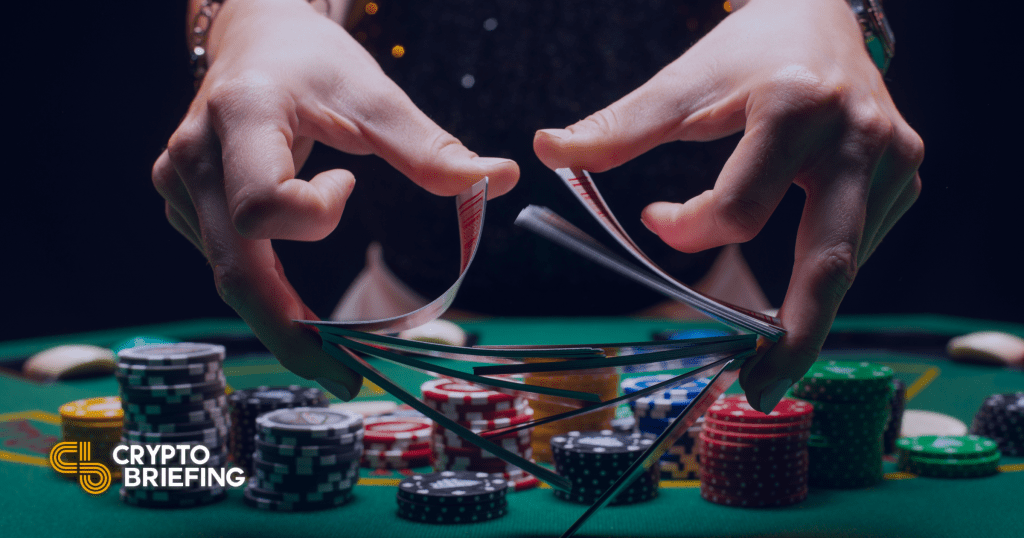 Key Takeaways
An Atari crypto casino is launching in Decentraland this May.
Atari Casino will feature Atari-themed games, and 88% of the profits will go to a Decentral Games DAO.
The video gaming company has been actively adopting crypto, announcing moves towards tokenization, Ethereum's Layer 2, and NFTs.
Decentral Games is launching an Atari Casino on Ethereum.
Atari Casino Coming to Ethereum
Atari Casino will form part of the virtual gaming world in Decentraland, the Ethereum-based game Atari announced a partnership with earlier this year.
According to a Decentral Games blog post, Atari Casino will encompass "a 20 parcel casino estate." It will be part of Decentraland's Vegas City and will launch this May.
The casino will feature Atari-themed games, and players will be able to earn Decentral Games' DG token. The casino will accept three tokens: MANA, DAI, and ATRI. According to the blog post, the casino will benefit DG token holders, as 88% of the profits will be contributed to the DG DAO treasury.
Decentral Games says that Atari's "nostalgic-inducing games [will be] brought back with a twist" and that there'll be an "Atari special" game.
Decentral Games, which owns Atari Casino, is the world's first community-owned crypto casino on Ethereum. It forms part of Decentraland, and is also the first DAO where virtual land is owned, governed and monetized. It's working on Virtual Reality and has backing from Digital Currency Group, the investment giant that oversees Grayscale.
Gaming Titan's Crypto Play
Decentraland and Atari first revealed details of their partnership in January. At the time, Decentraland's Sam Hamilton told Crypto Briefing that players would be able to access Atari's catalog of retro arcade games such as Pong and Break-Out!
The company then revealed it would be moving to Polygon, intending to jump on the NFT train and improve scalability.
Atari's first steps into the cryptocurrency space started with the launch of ATRI, an ERC-20 token that runs on Ethereum.
Now, the pioneering video game company appears to be eyeing the gambling sector too. It's thought that both the gaming and gambling sectors could benefit from leveraging crypto in similar ways; blockchains can potentially facilitate near-instant micropayments at a low cost. Though Ethereum is prone to high gas fees, using Layer 2 solutions like Polygon can help alleviate the costs. Ethereum is also the home of the NFT space, which appears to suit Atari's plans.
NFTs will be available to purchase from the Decentral Games store, while DG holders will be able to stake their tokens to participate in DAO governance.
Though Atari Casino isn't set to go live until May, a launch party will be announced next month, with prizes in the form of NFTs, ATRI, and DG. Platinum-selling artist Dillon Francis is also set to perform.
Atari is regarded as a pioneer of the video game industry. Launched in 1972, its early arcade games and video consoles set the path for other companies like Nintendo to enter the industry. The obvious move towards crypto, and specifically Ethereum, suggests that the company isn't ready to stop pushing the space forward just yet.
Disclosure: At the time of writing, the author of this feature owned ETH, MATIC, and several other cryptocurrencies.