Crypto Market Drops Sharply After Bakkt Disappointment
Some investors took the slow start yesterday as a sign to sell.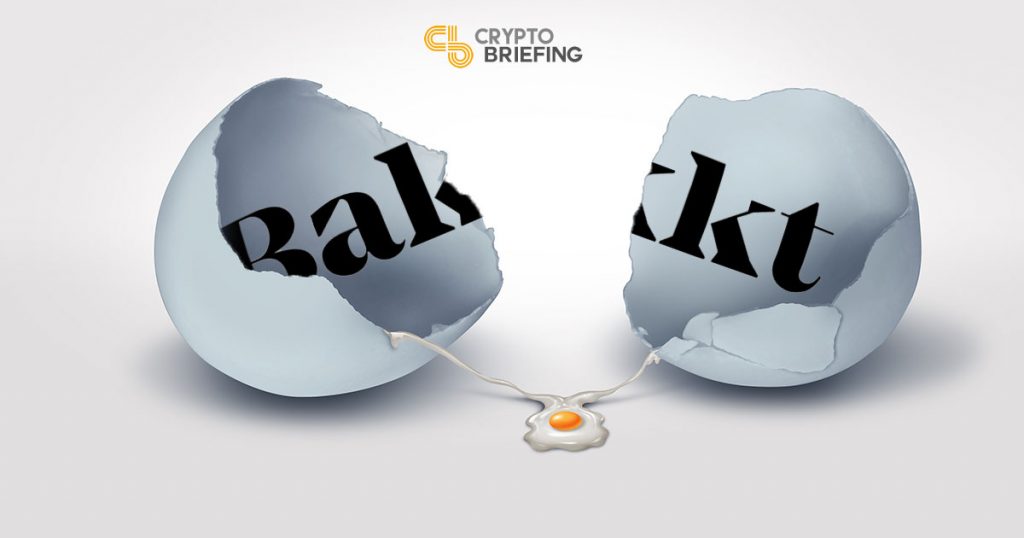 Hopes for an institution-led bull run appear to have been wildly premature. Less than two days after Bakkt opened for trading, cryptocurrency markets have lost over $30bn in value. All large-cap cryptocurrencies are down, with Bitcoin (BTC) now firmly back in four-digit territory.
Crypto markets first started to slip on Monday, when Bakkt opened its long-awaited platform for physically-delivered Bitcoin futures. But the sell-off accelerated on Tuesday, as Bitcoin slipped below the $10,000 psychological barrier.
Total market capitalization fell below $230bn at the time of writing, with Bitcoin trading at just below $9,000. Experts warn that might mean further losses for BTC hodlers. "[T]he $9,600 level is the key support region to watch today," wrote SIMETRI analysts this morning, when BTC was still priced above $9,700. "Once below this level many short-term BTC / USD bulls may throw in the towel."
As is often the case, Bitcoin's decline pulled down the rest of the market, with double-digit losses in nearly every leading cryptocurrency. The worst falls were felt by Ethereum Classic (-20%), Bitcoin Cash (-22%), EOS (-25%), and Bitcoin SV, which lost nearly thirty percent of its market capitalization. Across the board, digital assets are down by nearly fourteen percent since Bakkt launched.
---
How has Bakkt affected crypto?
Bakkt has been one of the most highly-anticipated projects in the space, ever since it was first announced last year. However, a long series of regulatory delays postponed the opening of the futures exchange by more than nine months.
But hopes remained that the exchange would attract more buyers to cryptocurrencies. As a subsidiary of Intercontinental Exchanges, which also owns the New York Stock Exchange, Bitcoin investors believed that major financiers would finally invest in Bitcoin, once there were was an institutionally-friendly way to acquire it.
"A large part of the narrative driving the massive bull run this year was surrounding wider institutional adoption," explained Mati Greenspan, senior market analyst at eToro. The Bakkt launch was "an important milestone," causing hype that pushed prices even higher.
Bakkt traded 71 Bitcoin futures on its first day. Although arguably in line with the more cautious approach taken by institutional investors, it was below the levels had anticipated.
"[Bakkt] volumes so far have been underwhelming," said Greenspan. Investors were looking for volumes similar to CME's in its the first week, when that didn't happen they began to offload. "The entire episode seems like a giant case of 'buy the rumour, sell the news,'" he added.
---
What happens next?
A lot will depend on how extreme the sell-off gets. Bitcoin has moved within a tight range over the past couple of weeks, so a sharp drop could spark a chain of events culminating in a significant breakdown, similar to what happened last November.
But Greenspan believes there is still hope. "Bitcoin's main attraction for hedge fund managers is the idea of asymmetrical risk," he wrote. "[T]hat, and the ability to hedge yourself outside of the current financial system in an asset that is largely uncorrelated."
While cryptocurrency markets are currently dropping due to Bakkt disappointment, another catalyst, such as signs of an oncoming recession, could cause interest in cryptocurrencies to rebound. That, according to Greenspan, could drive crypto adoption across the board, including on the Bakkt platform.