Binance Suffers From Wash Trading? And For $850, So Can You.
If the good exchange citizens can't escape the scourge of wash trading, is the industry in trouble?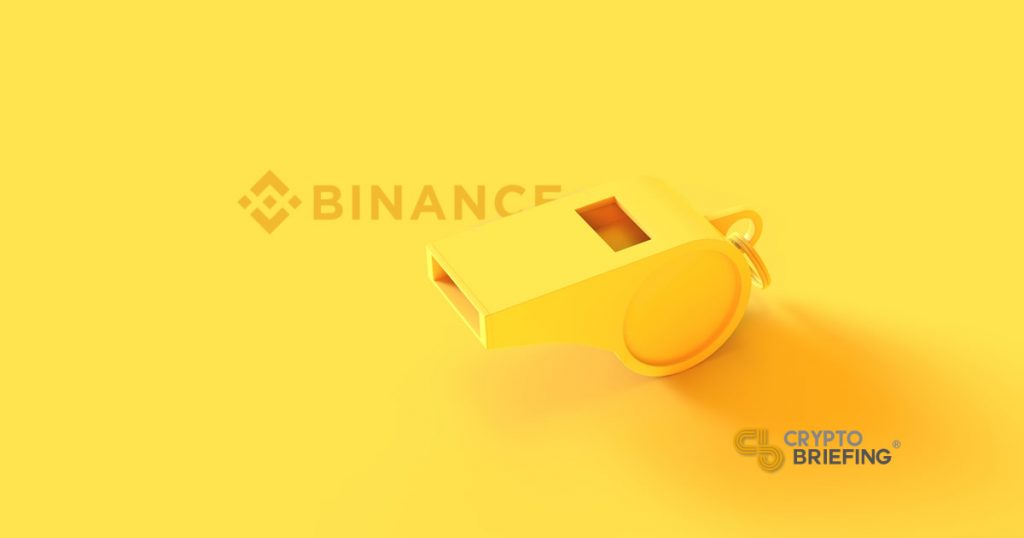 The Blockchain Transparency Institute has released its April 2019 Market Surveillance Report, and it claims that Binance is among the exchanges on which wash trading has occurred. It marks the fourth report in which the group has deployed algorithms designed to identify specific accounts engaging in wash trading.
The inclusion of Binance in the report suggests that even the more reputable exchanges are not immune from market manipulation.
However, the BTI did note that Upbit, Bittrex, Poloniex, Liquid, Coinbase, Kraken, Gate, Bitso, and Lykke were all reporting volumes that were upwards of 90% free of wash trading, singling out Kraken as the 'cleanest' site in the space with real volume in excess of 99% of reported volume.
Bitfinex nearly made the list, which would have been positive news for an exchange that has come under heavy fire recently – but their anti-wash trading software only covered top pairs at the time of the report's compilation.
---
Wash Trading Remains Rampant
Wash trading, the act of simultaneously buying and selling assets to lend the appearance of volume, remains a major concern in the industry. The Blockchain Transparency Institute (BTI) has found that 'fake' volume on:
Their most recent report paints a damning picture, as illustrated in the graph below. The top exchanges by volume, at the time of their report, include obscure exchanges such as 000BTC, FatBTC, Bibox, and 55 Global in the top 15. Binance is ranked ninth. Bitfinex, Kraken, Coinbase, and Bithumb are nowhere to be seen: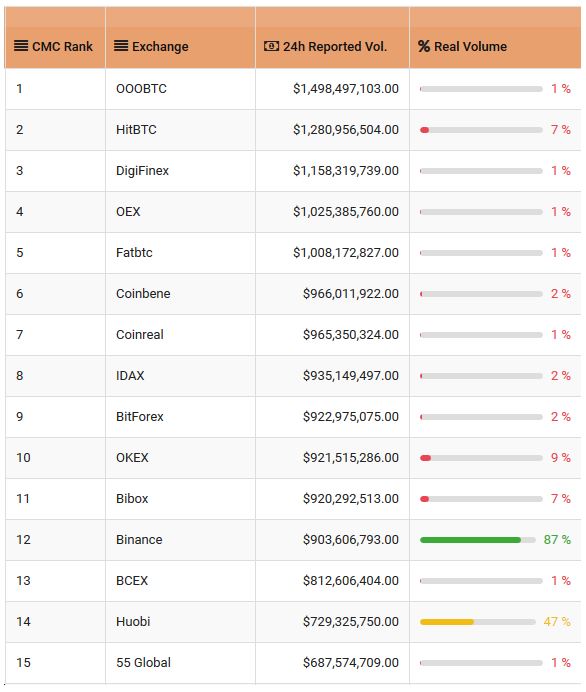 If we swing across to CoinMarketCap, a whole new list of exchanges emerges.
Here we find FCoin, Negocie Coins, LBank, and DOBI – and Binance doesn't even make the top ten.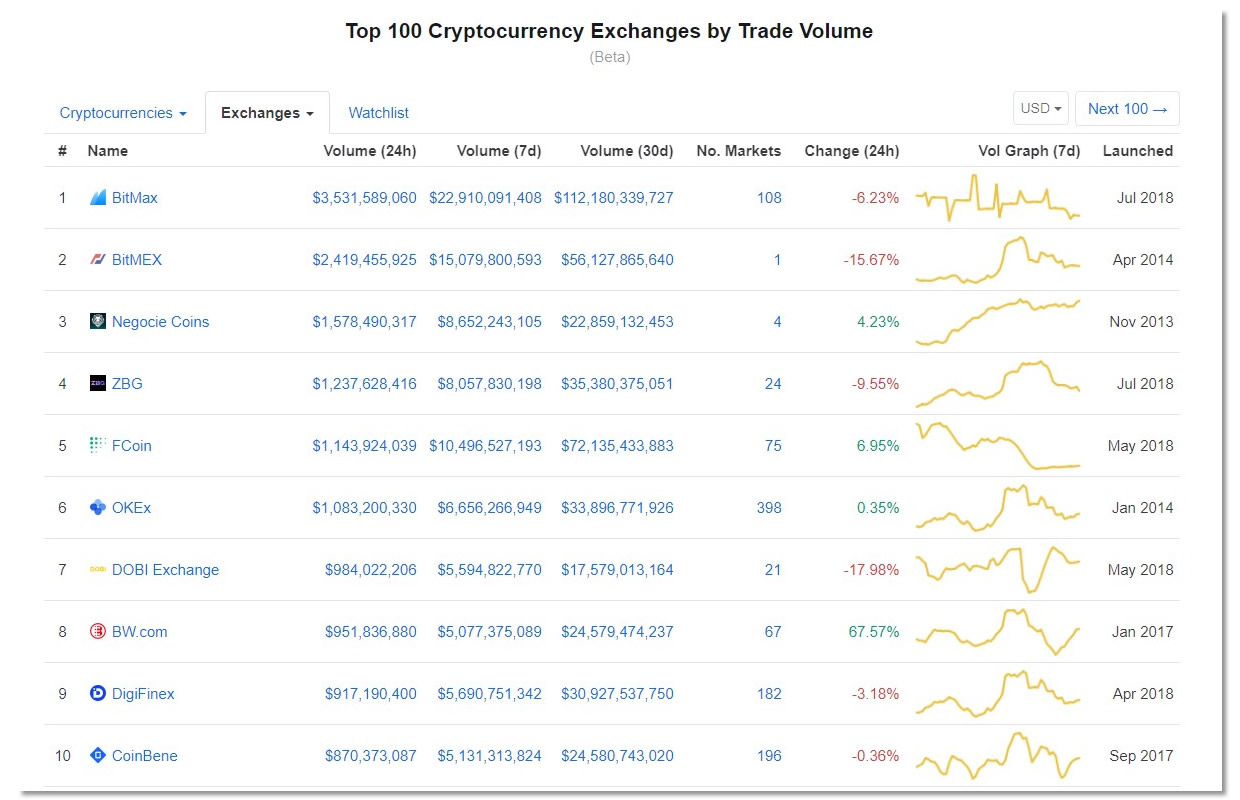 CoinMarketCap has recently outlined plans for a revamp of its volume metrics, as reported by Crypto Briefing, and is launching an alliance of exchanges and industry leaders – the Data Accountability & Transparency Alliance (DATA) – to provide more clarity to market participants.
---
An $850 Swindle?
As well as discovering the fake volume, the BTI dug in to find out how it was happening – and at least one method was genuinely alarming.
Freelancing site Fiverr currently hosts a number of opportunistic offers to build crypto exchanges, get tokens listed, and promote ICOs.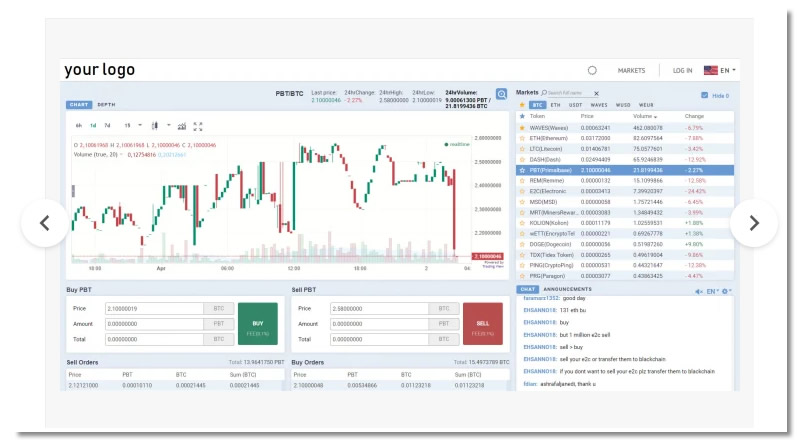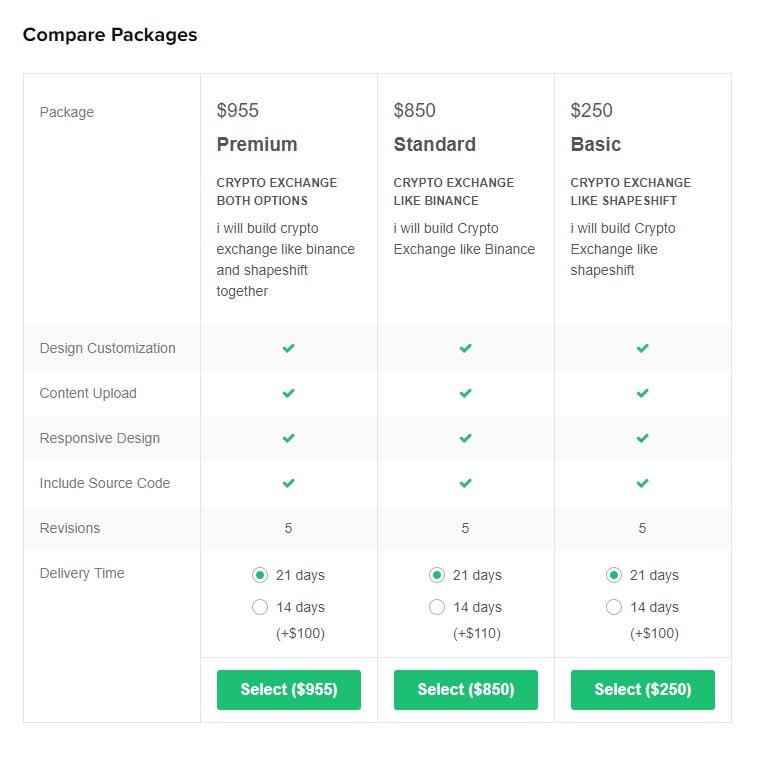 While owning your own crypto exchange may sound glamorous, going to jail for operating an unlicensed money transmission business is likely less fun.
As the Blockchain Transparency Institute points out, however, this is certainly one way to wash trade your way to fame – if not fortune.
---
Faked Volume At Whopping Volumes
The BTI report shows figures among the top-ranked exchanges on CMC that seem to justify the SEC's reluctance to approve of bitcoin ETFs. Most of the top 15 exchanges have real trading volumes between 1% and 15%. Binance and Huobi are the exceptions, with real volume, according to BTI, of 87% and 47% respectively. And let's not kid ourselves, when 47% is a number to be impressed by, the industry needs more transparency.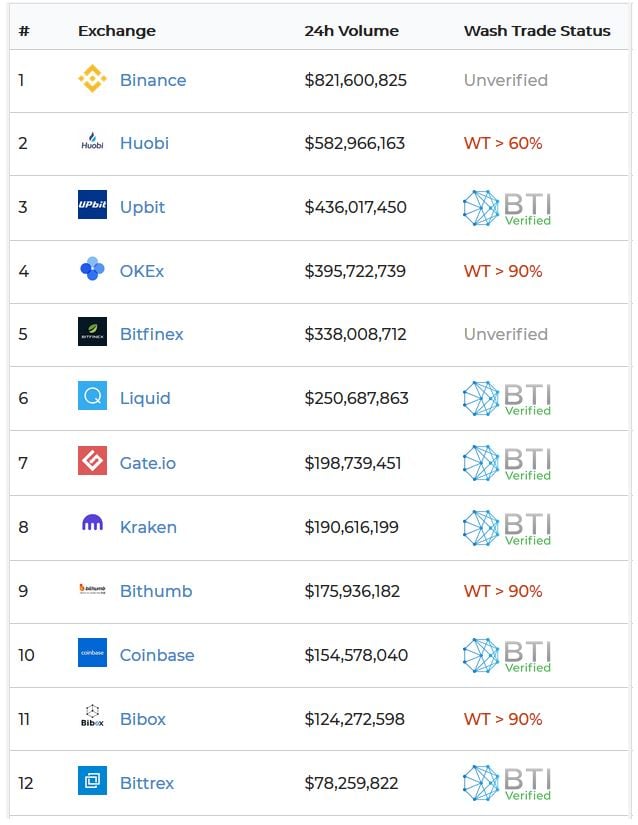 ---
Awash in A Fake Volume Industry, Binance Comes Out (Relatively) Clean
With over ten percent of reported fake volume, Binance is no longer considered a verified exchange. Notably, the BTI identified around 30 pairs on the exchange in which between 25 to 75 percent of trading was wash traded. We have reached out to Binance for comment.
Wash trading has become an industry, with professional volume fakers charging exchanges to inflate trading volumes for a fee. How severe that problem is is not easy to determine, but Ed Woodford of Seed CX has described being approached on an almost weekly basis being offered wash trading services.
According to the BTI:
Huobi has responded to the report by joining the DATA Alliance, and opening its orderbook to CoinMarketCap.
"The issue of fake trading volumes is a real one in the industry and people have a right to know that the numbers provided by exchanges are legitimate. We think there should be no exceptions and we see something like DATA as a natural next step as our industry grows in both maturity and mainstream acceptance," said Livio Weng, CEO of Huobi Global.
Some exchanges are also suspected of being guilty of engaging in wash trading on their own desks using bots, inflating volumes for a new token to dump on retail investors as an effective fee for listing the token. An executive at OKEX recently denied those reports in a conversation with Crypto Briefing, while acknowledging that wash trading was a serious issue:
Binance's reputation has held steady throughout the volume scandals: and Crypto Briefing sources at the company have offered compelling reasons why CZ has every motivation to be a solid crypto citizen, legitimizing and the industry and bringing it to maturation.
The fact that BTI reports Binance suffers from about 'only' 13% of wash trading, confined largely to 30 pairs, is not yet cause for celebration – and if the algorithms employed by the BTI are correct, the exchange has some way to go.
Kraken has proven that crypto exchanges can be virtually free of wash-trading: it's time the rest of the field took note.
(Additional reporting by Jon Rice)