Chainlink Price: Did One Incorrect Word Create The Billion Dollar Surge?
Sentiment and cryptocurrency are inextricably intertwined.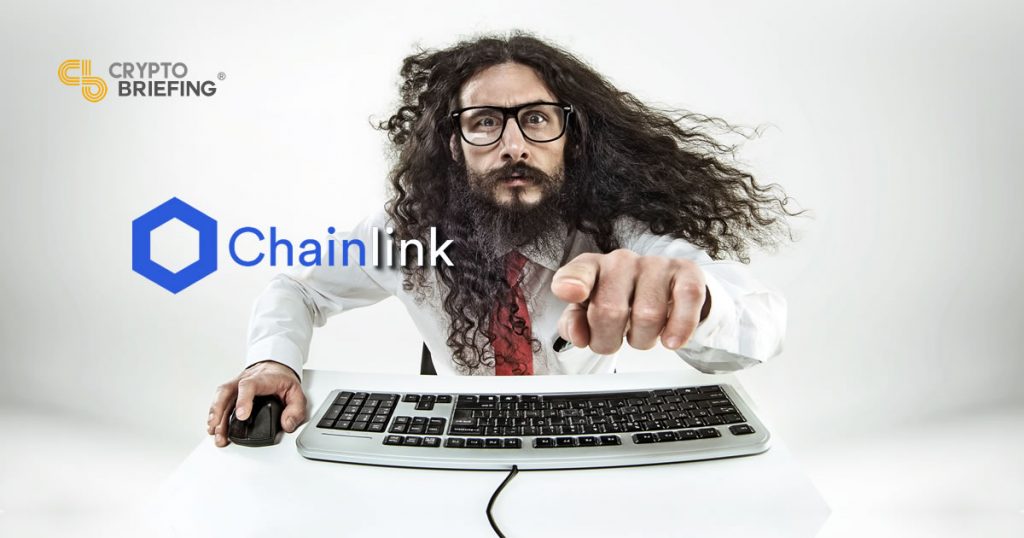 It's no secret that the decentralized oracle network Chainlink (LINK) has been one of the best performing digital assets of 2019, despite crypto winter and the absence of an altcoin rally.
And a large part of that success may be down to one word: partnership.
The ultimate irony? It may have been a mistake.
The word is over-used in blockchain circles. And a Chainlink representative was quick to contact Crypto Briefing when we reported 'partnerships' with companies such as IoTeX and Matic (even when one of the companies used the term itself) to request that we change the term to the more accurate 'integration'.
In fact, the Google 'partnership' reported by CoinDesk referenced a post by Google that never used the word 'partnership' at all.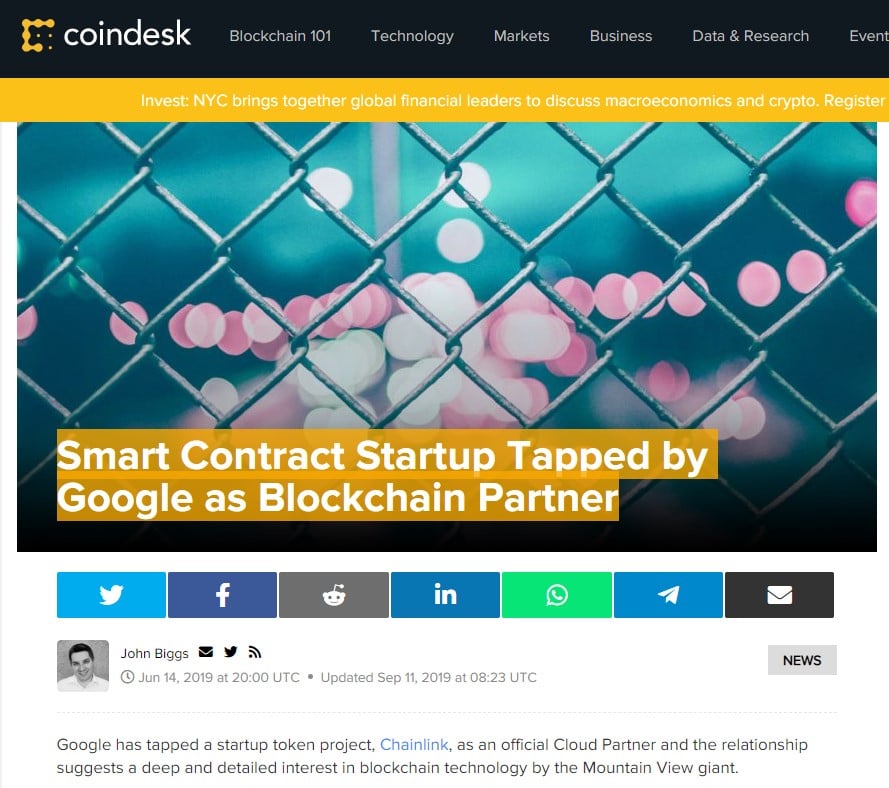 CoinDesk never updated that headline, despite updating the article itself on September 11th, 2019.
John Biggs opened his article by claiming that "Google has tapped a startup token project, Chainlink, as an official Cloud Partner and the relationship suggests a deep and detailed interest in blockchain technology by the Mountain View giant."
And CoinDesk wasn't even the first: Forbes pre-dated their article, suggesting on June 13th that "Google software will be able to integrate data from sources outside the blockchain through a partnership with Chainlink…" (Emphasis ours.)
Chainlink themselves did not advertise the Google integration as a partnership either – founder Sergei Nazarov called it an 'implementation', and the Google Cloud Partners Twitter account did not mention it.
We're thrilled to share that Google is one of the great companies integrating #Chainlink into their approach to smart contract adoption. Here's how @GCPcloud users can use Chainlink to connect to BigQuery, one of Google's most popular cloud services. https://t.co/TfaGPP5TlS

— Chainlink – Official Channel (@chainlink) June 13, 2019
Chainlink has been clear on the matter: on their website, they explain that "We work with top companies like Google…, providing them the secure oracles needed for next generation smart contracts."
We contacted Chainlink and they neither confirmed nor denied that the company was an official Cloud Partner. Multiple searches for 'blockchain', 'oracle', 'chainlink' and so on did not return a result on the Google Cloud Partner Directory (which, incidentally, does not appear to work on Brave).
Yet those headlines made a big impression. On June 13th, the day before CoinDesk's article, Chainlink's market capitalization was at ~$400M. By June 29th, it stood at over $1.54bn.
We don't know precisely how Forbes and CoinDesk found the Google blog post. Or whether it was sent to them with the word 'partnership' included or not.
But setting aside the discussion over whether the CoinDesk headline and Forbes characterization was incorrect (and if it was, the purpose of this article is not to assign blame – as previously noted, we have made the same mistake), the multiple integrations announced this year by Chainlink and other companies have clearly had a major impact on its price.
---
Chainlink Integrations And Price Action
Chainlink has inked more than seventy integrations since it launched in late 2017. Although initially these had a limited impact on the LINK token price, the market's reaction has grown in step with the rise in the project's profile.
LINK has climbed steadily, moving from 38th to 15th largest cryptocurrency by market cap, since the beginning of the year. Even though the coin has been pared back from its ATH in late June, if an investor bought a dollar's worth of LINK tokens on January 1st, they would still be worth more than $9 today, as a longer-term overview from CoinMarketCap illustrates.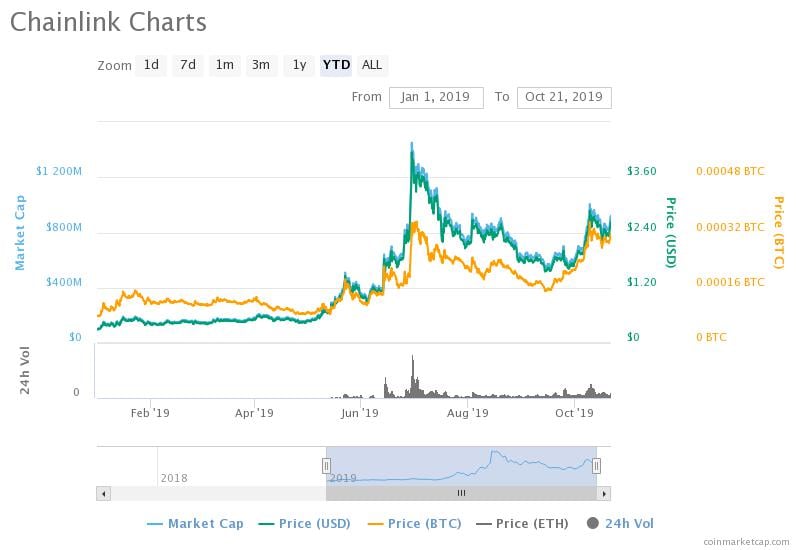 By Crypto Briefing's calculations, each new integration/partnership has led to a 10% increase in the LINK price, on average. That figure falls to 7.7% if you exclude that crucial Google announcement.
The news in mid-June that BigQuery – Google's search engine's data warehousing and business intelligence solution – was "integrating Chainlink into their approach to smart contract adoption" sent the LINK token price skyrocketing.
In the space of six hours, the LINK price soared by more than 70% and the market cap surged by $300M. Analysis from TheTIE shows this had a significant effect on long-term sentiment – turning an already bullish market to very bullish in the space of a few weeks.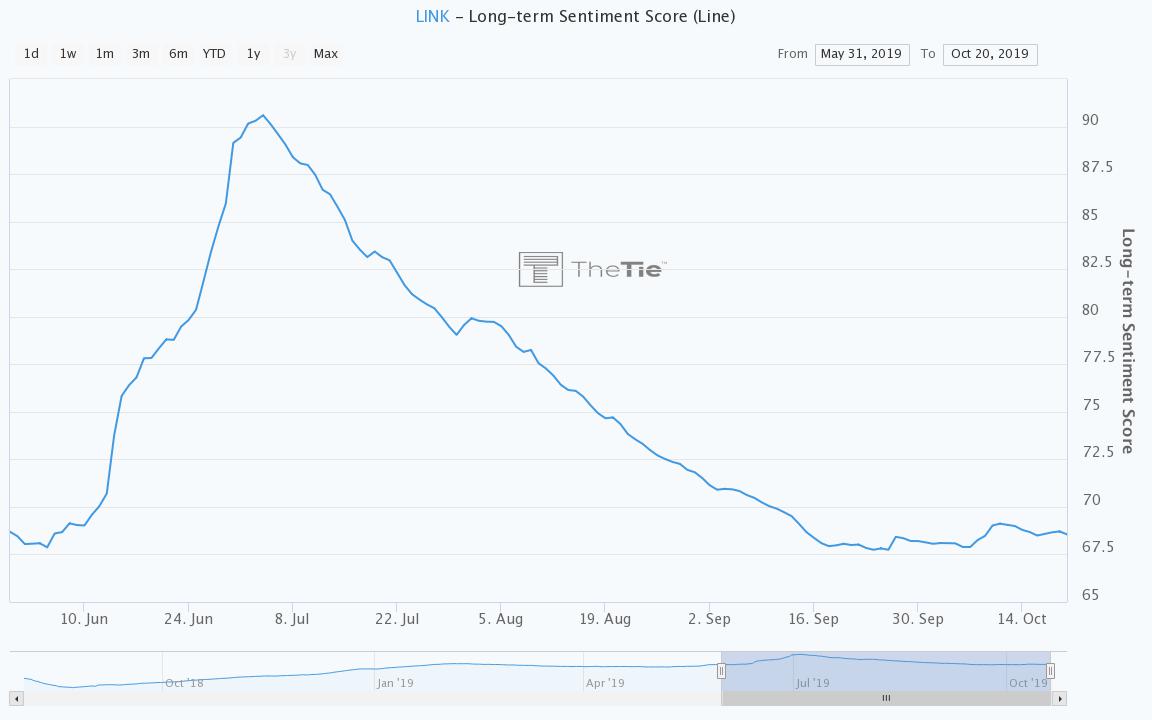 This clearly had a discernible effect on other announcements in the ensuing weeks. LINK surged by 20% on the IoTeX (IOTX) integration on July 12 and 15% on the Elrond (ERD) July 18 announcement, all of which happened within a month or so of the Google news, causing an above-average 10% surge in the LINK price.
Interestingly, LINK rose just by 4% following the announcement with INT Chain (INT) on July 23 , fell by 1% on the Akropolis (AKRO) integration on July 25, rose slightly by 1% on QuarkChain (QKC) on July 26, and finally dropped 13% on Bytom (BTM) in July 27.
This second grouping of integrations had below-average and even negative effects on the LINK price. As the graph below shows, it coincided with a precipitous drop in tweet volumes and 30-day average daily sentiment: the first instance of a move into the 'bearish' camp since the Google BigQuery announcement.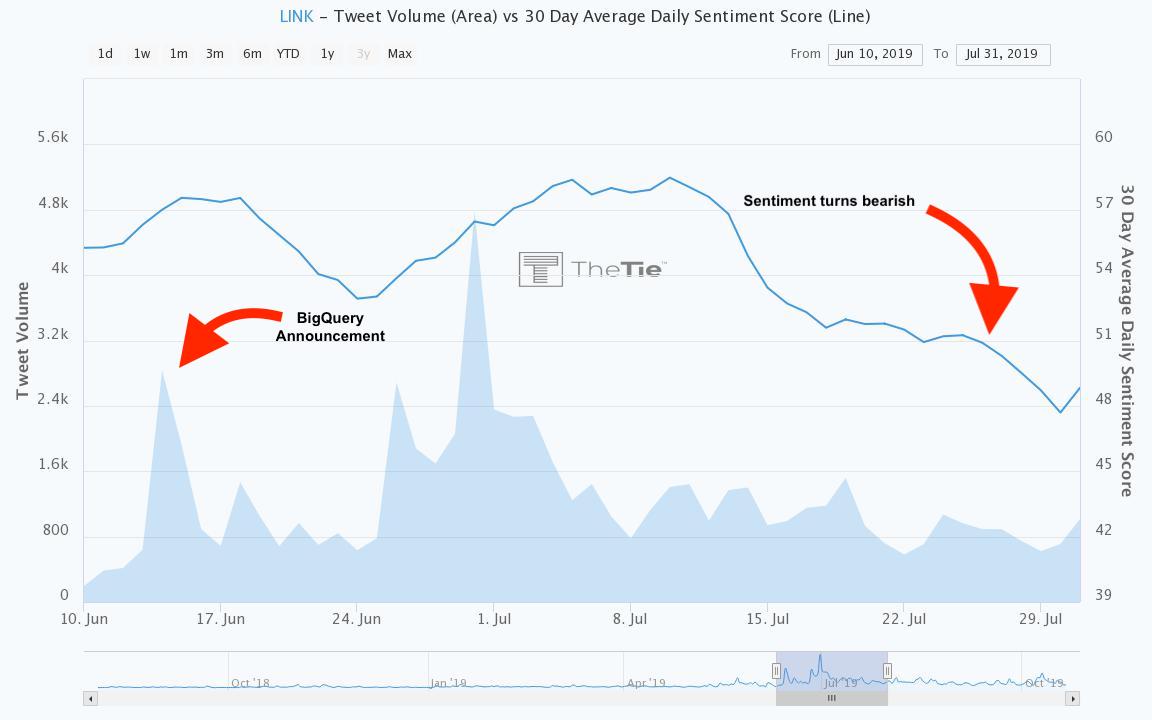 What this shows is that significant announcements – the sort of development that creates surging prices and a volte-face in sentiment – can have a longer-term influence on other positive news.
Like a new version of the 'Coinbase Effect', which could exert a strong influence on trading behavior, integrations a month after BigQuery led to higher average increases in the LINK prices, something that quickly subsided as sentiment began to pare back.
That might explain why integrations at the end of July received below-average price increases.
Cryptocurrencies are driven by sentiment much more than any other asset-class.
Using Chainlink announcements as an example, traders can see just how long sentiment's reach really is, and how much it can be driven by one headline.
Even if the headline that drives the sentiment may not be entirely accurate.
Jon Rice contributed additional research and analysis to this article.