Data Shows 80% of ETH Investments Are in Profit
ETH investors are overcome with profits. A correction could be due.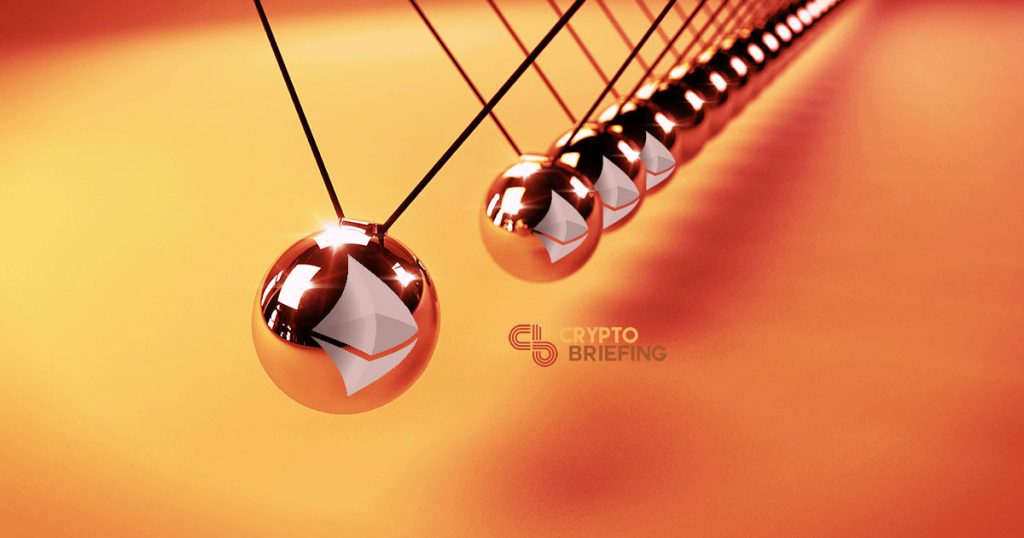 Key Takeaways
Demand for ETH comes from investors who are accumulating and DeFi users who require ETH for transaction fees.
The number of unique ETH holders has risen from 35 million to 42 million in 2020.
80% of supply in profit is unsustainable, and a correction may be warranted.
Altcoins have been the focal point of the post-March 2020 rally, as ETH investors and LINK holders have outperformed BTC by 15% and 70%, respectively. Now that over 80% of ETH's supply is in profitable positions, are altcoins overdue for a correction?
Altcoins Take Flight
Glassnode data shows the recent rally to $250 put ETH investors firmly in the green.
With over 80% of ETH supply held at a profit, investors have been accumulating the number two crypto at an unprecedented rate. This data was calculated for EOA addresses, meaning it only accounts for individual addresses and not wallet contracts.
The percent of #ETH supply in profit is hovering at 80%.

It is the third attempt within a year to break this level.

Last time the #Ethereum's supply in profit was significantly above 80%, $ETH was priced at around $700.

Live chart: https://t.co/BsX5avJV2X pic.twitter.com/QR82efHyqq

— glassnode (@glassnode) June 9, 2020
This increase in profitability is the result of increased demand from ETH investors, which is, in turn, driven by several factors.
ETH is the primary currency of the Ethereum blockchain as all transaction fees, including ERC-20 token transactions, are paid in the native asset. Users must hold ETH to pay transaction fees and access the booming DeFi space too.
Rising gas prices over the last few weeks and a surge in DeFi users have contributed to increasing demand for ETH.

But investors as a whole are at the forefront of this rally, accumulating large quantities of ETH to sell for a profit at a later date. The data provided by Glassnode confirms that these investors were vital to ETH's rally thus far, adding to demand but not supply (i.e., not selling).
The number of holders has consistently increased since the 2018 top, but the adoption curve has grown a notch steeper this year.
In 2020, seven million new ETH investors came on board as the metric rose by 20%, from 35 million to 42 million.

This means more unique addresses are accumulating ETH. It could also signal that a retail burst fueling Bitcoin and altcoin rallies are beginning.
Bearish Perspective
Despite overwhelming positive sentiment from ETH investors, 80% of positions in profit is not sustainable over the long-term. That's how markets work, unfortunately.
Just looking at this chart, one can see that reversals often occur when a majority of ETH's supply is deep in profit. Give investors a sense of calm before unleashing chaos in the market.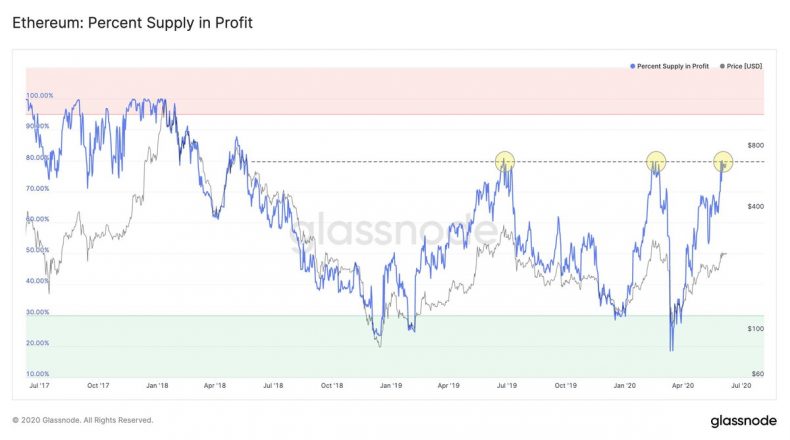 Compare ETH's 80% of supply in profit metric to BTC's 40-45%, and the story becomes much clearer.
ETH investors have led this rally ever since the Black Thursday flash crash. And they could continue to lead the crypto market by being the first the correct from these highs.
This doesn't mean a new low is in order, but rather that order must be restored to the market as coin holders are overcome with profits. Of course, the market could continue to climb higher as historical data doesn't always predict the future.
It's worth noting that these are unrealized profits i.e., profits that have not yet been taken. A substantial correction could cause this ratio to decrease, forcing weak hands to capitulate.