Dr Doom Loses The Fucking Plot Completely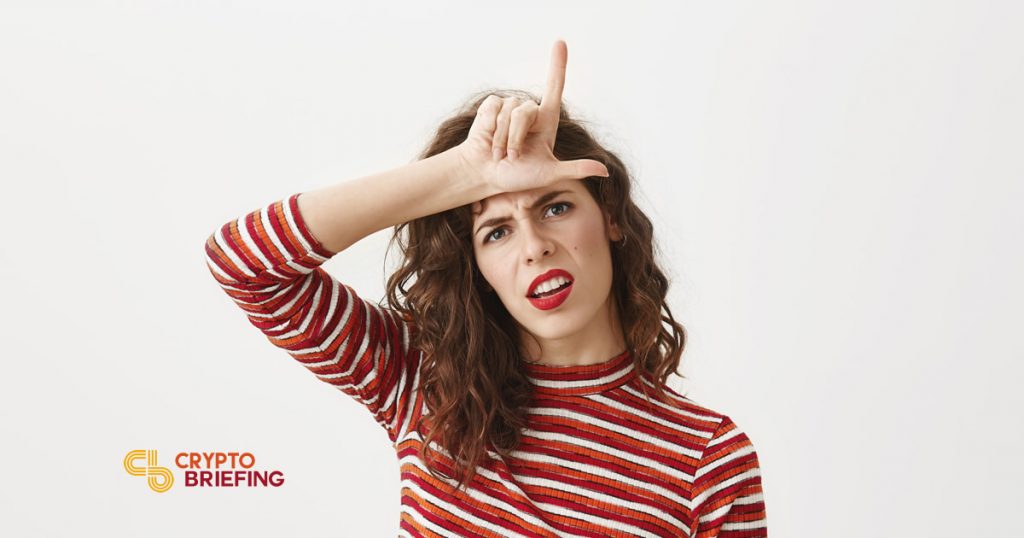 Nouriel Roubini may have chosen the wrong career. Despite a celebrated career as an economist at New York University's Stern School of Business, "Dr. Doom" seems to have missed his calling in life. He should have done stand-up comedy instead.
In a well-received set at an open mic before the Senate Banking Committee, Dr. Roubini repeated many of our favorite punchlines on Bitcoin and blockchain technology—from scams and bubbles to mining and energy guzzling. Although most of Roubini's remarks reprised the comedy stylings of Warren Buffet and Brad Sherman, the audience ate it up anyway.
Although entertaining, critics were less favorable, especially since so much of the material was rehashed.
There was some new material, as Roubini took aim at "the nefarious impact of China," as well as the sinister "role of Russia in the crypto-ecosystem." While these are popular targets for the anti-crypto crowd, the celebrated economist did not take a moment to wonder if the famously inhospitable role of the United States' government might have something to do with the fact that crypto innovation is largely happening overseas.
Roubini followed his performance in front of the Senate with some more comedy stylings, taking to Twitter to make an even bigger fool of himself – as my colleague said, "losing the fucking plot completely."
99% of crypto land is one shitcoin traded for another shitcoin. And the average shitcoin lost 90% or more of its value in the last year. So Crypto Land is Crap Land, a cesspool of lunatics with severe Freudian scatological obsessions that swim 24/7 in their own stinking shit.

— Nouriel Roubini (@Nouriel) October 11, 2018
Criminals: Hiding In Plain Sight
On the topic of investment laws, "most cryptocurrencies are issued in breach of these laws and regulations, under the pretense that they are not securities at all but rather 'security tokens," Dr. Roubini said, somehow keeping a straight face. "And they skirt all AML and KYC regulations, leaving the door open to any criminal investor."
I had to re-watch the video to make sure that his words were not misquoted. Yes, there was Dr. Roubini, somehow claiming that cryptocurrency startups had decided to hide their illegal securities by calling them "security tokens." Perhaps Bugs Bunny is running an ICO.
As any regular reader would know, the companies behind STO's are painfully aware of securities restrictions, often going to great legal expense and trouble to ensure that their tokens can only be held by accredited investors. KYC compliance is a major part of the infrastructure in Security and ICO platforms, as Crypto Briefing has previously reported over and over.
One of those platforms is Republic, an online portal which has used its SEC-recognized status to launch dozens of Regulation CF token offerings — with full KYC. Although Dr. Roubini's remarks seem to have questioned the very existence of his business, Republic CEO Ken Nguyen took them in stride.
"[I] find these damning statements mostly good for their entertainment value, but not particularly thoughtful," he told Crypto Briefing in a statement. To the question of volatility, he pointed out :
Bitcoin and ether are very much viable means of payment, and their "stored value" characteristics are not disputed by market participants or regulators. Any deficiency to date with respect to scalability or absolute decentralization can and will be improved over time.
This Transparent Ledger Is Perfect For Criminals
But there was some back-and-forth with the audience as well. Responding to Senator Doug Jones, who raised the possibility of criminals using Bitcoin to launder criminal proceeds, Zach Warsavage noted that "one thing people frequently fail to realize is that all transactions are tracked and recorded on a public ledger — the last thing criminals want."
That transparent ledger has proven to be law enforcement's best friend when it comes to catching criminals, drug-smugglers and even Russian spies, a datum which was somehow omitted from Dr. Roubini's speech.
Mr. Warsavage added,
Congress needs some serious education on this new technology, and fast, before other countries take the lead on an industry that will not only make the vast majority of our processes and industries more efficient, but will also create jobs, grow the economy, and become a global mechanism of trust.
Incidentally, Mr. Warsavage is one to know: as the North American Strategist for Elastos, his employer has built and sold hundreds of thousands of SmartWeb televisions which function as nodes in a decentralized Internet. But that might just be more "nefarious' Chinese influence.
We could go on, and there's plenty of comedy gold to be found between the lines. We couldn't help, for example, a wincing smile at the reference to "Krypto-Kitties" in Dr. Roubini's prepared remarks. But that would get repetitive: most of Roubini's critiques, particularly towards Ethereum, had to do with the shocking revelation that programming and scaling solutions take time to develop.
Unfortunately for the world of comedy, Dr. Roubini is still an economist, and his field is known for placing value on the problem-solving power of markets. That seems to be hard to square with the continued interest of companies and businesses throughout the world in blockchain technology.
"This year we've seen exploding interest from legacy financial institutions to find ways to work with, not against, adoption of blockchain's immutable ledger, said Mick Hagen, CEO of Mainframe. "Roubini's recommendation that financial services rely on permissioned databases — technology from the 80s — reflects a school of thought that places strangleholds around innovation and competitive advantage in the global economy."
Joking aside – which is hard, when discussing Roubini – this clumsy and ill-informed narrative is detrimental to the crypto community. And he knows it. Which is why it's important we don't buy into his bullshit, and don't let our representatives buy into it either.
A clown Roubini may be, but anyone who's read Stephen King's 'It' knows that clowns can be dangerous.
The author is invested in Bitcoin and several other digital assets.