EOS Knights Leaves For TRON: Is The 'Ethereum Killer' In Trouble?
dApps become pawns in wider battle between platforms.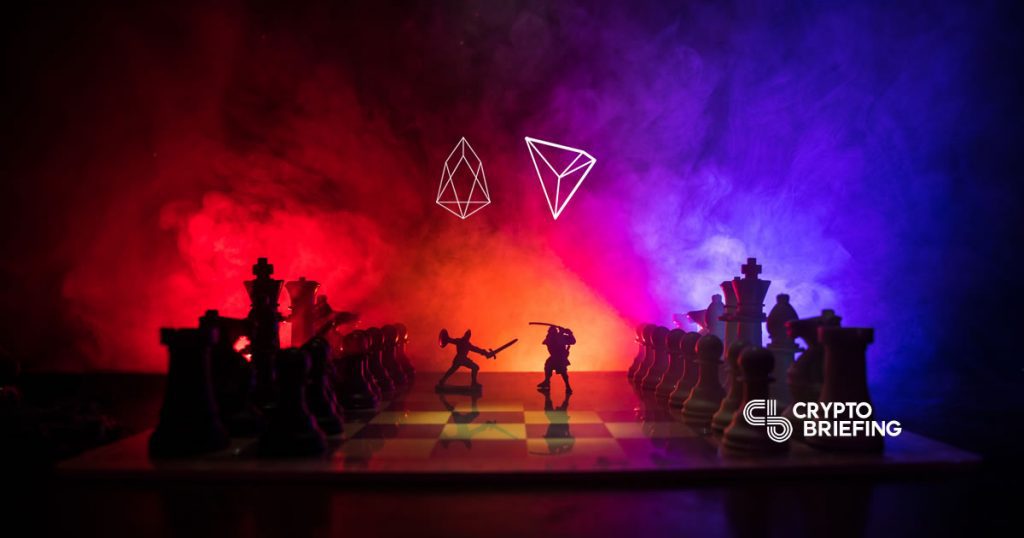 After seeing developers port over to EOS earlier this year, the 'Ethereum Killer' of last year now finds itself on the receiving end. Popular game, EOS Knights, will be ported over to TRON (TRX) later this year.
TRON said it had partnered with Biscuit, the developer company behind EOS Knights, and would assist with transitioning the game onto the new protocol. TRON reportedly offered greater opportunities for expansion and development than EOS, as well as stronger network performance and a broader ecosystem of applications.
As a role-playing game, EOS Knights allows users to create and play as a knight. All in-game actions use smart contracts and it was the first mobile game available on EOS.
As part of the transition, the game's name will change to 'Knight Story'. An upgraded version will go live sometime in December this year. It will be available on both iOS and Android devices and will be powered by both TRX and TRC-based tokens.
As part of the partnership agreement, TRON will promote Knight Story on its distribution network, including on partner ecosystems, BitTorrent and Opera. The new dApp will reportedly have the potential to reach hundreds of millions of gamers. "There has never been a decentralized game of this scale before," said TRON Founder and CEO, Justin Sun, who is not given to hyperbole.
Crypto Briefing has approached a spokesperson to clarify whether EOS users will no longer have access to Knight Story.
---
Is EOS suffering from its governance issues?
The news will be a blow for the EOS ecosystem, which will lose one of its most popular dApps. The game had previously been topped rankings in terms of daily active users and transaction volumes both for this year and the last, according to dApps statistics site DappRadar.
The decision comes at a rough patch for EOS, which has experienced some systemic problems with its delegated governance model. Although both protocols rely on dPoS systems, many of the original EOS block producers have been supplanted by crypto exchanges or operators allegedly using controversial vote-buying schemes.
EOS had previously been on the receiving end of a dApp diaspora, with teams attracted to its higher throughput, development roadmap and diverse ecosystem. AI platform Effect.AI moved over from NEO in February this year; the decentralized gaming marketplace WAX ported from Ethereum (ETH) back in early August.
But with uncertainty hanging over the long-term viability of its governance model, projects are looking elsewhere to somewhere a little more concrete. Platforms are always in a neck and neck race to keep and steal each other's market share.
As the EOS Knight move today shows, no dApp platform is yet able to declare checkmate: we're still in the rookie phase, as far as adoption is concerned.