Traders Find Hefty Gains Beyond Bitcoin in Ethereum, XRP
Cryptocurrency traders are experiencing déjà vu from the previous Bitcoin bull run which accompanied astronomical gains in altcoins.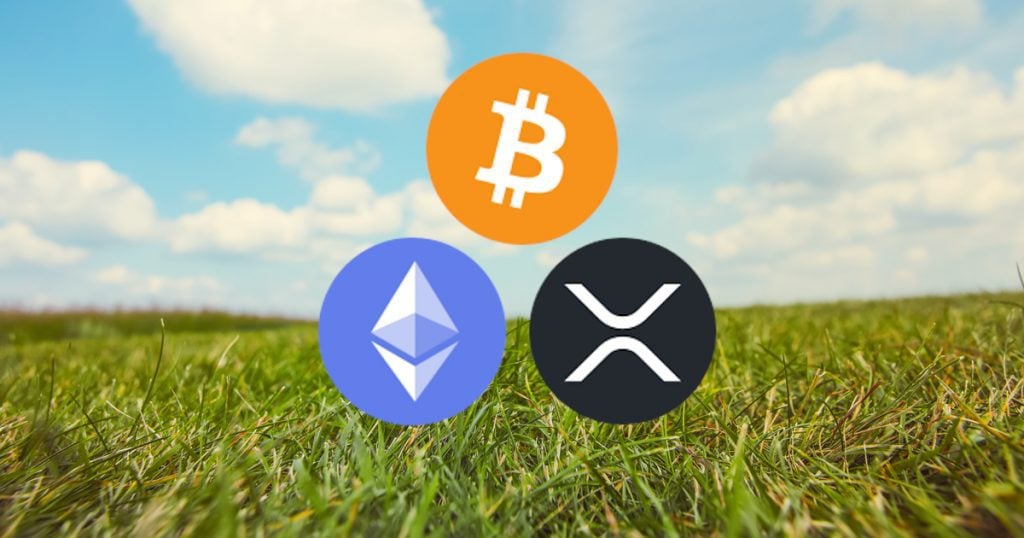 Key Takeaways
The top two altcoins by market cap, Ethereum and XRP, have posted higher gains than Bitcoin. 
Stablecoin supply has grown over 300%, closing in on $25 billion. 
Analysts believe that institutions pouring into Bitcoin will also lift the price of many popular altcoins. 
Altcoins have outpaced Bitcoin's price appreciation this year. Though BTC rose by 170% since the beginning of the year, the altcoin market cap has grown by nearly 280%.
Ethereum and XRP gained 370% and 240%, respectively, by the end of November. Such drastic moves have led some to believe an altseason is approaching.
"Seeing a lot of similarities in altcoins and Bitcoin in 2016 vs. now," crypto trader and analyst Tyler D. Coates told Crypto Briefing.
Bitcoin's Beta Brother, Ethereum
Despite the doubts around ETH 2.0, 2020 has been the year for Ethereum. The impending upgrade has only been half of the story, however.
This year's booming DeFi trend helped drive various on-chain metrics, including price.
1/ A thread on altcoins

Altcoins are high beta assets. Alts usually move in the *same direction* of bitcoin, but more (in both directions).

Can think of alts as leveraged bitcoin plays.

— Alex Krüger (@krugermacro) November 19, 2020
Historically, Ethereum has had a higher beta compared to Bitcoin during trending markets. Beta measures the risk and reward expectation from an asset compared to another asset's returns.
When beta values range above one, gains or losses on Ethereum are more pronounced compared to Bitcoin.
Based on 30-day returns for BTC and ETH, the beta value of Ethereum reached a peak value of more than three-fold in 2017. It implies that Ethereum's returns were three times that of Bitcoin.
A similar trend seems to be occurring again, indicating that the percentage of gains and corrections in ETH could run greater than Bitcoin.
XRP's Love-Hate Relationship
While Ethereum has led Bitcoin throughout the year, XRP's rally came very recently and rose almost vertically.
Bitcoin's push towards its all-time high prompted interest in XRP as new investors looked for a cheaper alternative.
XRP enjoyed the highest percentage gains in 2017's crypto bull run.
Despite losing 95% from its all-time high in January 2018, XRP is still "tightly held with true believers," according to Thomas Kuhn of Quantum Economics. He told Crypto Briefing via correspondence:
"If you want any [XRP] you need to either pry it out of their cold dead hands or bid the market high enough that they can no longer resist selling for the nice car/house etc."
The fan following for the third-largest cryptocurrency precedes the many doubts around its utility and security claims.
Stablecoins Prove Their Worth
Stablecoin supplies at the beginning of the year were around $6 billion. It has grown to reach $24.2 billion—a 300% increase year-to-date.
Presently, stablecoins takes a large slice of the total altcoin cap at 12.6%.
Its usage has expanded from a crypto trading medium to remittance, DeFi loans (for example, DAI), and U.S. dollar storage, cryptographically.
DeFi Market Cap
DeFi has become an integral part of the crypto industry. Despite the absence of a crypto bull run, the tokens associated with the niche single-handedly gained up to 1,000% mid-year.
The DeFi boom and bust were relatively independent of the moves in top cryptocurrencies like Bitcoin and Ethereum.
The correlation between Bitcoin and DeFi tokens is weaker than the rest of the leading cryptocurrencies, such as ETH, XRP, and LTC. Hence, while choosing alts, DeFi can help in the diversification of a portfolio.
The November gains in DeFi tokens, once again, outpaced both Bitcoin and Ethereum.
The top winners in the DeFi space, yEarns' YFI and SUSHI token of Sushiswap DEX, gained 300% and 200%, respectively, since Nov. 1.
https://twitter.com/ceterispar1bus/status/1335922774167216130?s=19
Even Bitcoin Bulls Need to Manage Risk
Currently, crypto participants are overwhelmingly bullish. The pandemic and associated inflationary fears have brought institutional money into Bitcoin. And as outlined above, altcoins have clearly enjoyed the recent highs of the market leader. Still, as Kuhn states, there's more room to grow. He said:
"I suspect that they [institutional investors] are going to start identifying and investing in digital assets – there is a LOT of capital that can be pushed into the [crypto] space in 2021."
Nevertheless, the rise's erratic nature also raises questions on the source of the buyers—institutional or retail—and whether or not a pump and dump via market manipulation is in play. Further, the corrections have been more pronounced in altcoins than Bitcoin during bear markets.
No matter market sentiment, having a risk management system in place is key for crypto investors.
The total market capitalization of altcoins as of Nov. 30 is $212 billion, 36.6% of the total market cap, including Bitcoin.