If Only I Had Invested $1000 In These 5 Cryptos: March ROI Update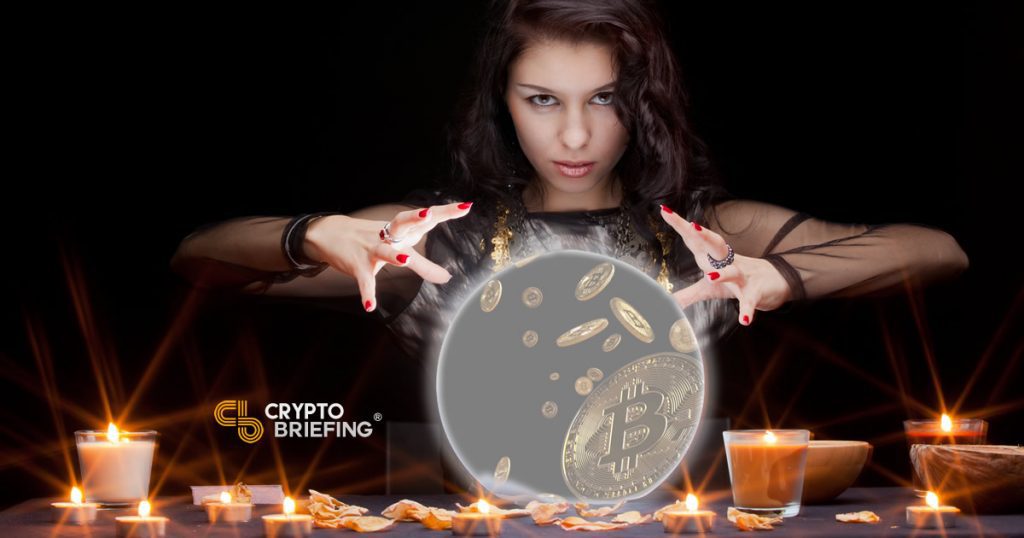 Cryptocurrency investing over the short-term is not for the weak of will. It's not for those who obsessively check their Blockfolio app every five minutes, trying to catch the top. It's certainly not for those who think that value is driven by the size of a user-base or product fit.
Maybe later, it will be.
For now, the news drives price. Especially news that spreads from whispers in Telegram groups, reaching the ears of the well-connected, who quietly stock up on crypto tokens before the public is aware that anything's going on.
But you know all that. What you don't know, is who's next? While Tezos coincidentally goes through the roof before Coinbase even announces staking, what are the rest of us thinking about?
Don't ask us… or at least, not quite yet. You'll need to subscribe to our newsletter for that.
---
Our Imaginary Investment Thesis
We're going to pretend that we are prescient crypto gods, and that we take the best pick from each of the following five categories. Then we'll calculate an overall ROI based on the last 30 days, assuming an investment of $1,000 in each category. This is fun.
---
Basket Of Top 10 Cryptos
Our first category includes the top 10 cryptocurrencies by market cap according to CoinMarketCap today, March 29th. We exclude Tether, because it's deeply boring. (See how serious this is?)
Using some super charting tools from CryptocurrencyChart.com we can see our winner in this category clearly. Binance Coin has dominated the month, while Cardano has been more stellar than stellar. XRP, despite numerous new partnerships, brings up the rear.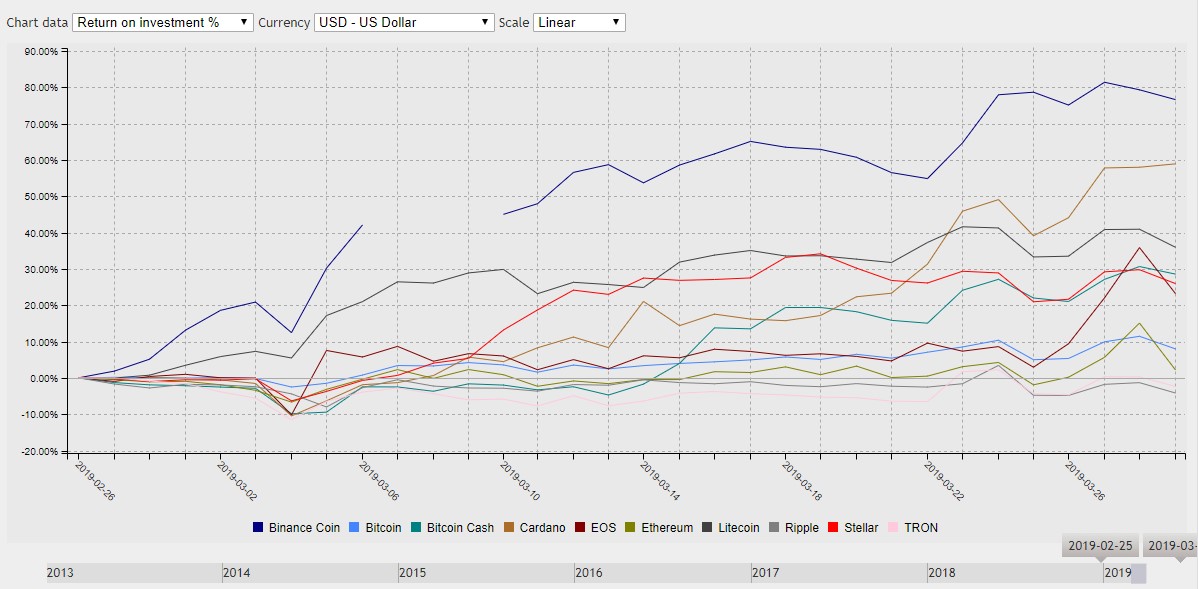 Top 10 Cryptos Pick: Binance Coin (BNB), 73% ROI
Poorest Performer: XRP, -2.5% ROI
---
The Next 20
Okay, so you're ready to put your thousand bucks on the line with some projects that don't look quite so overly-inflated, and may have a little more room for manouever? Sure, so long as you can spell manouver. Or maneuver. Writing in American English sucks, if you're British.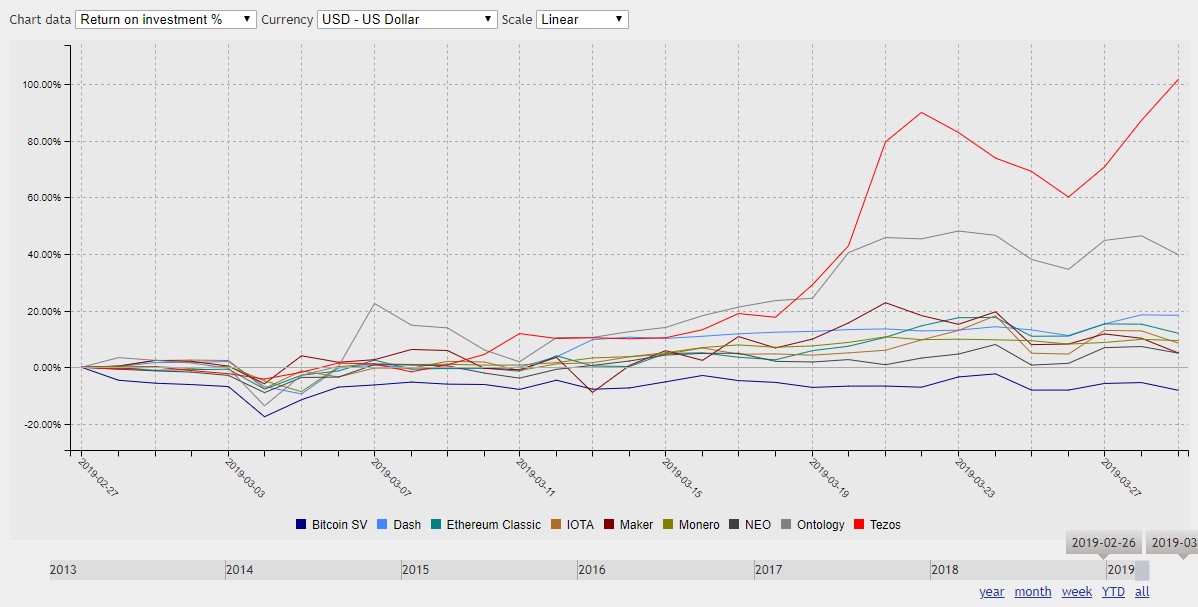 What do we see here? Tezos, the aforementioned darling of the Coinbase community, which can now be staked while you get baked.
Next 20 Top Pick: Tezos, 101% ROI
Poorest Performer: Bitcoin SV, -8.4%
---
Crypto Personalities
Let's assume that for some reason we're addicted to Twitter, and specifically the influential names behind some of the top coins. For the sake of argument, and because CryptoNews has already done the hard work for us, we'll go with the following list:
Justin Sun (Tron)
Vitalik Buterin (Ethereum)
Charlie Lee (Litecoin)
Roger Ver (Bitcoin Cash)
Andreas Antonopoulos (Bitcoin)
Changpeng Zhou (BNB)
Brad Garlinghouse (XRP)
Charles Hoskinson (Cardano)
Riccardo Spagni (Monero)
Craig Wrong (Bitcoin SV)
Since there's some overlap here, we see CZ of Binance leading the charge – while Justin Sun's imaginary followers aren't doing a lot to boost his Tron project. Sad sack Faketoshi trails along sadly in last place, quietly mewling for adoption like a litter of kittens dumped by the side of the road.
Sorry, that was a bit graphic.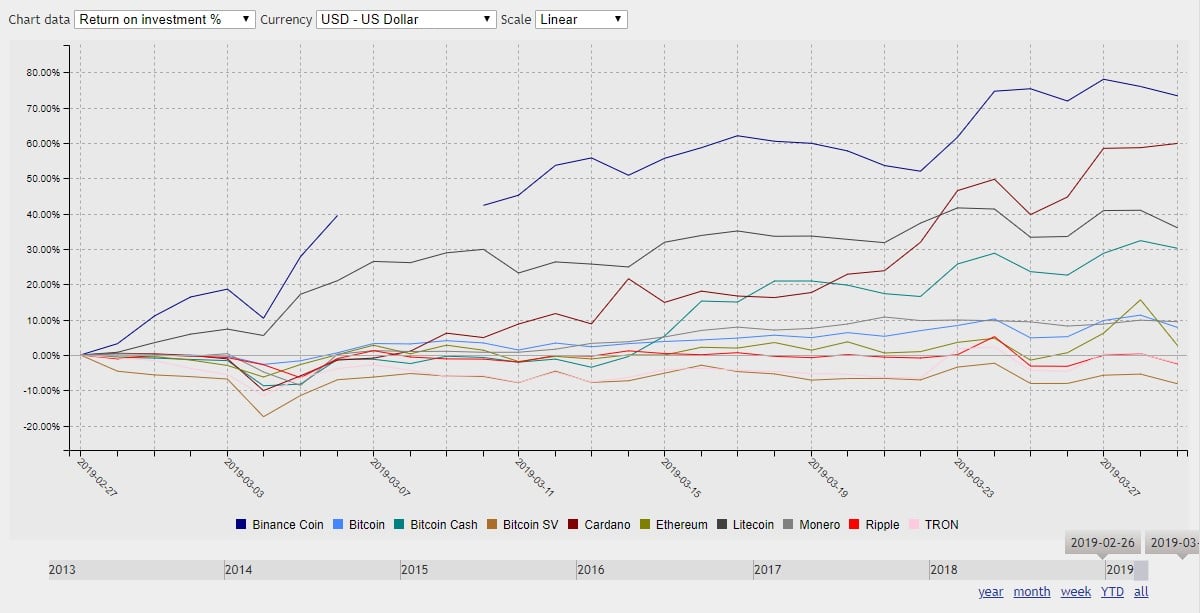 Crypto Shill Top Pick: Changpeng Zhou, 73% ROI
Poorest Performer: Craig Wrong, -8.4%
---
Crypto Wildcard Hunter
Once you get beyond the top 100 cryptos on CoinMarketCap, many people stop listening. Shitcoins, right? Well, hold on a second. Suppose you conducted your ICO in 2017, and ignored your token price while you built something useful? That's where you'll find a lot of real gems… like Everex, which announced U.S. customer integration, and QuarkChain, with its impending mainnet.
So in no particular order, and with no particular agenda, here's a basket of cryptos that made an impact over the last month on the second page of CMC.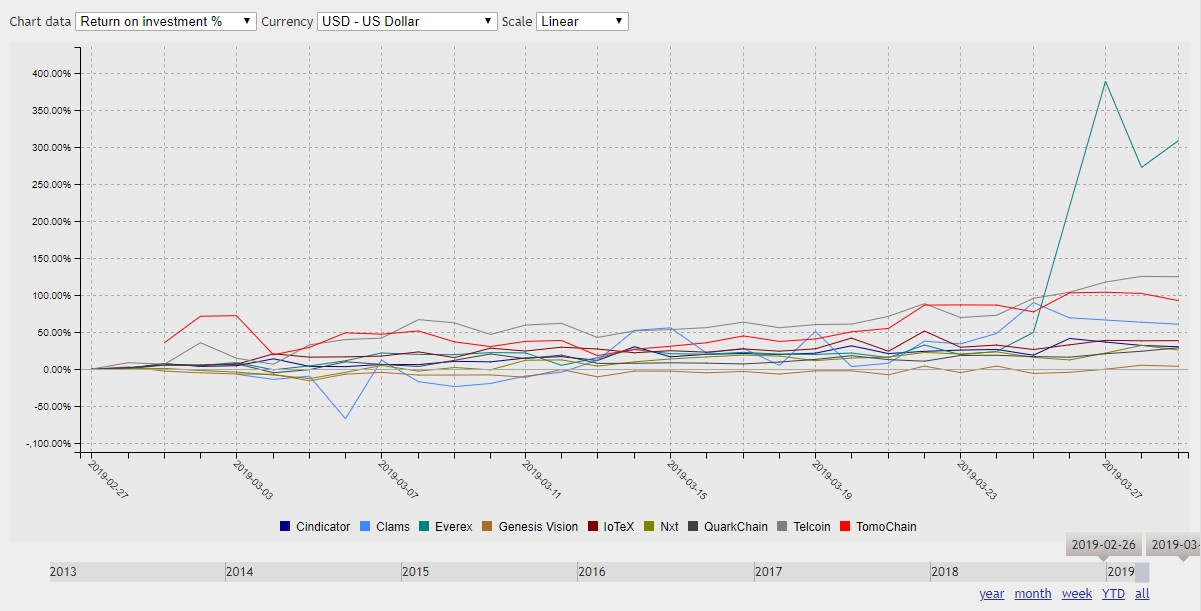 Wildcard Top Pick: Everex, 309% ROI
Poorest Performer: Genesis Vision, 3.7% ROI
---
I'm Just Psychic…
Possessed of The Gift, and with prescience known only to a select few, I definitely identified all of these social climbers somewhere in the middle of February, which is why I am now stinking rich and you are not.
Seriously, who saw these coming… if you did, please write to [email protected] and tell me what you see in store for April.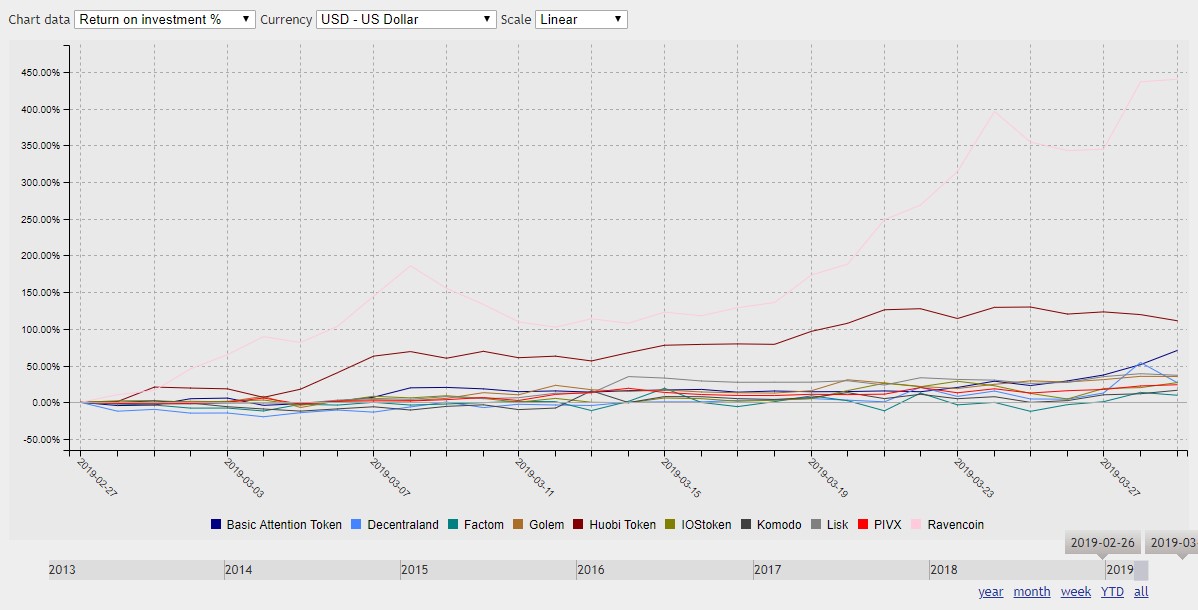 Runaway Investment of the Month: Ravencoin, 439% ROI
Poorest Performer: They're all winners here, stop being so negative.
---
Our Mythical Overall ROI…
So, we (hypothetically) invested in Binance Coin (twice!), in Tezos, in Everex, and in Ravencoin.
Binance Coin (BNB): $2,000 x 74% ROI = $3,480
Tezos (XTZ): $1,000 x 101% ROI = $2,010
Everex (EVX): $1,000 x 309% = $4,090
Ravencoin (RVN): $1,000 x 439% ROI = $5,390
Starting Dollar Amount: $5,000
Overall Final Dollar Amount: $14,970
Overall ROI: 299.4%
Yay crypto!
---
The author is invested in digital assets, including ETH and BTC which are mentioned here.