For Many in the Sex Industry, "Bitcoin Is the Only Option"
Sex workers have little say in the governance of their online platforms, and face growing challenges when earning and spending their income.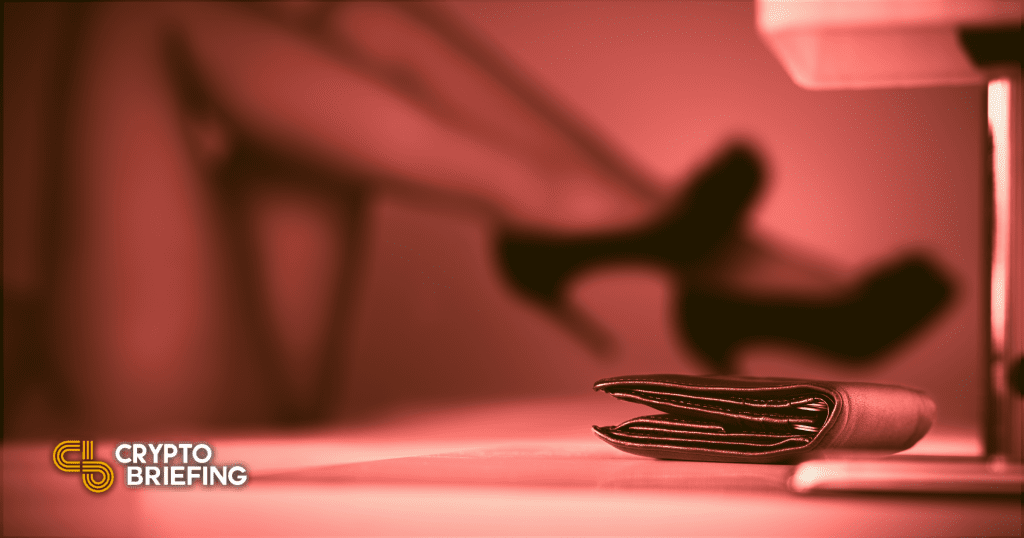 Key Takeaways
Sex workers often face regulatory obstacles when it comes to posting ads or accepting payments.
Banks often flag accounts related to legal sex work, forcing sex workers to adapt quickly.
While Bitcoin is arguably the best solution, the issue of adoption remains.
While Bitcoin has a strong use case in the sex industry, accepting crypto is a double-edged sword for sex workers.
Bitcoin's Learning Curve Is Steep and Troublesome
Many in the sex industry have turned to Bitcoin out of necessity.
In December, Mastercard and Visa cut ties with Pornhub over allegations of illegal content, causing Pornhub to become a crypto-only platform.
Other payment providers like PayPal also have strict regulations limiting their services for sex work, leaving the workers themselves in a difficult situation when it comes to earning a living.
One solution is, of course, accepting Bitcoin.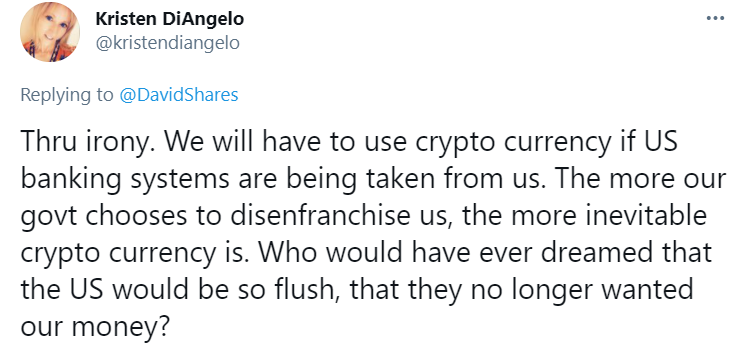 Crypto Briefing spoke with Kristen DiAngelo, a sex worker and activist with decades of experience in the industry. "U.S. banking guidelines have put pressure on banking systems, credit card systems, and online paying systems to cut off the ability of sex workers to use those venues," said DiAngelo.
She explained that payment related to posting ads for adult content is now heavily restricted.
"While we are grateful to be able to use Bitcoin to post ads, as the alternative would be catastrophic, the learning curve has been steep and we continue to lose purchasing power due to Bitcoin fluctuations. In addition, we have trouble translating earnings to actual money in which to pay our bills."
The result, she said, is that sex workers must work harder than ever to earn money.
Banking Laws Strangle Sex Industry
While DiAngelo's work is perfectly legal, the U.S. banking system treats it with hostility. In 2014, JPMorgan closed hundreds of sex workers' accounts without warning or explanation.
"Payment for legal work can be flagged by the bank and thus cause us to lose our accounts," said DiAngelo. She added that in the face of this situation, Bitcoin is often the best bet.
"I myself have undergone this forced banking migration three times," she said, adding that "Bitcoin is our only option."
RT, IMPORTANT…. this is about S952: End Banking for Traffickers Act which will begin to attack consensual sex workers banking abilities. Many of us have already been hit by Operation Choke Point. Click here and voice your opposition https://t.co/rhM0Cy3zO0

— Kristen DiAngelo (@kristendiangelo) June 1, 2018
Adoption is, as always, the main obstacle.
DiAngelo pointed out that sex workers can't connect their bank accounts to BTC wallets due to high scrutiny from banks, with accounts being flagged even when all income is declared for taxes.
This means payment accepted in Bitcoin can only be used with services that accept Bitcoin, creating a closed-loop system that excludes this income from most goods and services.
According to DiAngelo, sex workers have been forced to host their own site servers, operate through VPNs, and use Bitcoin ATMs with added costs at every turn.
The problem lies with the strict regulations ostensibly proposed to protect sex workers while essentially serving only to protect major corporations.
"These barriers are all in place to help 'save' us, when in fact, they act to marginalize us further, and actually act as barriers to us transitioning to any other line of work or lifestyle."
While sex workers have more platforms to choose from than ever, they have little say in these platforms' governance or their payment methods.
Using Crypto to Fight the Banks
Gween Black, a sex worker active on OnlyFans, agreed that crypto is still the best solution available. "I see a lot of models using crypto because it's fast and cheaper to get paid," she said.
"We don't need to share personal data with the customer and the fees can go as low as cents depending on how they send."
Protecting personal data is particularly important in an industry that brings the threat of stalking and harassment from certain customers.
Website that converts tips to any crypto and lets you cash out in crypto: @SpankPay

— GweenBlack (@GweenBlack_) February 8, 2021
Black stated that there has been a "huge boom" in crypto adoption in the sex industry since 2015.
"Sex workers and the porn industry always pushed technology (VHS, VR, internet purchases protection) and crypto isn't anything new. Banks keep banning and stealing our money and with crypto we have the protection and freedom we always seeked."
However, using crypto is easier said than done.
Allie Eve Knox, an early adopter who began using crypto when she entered the sex work industry in 2014, looked for fiat alternatives when she was banned from various payment apps.
"I needed a way to take money without having to run it through sites that take a huge cut," said Knox before commenting on the pros and cons of using crypto.
"Pros are that there are no chargebacks, the exchange fees are very low compared to adult payment processors, and we can take payments from people all around the world," she said, adding that "the fluctuating price is sometimes a really fun thing."
Why performers are bitching about pornhub/mindgeek/visa mastercard and why you should care (a thread):

Pornhub fucking sucks. They made a biz on the backs of content producers' hardwork and stolen content (mindgeek- manwin initially- made their money through a backend system

— Allie Eve Knox (@allieeveknox) December 11, 2020
However, the crypto educator and SpankChain advisor also vented her frustration at the disadvantages of the technology.
"On-chain," she said, "everyone can see everything. Everyone — your peers, your ex-husband, the government. It is also very hard to understand. Explaining this to someone that just needs to pay her rent in the next 12 hours is a whole thing."
Knox went on to add that while getting people to pay for porn in the first place is difficult, "getting people to buy porn with crypto is even harder."
She concluded by saying that the bull run has seen increased adoption. "This is a great way for models to get their hands on crypto, learn about exchanges and investing."
Crypto isn't a perfect solution to the issue, but that may change over time.
As new technologies become available and crypto adoption becomes more widespread, the industry may see a major overhaul in how sex workers and other independent contractors accept payment.
At that point, mainstream banking services will need to either adapt to accommodate or get left behind.
Disclosure: The author held Bitcoin at the time of press.