Stellar Lumens Majestic Bull Run... A Reaction To XRP Fears?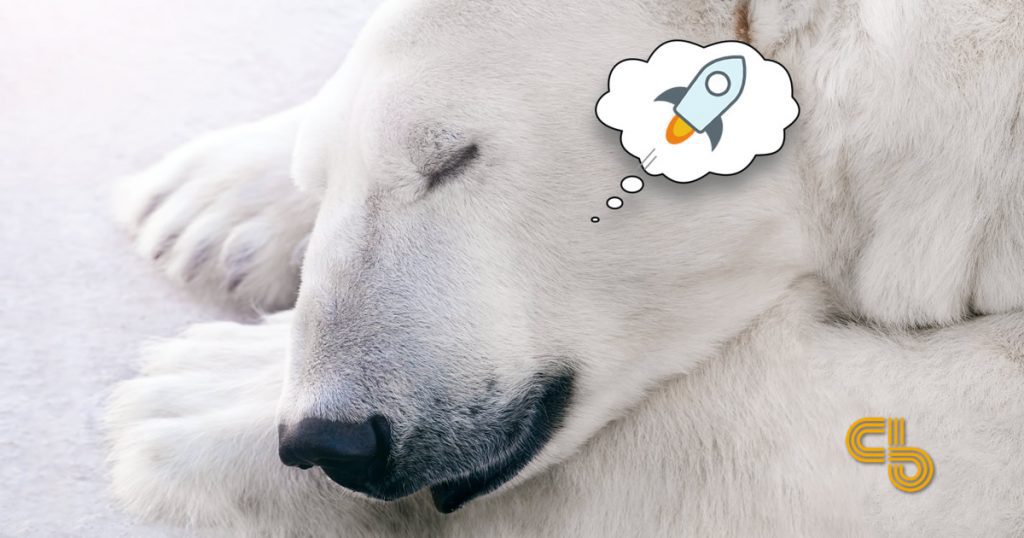 If you asked someone to predict this years' winners last January, Stellar would probably not have topped the list. Most of the excitement went to high-speed hares like EOS and Tron, while Lumens have been trudging along like a tortoise.
And you would be forgiven for thinking that the continuing success of Ripple Labs and the XRP token would have obliterated any chance of Stellar catching up. But market sentiment is turning against XRP, and that could be a defining factor in the success of Lumens (XLM).
This month, Stellar has been killing it. At the time of writing, the Lumens token has pushed past Litecoin into sixth place by market capitalization, and it's about six cents away from the top five. At the time of writing, the price has jumped thirteen percent in a single day, outperforming the rest of the market by several multiples. If Stellar were a regular company in the stock market, yesterday would have been an exceptionally good year.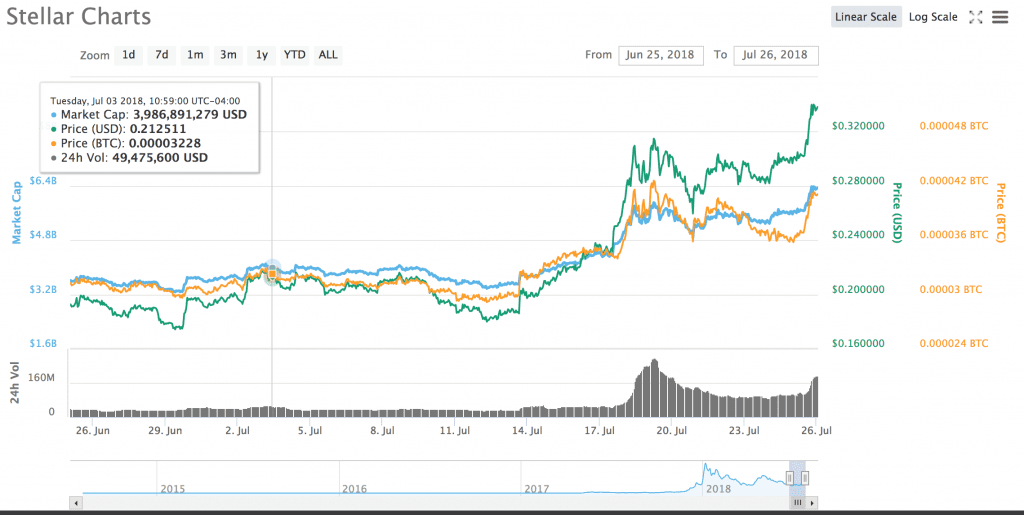 The market moves in mysterious ways, but it doesn't hurt to have a month of uninterrupted good news while a direct competitor continues to wrangle the bears. Here are the headlines that could push Stellar from an also-ran into a possible winner:
---
Government Approval
While XRP, the currency created by Ripple (and Stellar's closest competitor) is still in regulatory quicksand, the Stellar protocol has received several green lights in a row.
ItBit, a leading OTC market, recently received its BitLicense from New York State, and Stellar Lumens was one of the four approved currencies. That doesn't necessarily clear the road for Stellar, but being granted one of the most often-sought (and rarely granted) regulatory permissions is likely to reassure investors.
New York's wasn't the only government body giving a thumbs-up. In last Month's Global Blockchain Assessment Index, the Chinese government ranked Stellar as the fourth-best blockchain, with high marks in technology and innovation.
And if permission from earthly powers weren't enough already, Stellar seems to have supernatural approval as well. Bahrain's Shariyah Review Board certified the blockchain and its native Lumens token as being compliant with Islamic law, a decision which could open doors to markets previously under-reached by cryptocurrency.
New Tokens and ICOs
Although normally associated with Lumens, the Stellar protocol is meant to facilitate transactions in any currency—from dollars and Yen to bitcoins and seashells. The protocol has added several new tokens and ICOs, some of which we've covered before.
The latest headliner is Stronghold USD, the first stablecoin on the Stellar blockchain. While stablecoins are nothing new, the addition of a verifiably dollar-backed token supported by IBM is a major sign of credibility.
TransferTo Puts Stellar in Ripple's Game
But the latest news could put Stellar on par with Ripple in terms the international remittance game. In an partnership announced earlier today, TransferTo, a B2B cross-border payments network, announced that it was adopting Stellar technology for international digital payments. The deal will bring Stellar-based international remittances to migrant workers in over seventy countries.
"We always aim to be at the forefront of the payments industry," said Aik-Boon Tan, Chief Customer Officer at TransferTo. "By partnering with Stellar our goal is to trial the blockchain technology and scale our cross-border payment service to better serve our partners and reduce costs."
---
None of which is enough to suggest that Stellar or Lumens are likely winners. Crypto markets can be "volatile", and sometimes they move on mere rumors–as they do whenever Coinbase hints at additional listings. But if Stellar can keep running, while the other cryptos are still getting to their feet, then Lumens' future could be very bright indeed.
The author has investments in Stellar and Ripple, which are mentioned here.