StellarX Wants To Take Over the World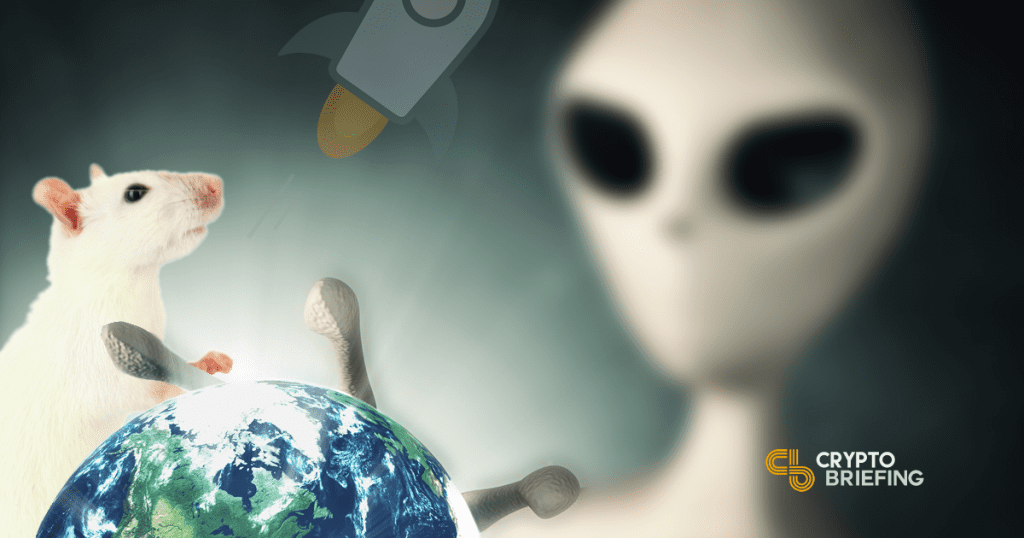 Jed McCaleb might not look like your average supervillain, but a new release puts him well on its way towards global domination. StellarX, the built-in decentralized exchange for the Stellar protocol, recently announced its full launch, putting the lumens token several steps closer to conquering the world—of digital currencies, that is.
The release was announced in a blog post, modestly titled "How StellarX will take over the world."
"We're methodically positioning StellarX to be the most popular place to trade in the world," Stellar wrote in the blog post before listing the exchange's advantages over Ethereum's decentralized exchanges. These include no-fee trading, optional KYC, and most importantly—fiat trades.
In what the Foundation called "a first for a decentralized platform," the StellarX exchange allows users to directly fund the app with dollar, through ACH transactions. The app also includes tokens for Euros, Yuan, Pounds, and several other fiat currencies.
Traders can also exchange other digital assets, through tokens representing Bitcoin, Ethereum, and tokens from other blockchains, which are expected to "far exceed" the assets on other DEXes. Security tokens—like stocks, bonds, land titles and equities, will also find homes on the exchange as it develops its infrastructure.
"The "X" in StellarX might seem like a nod to "exchange", but we see it as the algebraic x. Anything. Anyone. Anywhere. That's the platform we've got."
Adios, KYC
Another feature is likely to impress Stellar traders, especially those who have spent too much time posing for selfies with their passports. Instead of requiring each new trader to submit a new KYC—a tedious process that adds an unnecessarily-high entry barrier—StellarX makes identification optional. Traders can require can require their correspondents to identify themselves, as may be legally required for banks or security tokens. Other traders may be able to escape that hassle altogether.
The only thing you need to start trading is an email address.
The Foundation explains:
"We get that KYC is a thing in the world. We also understand that smart contracts are the wrong place to bury fundamental information. We allow issuers—if they so require—to impose KYC requirements before a person can trade their token. And we give holders human-readable information about what they own, so they can make decisions for themselves."
Bye Bye, Fees
That's already a big improvement over Ethereum-based DEXes like IDEX and TokenJar. Even no-fee exchanges, like TokenJar, require users to pay gas fees to transfer tokens—and those fees can run quite high, depending on number of crypto kitty trades.
StellarX claims to be the first truly free exchange, not only by eliminating trading fees but also by refunding transaction fees. While other blockchains , "Trades and orders are native to Stellar," the blog post explains. "And Stellar's consensus mechanism requires neither "work" nor "stake" — that is, it doesn't use your capital to function."
---
A long list of other features are also in the pipelines, from a mobile app to automatic tax calculation and portfolio summaries. While it may not seem like the most direct route to global domination, it may well be the most user-friendly one.
The author holds investments in Stellar, Bitcoin and Ethereum.