Tron Powers Up Its Virtual Machine As TRX Jumps 17% In A Week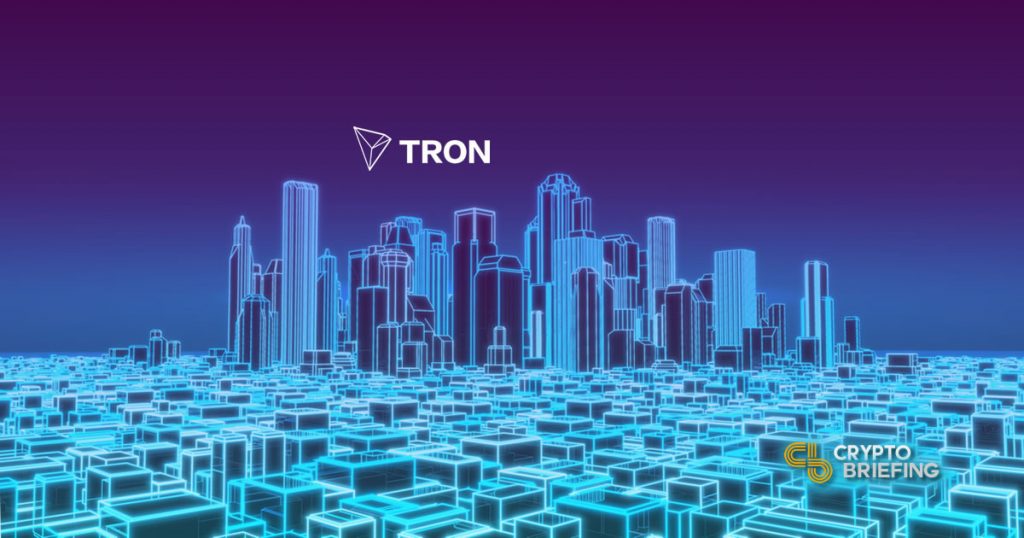 The Tron Virtual Machine went live today at 8 pm Singapore time, after the Network's Super Representatives voted in favor of launch. Dubbed Odyssey 3.1, the upgrade makes it possible for Tron to host Ethereum-like smart contracts on the high-throughput, proof-of-stake blockchain.
Tron's supporters and investors believe that the Virtual Machine will offer a major upgrade in throughput for decentralized applications. In a tweet celebrating the launch, Tron founder Justin Sun said "TRON will be 200x faster vs. ETH, 100x cheaper vs. EOS."
Based on community consensus, #TRON will be upgrading to Odyssey 3.1 at 8pm SGT. The TRON Committee function & TVM will go live, marking the start of the Smart Contract Era. TRON will be 200x faster vs. ETH, 100x cheaper vs. EOS. dApp developers & users, this one is for you! $TRX

— H.E. Justin Sun 🅣🌞🇬🇩 (@justinsuntron) October 8, 2018
If things continue smoothly, the launch will represent a formidable coup for the Chinese-led cryptocurrency project, which until a few months ago was dismissed as a scam and a money-grab. Evidence of plagiarized or borrowed code prompted wide speculation that Tron's virtual machine was "Frankenstein code" in danger of bursting at the seams.
However, Justin Sun has managed a summer makeover for the Tron project, with new acquisitions that include one of the web's most-used decentralized platforms. Under the codename Project Atlas, Tron acquired Bittorrent with the intention of integrating the file sharing platform with the Tron blockchain.
---
Top Ten By April?
Although Tronix froze during the bear market as badly as any other crypto project, Sun has continued to make strong predictions. In a recent interview, he speculated that TRX would break into the top ten cryptocurrencies within half a year.
"If we look at the top ten cryptocurrencies, many of them are not motivated to continue innovating or improving their product," Sun told Investopedia in an interview last week. "TRON, on the other hand, is a young company with cutting edge technology, with much more room for growth. We are confident that TRON will surge into top 10 in the next 6 months."
This isn't the first time Sun has talked a big game, and the Tron founder has a well-earned reputation for over-promising. However, the network claims a number of technical advantages advantages over proof-of-work blockchains.
Unlike proof-of-work blockchains, like Ethereum, there is no mining in Tron's consensus protocol. Instead, transactions are processed by a handful of "Super Representatives," which are chosen by on-chain voting.
By restricting block production to a handful of high-powered nodes, Tron's blockchain is capable of handling thousands of transactions per second, at least on paper.
"The [Tron Virtual Machine] is fully compatible with Ethereum's [Virtual Machine]," Sun told Investopedia. "Additionally, it costs a fraction of one TRX to support smart contracts on the TVM and to create TRON accounts."
This is in stark contrast to Ethereum and EOS, whose networks have been bottlenecked by CryptoKitties and RAM shortages. "By comparison," Sun said, "creating and supporting contracts on Ethereum and EOS can cost a user more than $10."
It remains to be seen if those promises will pay off for dApp developers. But investors are already starting to see the rewards. Tronix's market cap jumped around 17% in the lead up to the Virtual Machine's activation, edging past Iota to become the eleventh largest cryptocurrency by market capitalization.
The author is not invested in Tron, but holds some Bitcoin and Ethereum.