Wanchain Will Integrate With EOS In Q2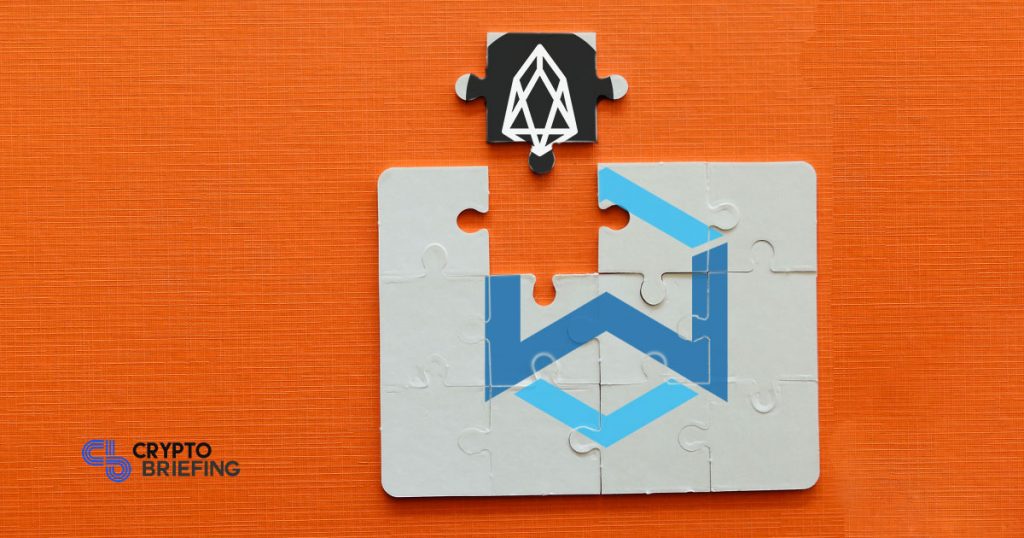 Cross-chain collaboration platform Wanchain (WAN) will integrate with the EOS platform later this year, the team has announced.
In its Q1 Community Conference Call, Oliver Birch, Wanchain's Vice-President of Communications and Growth, said the project would bridge with EOS sometime in the next quarter. He highlighted that the large and active EOS community, as well as its past performance, made it a clear candidate for integration with Wanchain.
After the call, CEO Jack Lu explained to Crypto Briefing that Wanchain had been in discussions with other networks, some with bigger market caps. But what eventually drew them to EOS was the already large and established dApp ecosystem. "We can integrate the native EOS token as well as dApp tokens into a bigger economy," he said.
Dan Reecer, Wanchain's global marketing director, said EOS had one of the biggest developer communities. Wanchain can help connect it to other large, dynamic communities, such as Ethereum. By becoming part of the same ecosystem, platforms will be able to create cross-chain dApps.
Wanchain provides cross-chain compatibility by creating 'wrapped' tokens that can be traded on other blockchains. The project bridged the Bitcoin (BTC) and Ethereum (ETH) platforms in September 2018, as Crypto Briefing reported at the time. After fourteen months of operations, according to Reecer, the project now has 70 members of staff, 40 of them being developers.
Along with a new collaboration with EOS, Wanchain also said they would support more ERC20 tokens. Two stablecoins, TrueUSD (TUSD) and USDC, will be added as well as Basic Attention Token (BAT).
Wanchain raised $36M in an ICO in late 2017. Lu admitted during the conference call they had been affected by the bear market but still had enough funds to continue funding development for another five years. "We will be here long-term," he said.
Wanchain expects to integrate with other networks in the near future. "We are looking at pretty much every public chain," Lu said to Crypto Briefing.
This article has been updated to include exclusive quotes from Jack Lu, founder and CEO of Wanchain.
---
The author is invested in digital assets, including BTC, ETH and BAT which are mentioned in this article.
Crypto Briefing's CEO is an advisor to Wanchain, and was not involved in creating this article.