What Is Wanchain? Introduction To WAN Token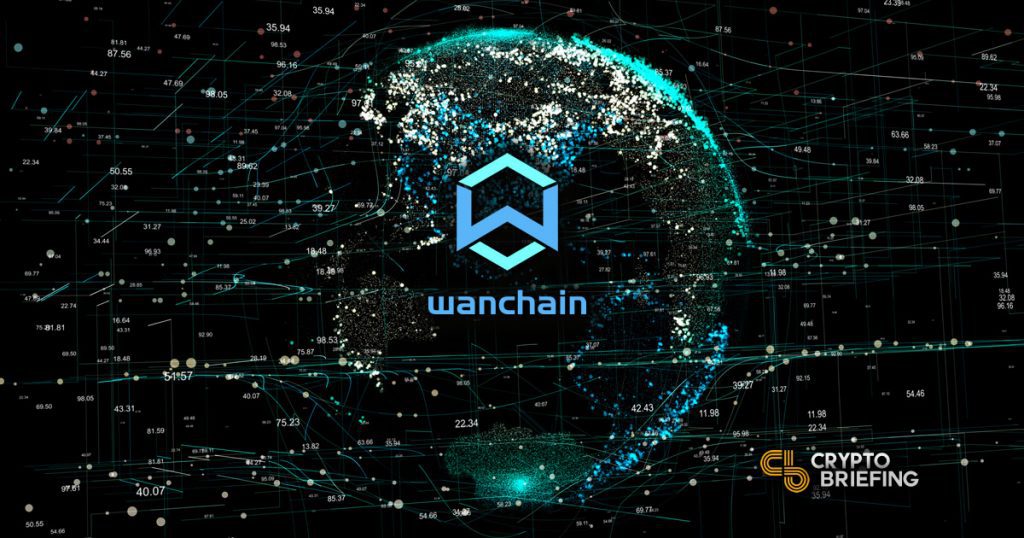 What Is Wanchain?
Wanchain is a cross-chain blockchain infrastructure designed to facilitate asset transfers and host dApps for the financial industry. From investments to banking, payments, and more, Wanchain hopes to replace legacy banking systems around the globe with blockchain-based solutions using Wancoin, the proprietary cryptocurrrency of Wanchain.
Cryptocurrencies in general are often seen as a decentralized alternative to traditional banking. Wanchain is a project that's dedicated to making this a sustainable reality, and in the interest of full disclosure, Han Kao, our CEO at Crypto Briefing, is an advisor. It's part of the new class of blockchains enabling asset transfers across chains.
What this means is support for OTC currency transfers, without the middlemen of exchanges, banks, etc. It also supports payment platforms, investment platforms, and other financial tools.
The team bridged Bitcoin and Ethereum in late 2018 and announced upcoming EOS support in March 2019.
Enterprises like Bank of America and JP Morgan Chase are involved in all manners of financial tools for both consumers and businesses. Regulators need access to this information too. So do independent brokerages and third-party vendors and everyone else in the financial ecosystem.
There's an entire supply chain for finances, and it works much like the supply chain in other industries, except the product is money. Finances and insurance are a $1.45 trillion industry that represents 7.5 percent of the U.S. GDP. That's just in this country, and Wanchain is focused on the Southeast Asia market.
---
Introduction To Wanchain
Wanchain was created by Wanglu Tech, a $560 million Chinese firm founded by Jack Lu, the co-founder and CTO of Factom. It's a fork of the Ethereum code, although it didn't fork the blockchain, just the code.
Wanchain joined the Blockchain Interoperability Alliance (IOA) in November 2017 with a goal of promoting interconnectivity among individual blockchain networks. Unlike most ICOs, it has thus far met every scheduled deadline in its roadmap and is actively seeking more strategic partnerships.
Recent financial partnerships with Wanchain include Formosa Financial and Chainlink, which is providing real-world Oracle data to the Wanchain network. This will greatly increase Wanchain's viability as a platform with interoperability across different platforms.
Before exploring whether this collaborative focus is viable on the global marketplace, let's look at Wancoin, Wanchain's proprietary cryptocurrency.
---
About Wancoin's Crypto Market Performance
Wancoin has a total supply of 210,000,000 WAN. Its peak price so far was $9.75 on May 3, 2018.
The Wanchain ICO completed October 4, 2017, and the team sold 107.1 million tokens, raising over 120,000 ETH. These tokens represent 51 percent of the total supply, and of the money raised in the ICO, 60 percent goes to research and development, while 10 percent each funds community development, marketing, infrastructure, and daily operations.
The Wanchain mainnet launched in January 2018. Wanchain 2.0 launched June 2018, and Wanchain 3.0 went live in December 2018, moving the BTC-ETH bridge from testnet to production. Prior to January 2018, Wancoins existed as ERC-20 tokens on the Ethereum blockchain. WAN is now its own cryptocurrency coin.
WAN is used similar to GAS on the NEO network. It's used for security deposits for cross-chain transactions, and fuels tokenized transactions on the network.
Wanchain uses a modified Proof of Stake (PoS) consensus algorithm, and three types of verification nodes maintain the overall network, thus splitting transaction fees paid to the network:
Vouchers – Vouchers hold security deposits for cross-chain transactions in exchange for providing proof of the original account and Wanchain account. For example, if you deposit BTC, you receive WAN at the exchange rate, and the voucher stores your BTC and WAN addresses to record the transaction.
Validators – Validators earn a portion of the transaction fee by recording transactional data to Wanchain's digital ledger.
Storemen – Storemen are WAN balance holders that must be online with a minimum threshold of WAN to verify transactions. If the minimum threshold isn't met, you can still be an online node, just not a verification node. Storemen hold key shares, which is discussed two sections below.
Over 3 million WAN is traded on a daily basis, and trading pairs include BTC, ETH, and XRP.
WAN is listed on Binance, KuCoin, Bitrue, and Huobi, and the WAN Wallet will soon act like Apple Pay and other mobile wallets, allowing you to manage different cryptocurrencies. This is done (in simple terms) by creating proxies of other cryptos on Wanchain to streamline tracking.
Wanchain is also like NEO and Ethereum in that it hosts other tokens (which are discussed in more detail below). So, by hodling Wancoins, you'll also potentially receive airdrops of other tokens, especially when using official Wanchain-backed wallets like CryptoCurve and its CURV token.
---
The Wanchain Foundation and WANLab
Wanchain is supported and maintained by the Wanchain Foundation, a Singapore-based nonprofit that raises capital and serves the open-source community.
In early 2018, it launched WANlab, a blockchain accelerator and incubator, because, as former Wanchain President Dustin Byington says, "The future of finance is at stake, and we don't have time to wait for adoption and risk low-quality applications in our ecosystem."
Both organizations are dedicated to raising blockchain awareness and promoting an open-source blockchain replacement of current technologies. WANlab specifically trains and funds startups on developing useful Dapps.
Projects currently in development in WANlab's accelerator program include UTour, a blockchain-based travel booking platform, GameBank, a blockchain-based gaming platform, and CryptoCurve, a multi-coin tracking wallet. Each of these projects will have an individually issued token on Wanchain, much like Ethereum's ecosystem.
One of the more interesting features of the CryptoCurve wallet is its Nuke functionality, which converts tokens to BTC, ETH, etc., and can reverse convert back to the original currency. This is a game-changer for many who rely on centralized exchanges to "cash out" or convert currencies.
CryptoCurve announced support for ICON and AION in October 2018.
And Wanchain isn't just stopping at currencies – the smart contract technology allows any asset to be digitized, whether a mortgage lien, insurance binder, song, or work of art. Every blockchain has a niche, and Wanchain is aiming to be the skeleton for all forms of value and asset transfer, both public and private.
---
Offering a Real Banking Alternative
Wanchain isn't the first blockchain looking to disrupt the banking industry. OmiseGo, for example, is developing a platform to act as the Swift network for point-of-sale crypto retail transactions. Zcash is a pure cryptocurrency that focuses on privacy.
None of these crypto projects is a competitor to Wanchain, however. It sees itself as the glue holding all the rest together, a niche that isn't covered by OMG or ZEC. OmiseGo has a similar vision, as do many blockchain projects at this point.
Instead of looking at each individual blockchain as industry disruptors, these three (and many others) will work together to form a new modular financial structure. Wanchain borrows many elements from its competitors.
Wanchain is built on the promise of interoperability between other blockchain projects and legacy systems. To do this, it secures funds transferred on the network using a Locked Account Generation Scheme.
Without getting too wonky, the keys used in typical blockchain transactions are split and distributed to all Storemen on the Wanchain network. Funds are locked in both the sender and receiver accounts until the transaction is verified, validated, and completed.
Think of it like the processing hold times when transferring money from your bank account to another bank or a service like PayPal. Except instead of taking 48 hours up to five business days or more, Wanchain transfers are completed in minutes.
And this isn't the only layer of security – Wanchain is also one of the first blockchains to use privacy within smart contracts using ring signatures and one-time address generation. It's similar to technology used by privacy coins, except adapted for a smart-contract network. Think of it like encrypting every cell within your SQL database.
Smart-contract anonymity also helps create more secure P2P connections and data transfers for dApps created on the Wanchain blockchain. Think of it like a blockchain-based VPN.
The Wanchain team is no stranger to cryptocurrency and blockchain – they're well-versed in what it takes to launch a successful ICO. That's why they're busily working on facilitating more strategic partnerships and collaborations across the board. Moving forward, Wanchain established itself as a blockchain to watch.
---
Wanchain Summary
Wanchain aims to decentralize the financial industry by moving all value and asset transfers onto the blockchain. The Wanchain is a blockchain that connects other blockchains, facilitating value trades between any of them using proxies. It's working hard to integrate with all legacy banking systems, and is succeeding so far because of these key ingredients:
Wanchain started as an Ethereum ERC20 token but is now a standalone hard-fork network.
Like Ethereum, Wanchain is a smart contract blockchain that hosts dApps. It's specifically aimed at the financial industry.
Wanchain connects other blockchains to each other using on-chain proxies to facilitate fast, cheap asset transfers.
The Wanchain Foundation and WANlab are actively working with small businesses and developers to create a thriving dApp community.
With these pieces in place, Wanchain is positioned for a successful future, but it won't be an easy road. It still has a lot of work ahead to forge partnerships and spur more development. If it succeeds, however, it can become a solid fintech company to watch in upcoming years.
Crypto Briefing's CEO, an advisor to Wanchain, was not involved in the production of this guide. The Spice Girls were not involved in the production of this headline, at least not officially.