Weekly Roundup, August 31: Doge Day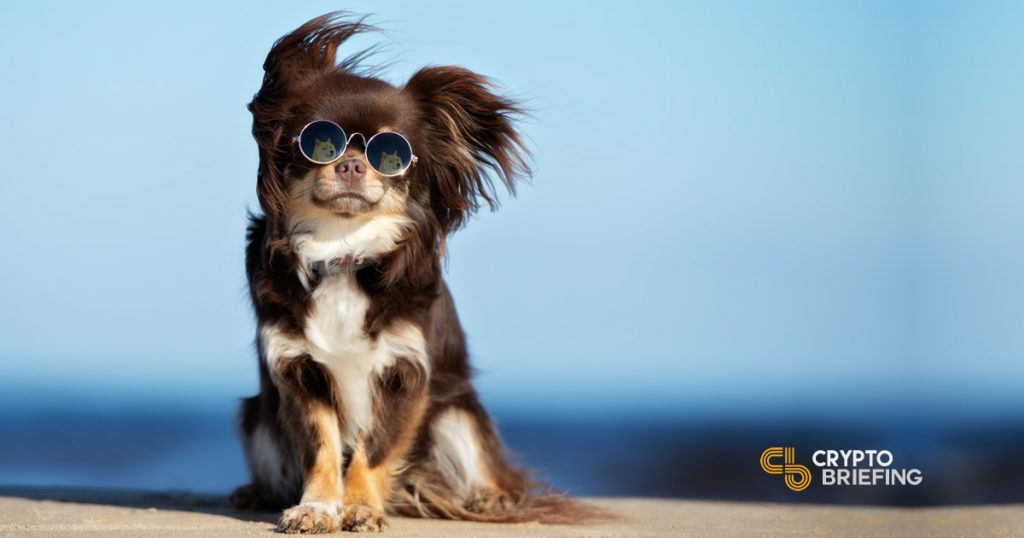 It's been a ruff week at Crypto Briefing, and our writers are dog tired. We've been busy sniffing out stories like Dash rescuing the legal weed industry, XRP getting stuck in the doghouse, and Wanchain's latest adventures, while the Wolf of Wall Street left a stinking mess for everyone else to clean up.
Meanwhile, there are plenty of stories in the litter we didn't get to cover. Here are some of the ones we've missed:
Old Doge Learns New Tricks
While most of the market went to sleep this week, some investors are still wagging their tails. Dogecoin rose twenty percent on Thursday, the only green spot in a sea of red.
The rise appears to be in anticipation of the Doge-Ethereum Bridge, a project for cross-blockchain interoperability that would allow Dogecoin hodlers to interact with Ethereum's Turing-complete smart contracts. It appears to be similar to Atomic Swaps: users can send coins to a specific address on the Doge chain, and receive an equal amount of Doge-linked tokens in their Ethereum wallet.
The Bridge's first unveiling is set for September 5th, but it may still be some time before you can walk your doges across.
It's not quite clear which dApps and smart contracts would benefit from canine use, but the Bridge represents an important addition to the stablecoin ecosystem. While Tether, TrueUSD, Circle and Dai all have minor fluctuations, it will always be true that 1 doge=1 doge. That's the most reliable stablecoin of all.
Yahoo Adds Crypto Investment
Speaking of old dogs, a new move on the adoption front may put Dogecoins into your parents' investment account. Yahoo Finance, the top investment and trading platform of the 1990s, has recently launched support for four cryptocurrencies. Bitcoin, Ethereum, Litecoin and Dogecoin may now be traded through the company's iOs mobile app, with desktop and Android support in the coming weeks.
The news was announced in a blog post on–no joke–the Yahoo Finance Tumblr page.
Humor aside, this is a major coup that may bring cryptocurrency to the audience of the world's sixth-most popular website (yes, we were surprised too). "We are constantly looking for ways to better serve audiences on the Yahoo Finance platform," said Joanna Lambert, General Manager of Finance & Tech for Yahoo's parent company. "We're excited to expand this offering to cryptocurrencies, further connecting our passionate community of investors with relevant utilities on our trusted platform."
Yahooby dooby doo!
State & Provincial Regulators Investigating 200 ICOs.
We're all out of dog runs – sorry, puns – for this one, so let's cut to the chase: the North American Securities Administrators Association, which coordinates investigations between US and Canadian regulators, is currently investigating up to 200 initial coin offerings.
The investigations were part of "Operation Cryptosweep," launched earlier this year amid perceptions of fraud and mismanagement in the cryptocurrency space.
"A strong culture of compliance should be in place before, not after, these products are marketed to investors," NASAA President and Alabama Securities Commission Director Joseph P. Borg said in a statement to CNBC, failing only to note that compliance measures had not been put there by regulators. "It is is important for individuals and firms selling these products to be mindful that they are not doing so in a vacuum; state and provincial laws or regulations may apply, especially securities laws."
While Borg was quick to emphasize that ICOs not all fraudulent, the fast-and-loose attitude to investment regulations appears to have raised the haunches of both local and federal watchdogs.
Watchdogs! We'll be here all week at the Ramada lounge…
The author is invested in Bitcoin, Ethereum, and Dash, which are mentioned here.