What Is Dentacoin? Introduction To DCN Token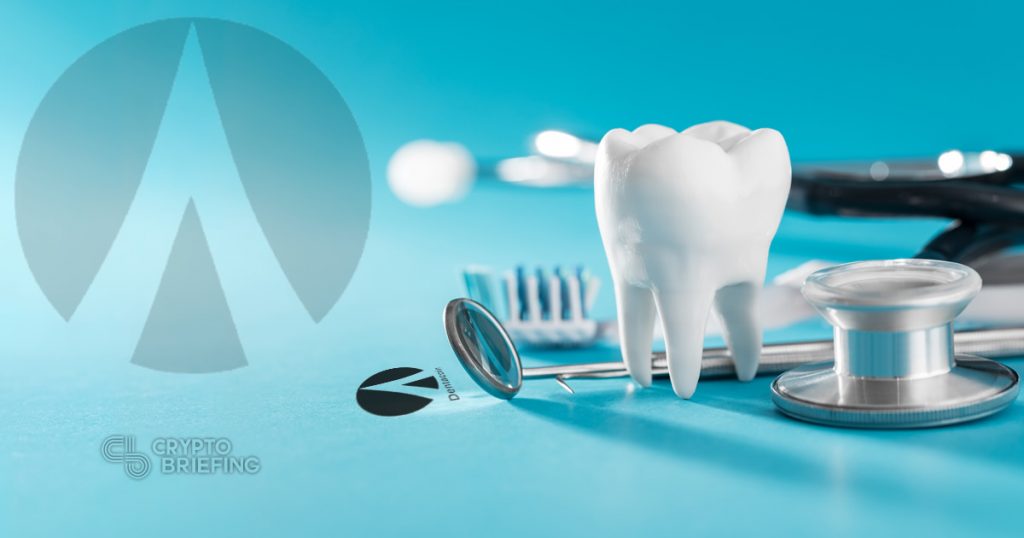 What Is Dentacoin?
Dentacoin is a cryptocurrency designed exclusively for use by dentists. While the idea may sound crazy, the fact is that sector-specific digital assets such as Dentacoin are likely to become commonplace as the crypto market matures and blockchain technology is widely-adopted. DCN is the proprietary ERC-20 cryptocurrency token of the Dentacoin platform.
Healthcare is an important issue for everyone. This $8 trillion industry is on everyone's mind, especially the older we get, and as long as it took Obamacare to be installed, it came immediately under fire from the proceding Trump administration. Dentacoin wants to prove cryptocurrency can improve healthcare, and it's not wrong in its ambitions.
Calling itself the future of dentistry, the project sounds somewhat silly on the surface. However, its profit-sharing coop model isn't much different than what private practices use in the medical industry.
Dentacoin has an aggressive press marketing strategy that's dedicated to getting constant publicity for the concept. It's landed paid releases in many, many crypto media – and those it can't buy (like Crypto Briefing) get harassed on an almost daily basis.
I mean seriously, look at my inbox in August 2018, and I don't even know where they got my email address from: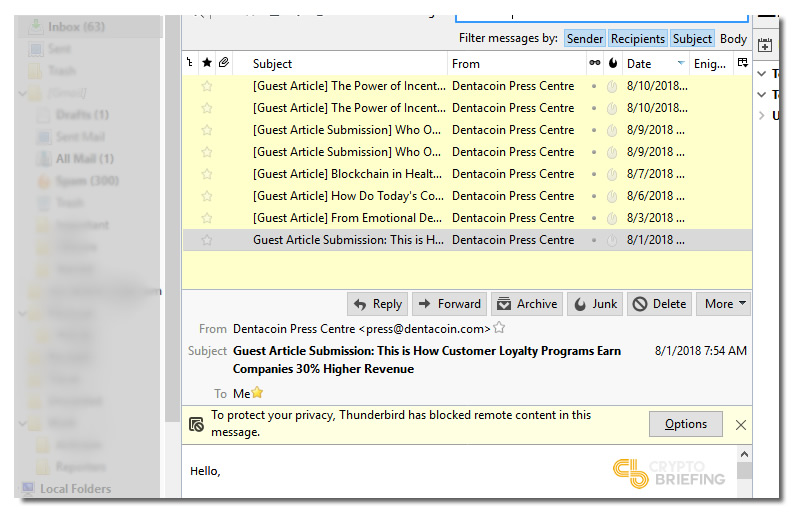 If you're reading this, Dentacoin, one pitch per week is usually enough for a coin focused on a niche. With all that being said…
Dr. Dimitar Dimitrakiev, Philipp Grenzebach, and Jeremias Grenzebach used their combined experience in financial markets and cryptocurrency development to create Dentacoin in 2017. It's directly targeting the $400 billion dental industry. In fact, the average American pays $544 a year out of pocket for dental procedures, according to the American Dental Association.
So is Dentacoin the answer to our healthcare woes, or is it the next Pets.com – ambitious and looks great on the surface, but lacking a sustainable business model underneath?
To find out, let's start with a deep dive into DCN, Dentacoin's Ethereum-based crypto token, on the market.
---
Breakdown of DCN Token
Dentacoin has a total supply of 8,000,000,000,000 DCN. The peak price of Dentacoin so far was $0.006575 on January 7, 2018.
The Dentacoin ICO occurred from October 1 through November 1, 2017. It raised approximately $1.1 million worth of ETH, only 4 percent of its total. The founders will retain 5 percent of the total supply, while the core team members will each receive 2.4 percent.
DCN is tradable on HitBTC, Cryptopia, Mercatox, IDEX, and CoinExchange. It's paired with BTC, ETH, USDT, LTC, and even DOGE, and over $200,000 worth of DCN is traded on a daily basis. However, trading isn't the purpose of Dentacoin. It aims to be noncompetitive as a crypto asset, instead focusing on creating a dental blockchain.
Instead of mining, the company will slowly distribute 76.1 percent of the tokens via its own aidrop scheme. DCN is provided to users for leaving reviews and can be used to pay for services.
Because it's an ERC-20 token, DCN is storable in any ERC-20 compatible wallet. MyEtherWallet, Coinomi, and Ledger and Trezor hardware wallets are just a few.
---
Blockchain-based Healthcare
Dentacoin is neither the first nor only healthcare based blockchain on the market. Medibloc, for example, hopes to store patient medical records in a HIPAA-compliant manner so it's easily accessible wherever you get healthcare.
Medicalchain has a similar goal of securing and distributing patient healthcare and insurance data on the blockchain. It recently partnered with the Mayo Clinic, one of the world's top teaching hospitals, to implement decentralized medical records in a real-world pilot.
TimiHealth's TimiDNA platform is tackling a different issue. Companies like 23andMe present themselves as DNA testing facilities to the public, but the company profited $130 million selling this DNA data to third parties. TImiDNA is trying to bring trust back to the DNA industry using a distributed ledger.
Pharmaceutical giant Pfizer is also partnered with healthcare startup Aimedis on an AI-powered blockchain to revolutionize healthcare. With this much competition in the market already, one could argue Dentacoin is fixing a problem that isn't broken.
Dentacoin's key to gaining acceptance in its three-sided healthcare marketplace is dentist and patient buy-in. Even if the platform is 100 percent solid, it'll remain a ghost town until both dentists and patients load into it.
To get things started, the Dentacoin Foundation purchased a brick-and-mortar dental clinic in London for $90 million worth of DCN. It plans to continue expanding its own proprietary dentistry footprint until its data justifies the network's market cap.
---
What Dentacoin Is Sinking Its Teeth Into
Now that we know the key ingredients, it's time to understand how Dentacoin's platform actually works. For that, we'll dissect how the 1.6 million dentists worldwide operate.
For most healthcare plans, dental insurance is a separate plan and charge, so it's the first place people look to cut and save money. Not being able to afford out-of-pocket costs is the number one reason we avoid going to the dentist. Whereas a hole in your arm would have you in the emergency room by the end of the day, a hole in your tooth can fester for months before properly taken care of.
And the dentist office works much like the doctor's office, in that insurance and deductibles are the only things making costly procedures affordable. There's also the problem of choosing the right dentist. Whose online reviews can you really trust these days?
Dentacoin hosts Trusted Reviews as an incentive-based platform to rate dentists in your area. Honest feedback is rewarded with DCN, which can be used to buy into services on the Dentacoin network. It also hosts DentaVox, an online market research platform with public results on a variety of dental health topics.
The Dentacare App for Android and iOS lets kids and parents gamify brushing, flossing, and good oral care. These are all of course just bells and whistles to keep everyone occupied while Dentacoin builds its Dental Assurance platform and Health Database over the course of the next year and a half.
The decentralized patient database is the real bread winner for Dentacoin, as information is king in today's computerized world. Its insurance-like model is sure to draw budget-conscious customers.
Using DCN to buy into the dental network gives you access to any dentists on the network at discounted rates. Effectively it's insurance but named assurance to sidestep insurance law.
Of course, all of this has to work and scale to a very large database very quickly for all of these promises to come to fruition. Only time will tell if the Dentacoin Foundation's core team is prepared to do what's necessary to truly implement its blockchain solutions.
It'll also need to answer to much more regulatory scrutiny than the average blockchain. Patient privacy and security of healthcare data is much more strict than even banking, and insurance is regulated on a state level in the U.S. This means Dentacoin could get buried in paperwork before it ever sees the light of mass adoption.
---
Dentacoin Summary
Healthcare and crypto are no strangers. Blockchain technology is being heavily researched throughout the healthcare supply chain by both established enterprises and emerging startups. Dentacoin is hoping its key focusing of the target dentistry market will fuel its platform's success. Whether this rings true depends on three key factors.
Dentacoin is an Ethereum-based ERC-20 token. So long as it can be traded for ETH and ETH retains value, it can retain value as a currency.
The blockchain can and will inevitably disrupt the entire healthcare industry, from payments and insurance to patient records, appointment setting, and even vital tracking. It's not yet clear if Dentacoin has a place in this world.
Dentacoin did recently purchase a large dentistry office in London and plans to expand its footprint to become its own best customer.
With these pieces in place, Dentacoin is not a jokecoin. It has high ambitions, and if it achieves even half what it sets out to (or gets acquired in the process), it can succeed. It's a long, hard road ahead, but remember, that like any investment, it could result in either profits or flosses.
*bows* I'll be here all week, folks. Don't forget to tip your waiter.